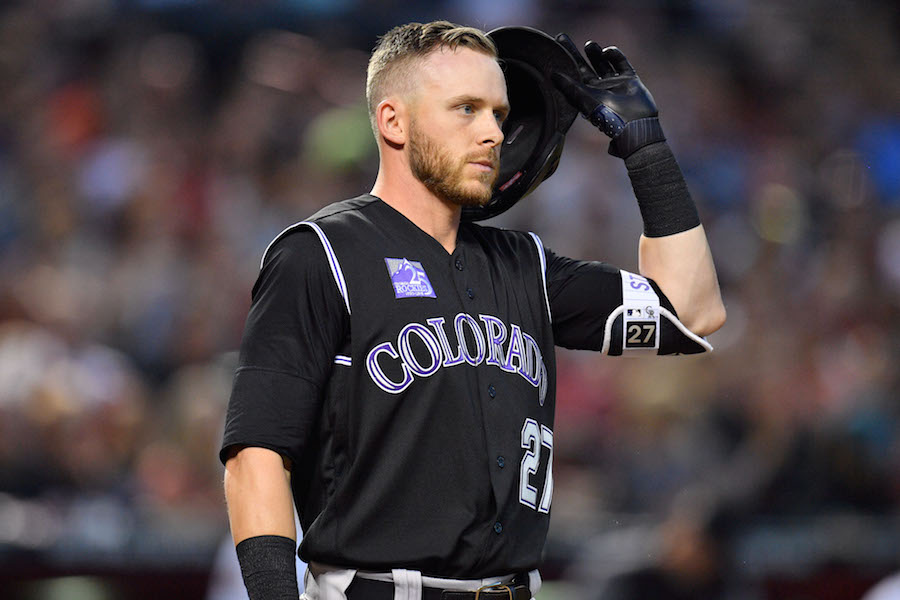 For the second time in as many nights to open the 2018 season, starting pitching faltered for the Colorado Rockies. On Friday night, the offense answered. Unfortunately, it came up empty when it mattered most and the Rockies fell to 0-2 on the young season.
DJ LeMahieu walked to lead off the ninth inning, with his team trailing 8-9. The big guns of Colorado's offense were in line, but could not deliver in the clutch. Nolan Arenado popped out to first before Brad Boxberger struck out Trevor Story and Carlos Gonzalez to preserve the victory for Arizona. Story was 0-for-5 in the game with four strikeouts.
Rockies starter Tyler Anderson was tasked with giving the bullpen a bit of a breather in Game No. 2 after Manager Bud Black needed five pitchers to get through an 8-2 Opening Day loss. Jon Gray didn't earn an out working into the fifth inning of the opener. It was worse for Anderson in the second game of Colorado's three-game series in Arizona to open the season.
The 28-year-old allowed five runs in the first inning, beginning with a two-run double by A.J. Pollock. Both of Pollock's RBIs came via batters Anderson had walked. Pollock came around to score on a Nick Ahmed home run, as did Chris Owings who also walked.
Pollock inflicted more damage in the third inning with a one-out triple. Owings picked up his first RBI of the season with a soft single to left. A pair of wild pitches from Anderson sent Owings to third before Jake Lamb walked. Ahmed's second hit of the game, a single, brought in Owings and chased Anderson after just 2.1 innings.
The Rockies' offense wasn't going to let things get out of control as they did on Thursday, however. Against Arizona on Opening Day, Colorado's only offense came from a pair of solo home runs. Ian Desmond matched that output with one swing of the bat in the second inning.
Desmond delivered an opposite-field, two-run home run after Gonzalez led off the inning with a walk. Desmond got things going again in the top of the fourth with a one-out single. Gerardo Parra recorded his first home run and RBIs of the season on a blast to right of Diamondbacks starter Robbie Ray.
Chris Iannetta, who was 3-for-4 in the opener, followed that with a single and advanced to third on a botched play on an attempted sacrifice bunt by Antonio Senzatela, who came on in relief of Anderson. Last year's batting champion, Charlie Blackmon came to the plate next, looking for his first hit of the year after starting 0-for-4. Blackmon blasted a 1-0 slider Ray (1-0, 10.80 ERA) left over the heart of the plate and sent it high over the fence to dead centerfield to tie the game, 7-7.
Owings and Lamb were not done being a thorn in Colorado's side, though. That pair opened the bottom of the fifth with a pair of singles off Senzatela (0-1, 6.75) — Lamb's of the bloop variety to left. Ahmed continued to punish Colorado, driving a single to right and registering a career-high fifth RBI on the night for the shortstop. Arenado kept things from getting too much worse, snagging a potential extra-base hit by John Ryan Murphy down the third base line and turning it into the first out of the inning. Still, a run scored and Arizona's advantage was back to two.
Adam Ottavino made his second relief appearance in as many nights that resulted in three strikeouts, retiring the D-Backs in order. Ottavino, who struggled with a 5.06 ERA and 39 walks in 53.1 innings last year, struck out Ketel Marte, Pollack and five-time All-Star Paul Goldschmidt in the sixth.
Gonzalez delivered a clutch two-out single off Arizona's Archie Bradley in the top of the seventh to drive in Arenado, who doubled, to get Colorado back within one run.
Iannetta continued his torrid start to the season with a one-out single in the eighth after Jake McGee worked a perfect seventh. Mike Tauchman took Iannetta's place at first on a fielder's choice that was very nearly a double-play. Tauchman advanced to second on a ball in the dirt, but was stranded there when Blackmon grounded out to first.
Bryan Shaw made his Rockies debut in the bottom of the eighth. The former Cleveland Indian retired the first two hitters he faced before walking David Peralta. Shaw responded by striking out Alex Avila to end the inning.
Colorado could not answer Boxberger (1 save) in the ninth, though, dropping the opening series to their division rival.
UP NEXT: The Rockies turn to German Marquez to try and salvage the final game of the series. He will face Zack Greinke, whose first start of 2018 was pushed back because of a groin injury suffered in Spring Training. First pitch is 6:10 p.m. MDT.