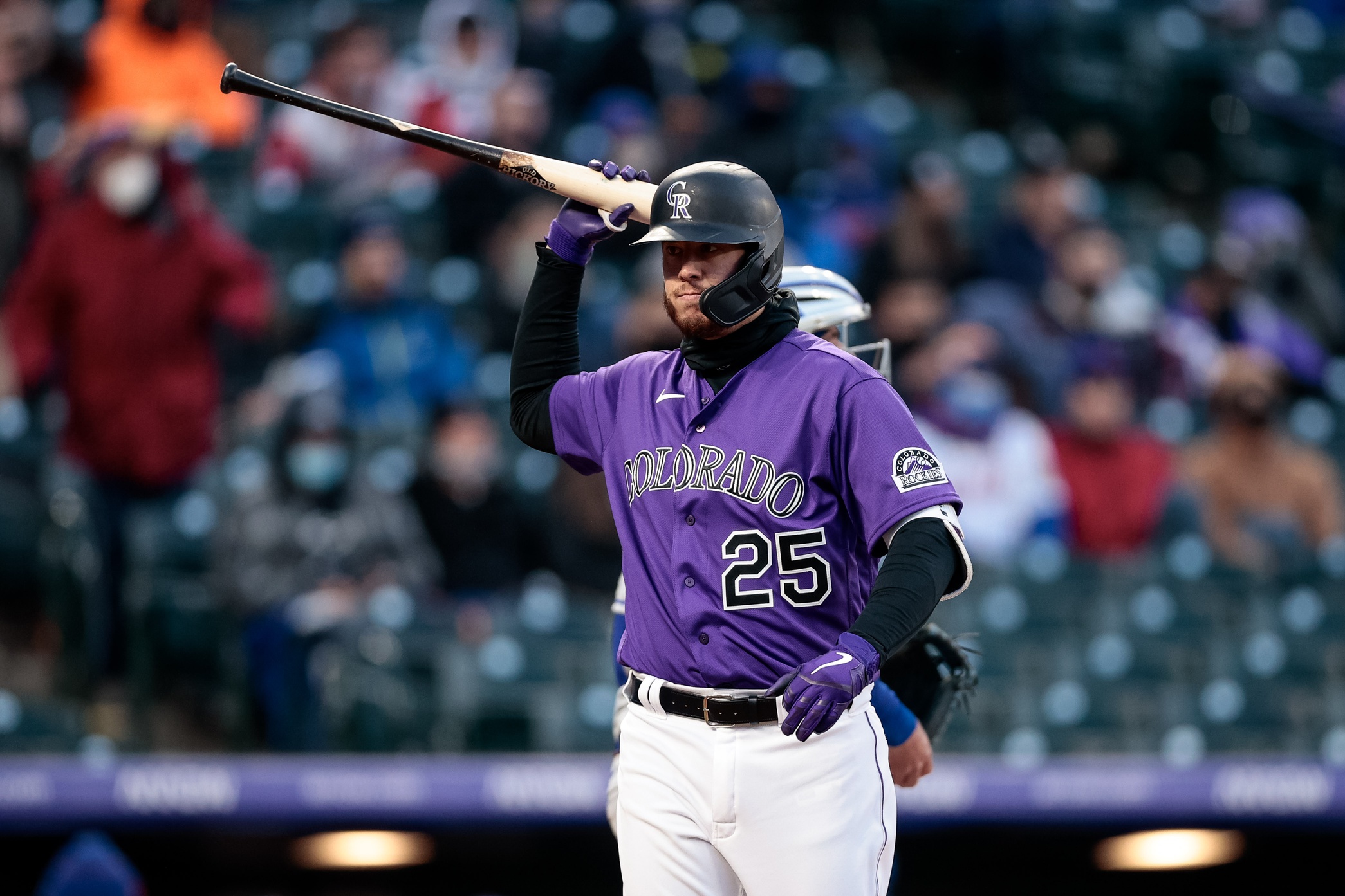 The Colorado Rockies over the weekend lost their third consecutive series, this time dropping two out of three against the visiting New York Mets at Coors Field.
The Rockies, after having to deal with two-time Cy Young Award winner Jacob deGrom in the series opener, ran into a buzzsaw in the form of Marcus Stroman in the finale. Stroman allowed just a run on three hits in eight innings, lowering his ERA to 0.90 through three starts. Colorado struck out only five times against Stroman, who has just 11 Ks in 20 innings thus far, but they grounded out 10 times and managed just one walk and one extra-base hit.
The dismal performance offensively for the Rockies wasn't their first of the series. They struck out 14 times against deGrom, and on 17 occasions oveerall, in Game 1 of the twin bill on Saturday. To be fair, Colorado was able to muster three extra-base hits, including a homer off the bat of Raimel Tapia, against deGrom and actually had a 3-1 lead after five innings. However, Mychal Givens and Daniel Bard combined to allow three runs in two innings of relief in an eventual 4-3 loss.
Sandwiched between the losses was a 7-2 win during which Josh Fuentes hit a three-run homer and Germán Márquez experienced a return to form of sorts. That win broke a seven-game losing streak during which the Rockies were outscored, 33-14.
What went wrong
It's hard to blame the pitching staff, aformentioned bullpen woes aside, for losing a series in which the opposing team scored fewer than three runs per game. So, let's talk about the offense—more specifically, the plate discipline of the offense.
Entering Sunday, when the Rockies drew just one walk for the third consecutive game, Colorado had the lowest walk rate of any team in the majors. Look, we get it: there's a reason it's called hitting, not walking. And Coors Field generally rewards contact of any sort, so it stands to reason that being aggressive is a good approach for the Rockies. But they also swing at more pitches out of the zone than any other team in the league, and that is just bad baseball—especially when considering the fact that they're a bottom 10 team in terms of making contact overall.
And then there's the issue of quality of contact, which also does not reflect well on the Rockies. Only the lowly Arizona Diamondbacks and Pittsburgh Pirates hit the ball hard a lower percentage of the time than the Rockies, according to Statcast. And while line drives and fly balls can do extra damage at Coors Field (among other places), ground balls are much easier neutralized; it's little surprise, then, that the Rockies are one of the 10 easiest teams to induce into hitting grounders.
Woof.
What went right
Rockies starting pitchers have been mostly good all season, especially when ignoring games that took place against the juggernaut Los Angeles Dodgers. We saw more of the same of that this weekend, when the aforementioned Márquez, Chi Chi Gonzalez, and Antonio Senzatela combined to allow just four runs in 18 innings, which is good for a 2.00 ERA if you're keeping score at home. The outings from Márquez and Senzatela were particularly encouraging; arguably the two best pitchers on the team last season, both of these guys entered play this weekend with relatively poor numbers in terms of ERA and strikeouts. The latter will probably always be the case for Senzatela, but at least he was able to largely control himself in his most recent start.
It's worth noting that, even with the inclusion of the disastrous set of games against L.A., the Rockies' starting rotation owns a wildly respectable 3.66 ERA in 16 starts. Despite low strikeout and high walk numbers, the rotation has the proven track record necessary to continue carrying the rest of the team.
What's next
The Rockies stay home for two more series, including one against the 2017 World Series-champion Houston Astros, who have gotten an earful in their first several weeks of games in front of fans for the first time since details of their cheating scandal rocked the baseball world. It will be interesting to see if Rockies fans, even in a limited capacity, will show up to the park to contribute to some entirely justifiable yelling.