The Colorado Rockies ended the unofficial first half of the season with a franchise-first four game sweep of the Atlanta Braves on Sunday and enter the All-Star break at 39-49, a full 11 games behind the NL West-leading Los Angeles Dodgers and 8.5 games out of a Wild Card spot.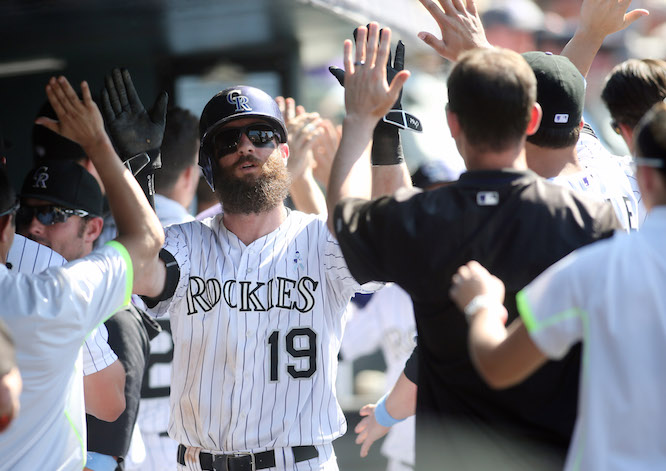 Colorado's bats exploded on Sunday as the Rockies went on to rout the Braves 11-3 in the final game before the four day break. Troy Tulowitzki and Drew Stubbs homered and Charlie Blackmon was 3-for-5 with four RBI. Chad Bettis bounced back from his worst performance of the year to go five strong innings before running into trouble in the sixth. Bettis struck out eight and walked five in six innings, allowing three earned runs.
The previous three games between the two clubs had been decided by a total of just five runs, including a walk-off victory Saturday, but Atlanta could not keep pace with Colorado, who knocked 17 hits in the game. All eight of the Rockies' starting position players had a hit Sunday.
Colorado now heads to the All-Star Break hoping for some momentum that could launch a second-haf comeback. But with already a double-digit deficit to Los Angeles in the division, it will be a tall order. MLB.com's postseason probability predictor gives Colorado only a 0.2 percent chance of winning either the division or a Wild Card slot.
It's an unfortunate plate to be in only halfway through a season that has seen both Troy Tulowitzki and Carlos Gonzalez stay healthy and seen Nolan Arenado and D.J. LeMahieu post career offensive numbers already.
Tulowitzki will join Arenado and LeMahieu as All-Stars in Cincinnati on Tuesday. Tulowitzki was added as an injury replacement on Saturday and LeMahieu was named a starter in place of an injured Dee Gordon.
Colorado is one of three National League clubs with three or more All-Stars. St. Louis leads with six selections, the NL West-leading Dodgers have five and the defending World Champion San Francisco Giants have four. The Rockies are the only team among that group with a sub-.500 record.
Colorado returns to action Friday in San Diego hoping to maintain the momentum they've gained heading into the All-Star break. Jorge De La Rosa is scheduled to start Friday. First pitch is at 8:10 p.m. MDT.