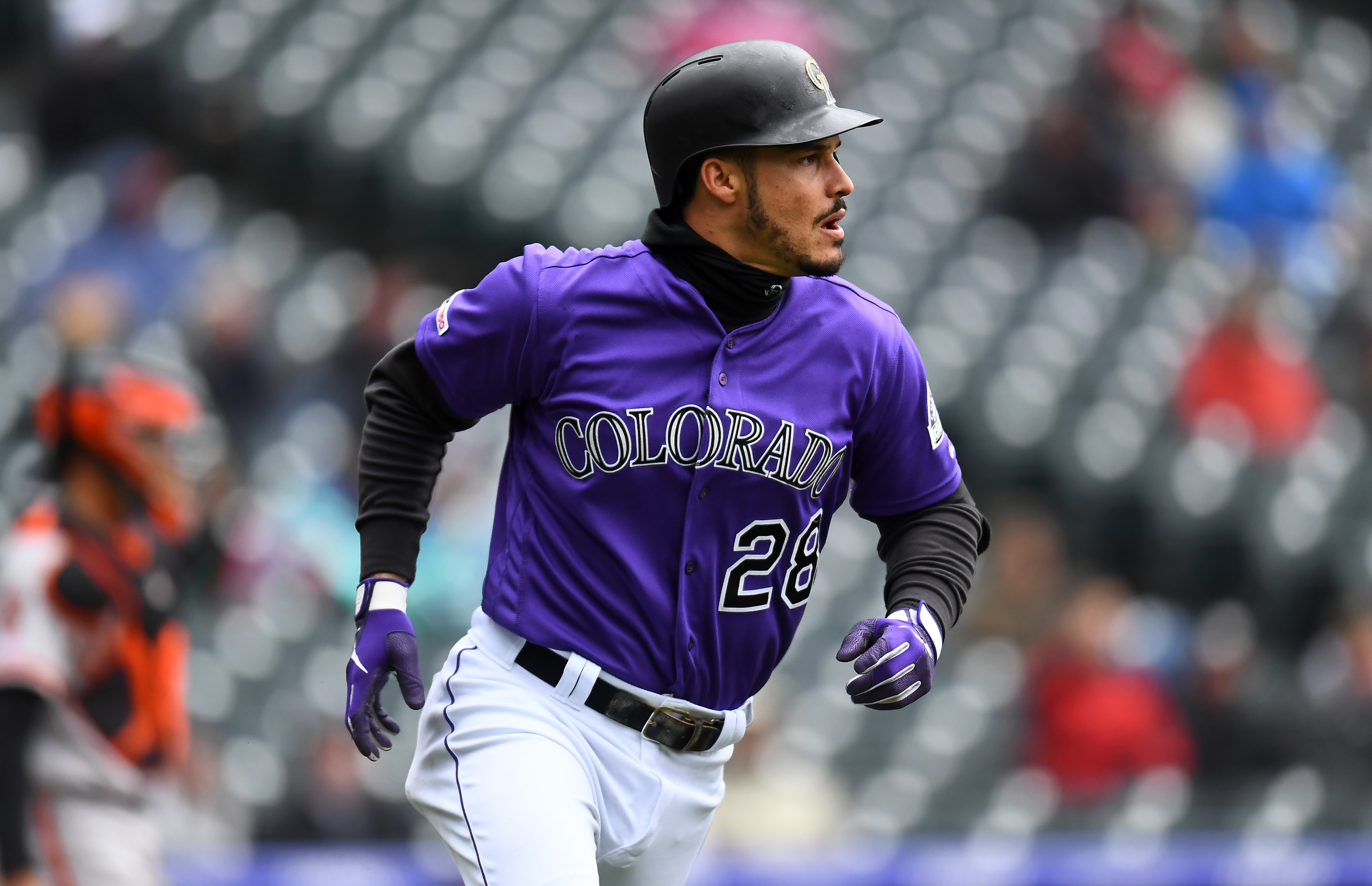 The two up-and-coming squads of the National League West are once again slated to square off as the Colorado Rockies prepare for a three-game set with the San Diego Padres.
Before the year, the Rockies were said to be in full contention mode, led by a star-studded top of the batting order and a thriving young rotation. As the rotation has crumbled, the club has found solid production from their order in the early going, despite a slump in the first 20 games.
The Rockies, after a split with the San Francisco Giants, sit at 17-20 on the year, fourth in the division. Due to their rotation's deficiencies, they've accrued a -17 run differential, also fourth among NL West clubs.
On the other end, the Padres have gotten off to a fast start, streaking their way to a 21-17 record behind dominant young pitching. In all, they've only outscored their opponents by one on the year.
Ahead are storylines for the Rockies and the odds of their continuation against the Padres.
Probable Pitching Matchups
German Marquez (3-2, 3.46 ERA) vs. Eric Lauer (2-3, 4.30 ERA)
Jon Gray (3-3, 4.22 ERA) vs. Joey Lucchesi (3-2, 5.00 ERA)
Antonio Senzatela (2-2, 5.67 ERA) vs. Nick Margevicius (2-3, 3.47 ERA)
Will Nolan's hot streak at the dish carry on?
Nolan Arenado, through the Rockies' first 16 games, had failed to park a ball in the seats, his longest streak with a homer to begin a season (61 at-bats). Since then, his production has skyrocketed.
In his last 21 games, including the outburst to break his streak, Arenado has slashed .375/.411/.795. He's also up to 10 home runs on the year, tied for eighth-most in the NL.
Leading the club in their last two series against division foes, Arenado has hit .475 during the five-game stretch, including four multi-hit efforts.
The early-season slump was hardly a surprise, given the pressure the club's offense was under as they scrapped to produce. Now that he's been able to escape the urge to "press," the results have come.
In the two team's first meeting of the year, a two-game series in San Diego, Arenado had a home run in each.
Can the club's pitching staff bounce back?
In a year of peculiar happenings, the Cincinnati Reds leading the NL in earned run average amongst their rotation (3.27) and the Rockies in last (5.70) was truly unforeseen.
Pitching from the rotation, while it carried the Rockies last year, has been wildly unsuccessful in 2019. Across the majors, they lead in earned runs allowed (130).
Both Kyle Freeland and Tyler Anderson have played a seismic role.
After leading the club in ERA last year at 2.85 and finishing fourth in NL Cy Young voting, Freeland has fallen off. Whether it's a slider that has flattened or a litany of blister issues, his 5.84 ERA across eight starts has been woefully unexpected.
Opponents have registered a hard-hit rate of 41.1 percent off Freeland's offerings this year, a career-worst mark. The woes are compounded by his soft-hit mark also reaching a career low (14.2 percent).
Anderson's struggles are similar to last year's miscues. After allowing an NL-leading 30 home runs in 32 starts last year, he was on pace to allow 51 this year in the same amount of starts prior to his demotion.
Without a significant third pitch, Anderson has been forced to rely on a fastball and changeup combination. His fastball has remained ineffective due to a low average velocity (91.3 miles per hour). The changeup, though well spotted in many instances, has failed to overcome a middling primary pitch.
While Freeland has endured early turmoil, the Rockies losing an effective back end starter may cause just as much damage.
Is this the real offense?
In the month of May, there hasn't been a higher-scoring team than the Rockies across Major League Baseball.
With 57 runs already in only seven games, the battery of the club has begun to find their groove. Normally a power-hitting offense, their production has been driven by a .368 on-base percentage, good for second behind the Boston Red Sox in May.
The aforementioned production from Arenado has played a large role, as well as a resurgence from veteran Charlie Blackmon. In May, he's gotten on base at a .429 clip with a pair of home runs and only five punch outs in seven games.
A previous series against the Padres served as a jumping-off point for the team's 9-2 run. Could history repeat itself?