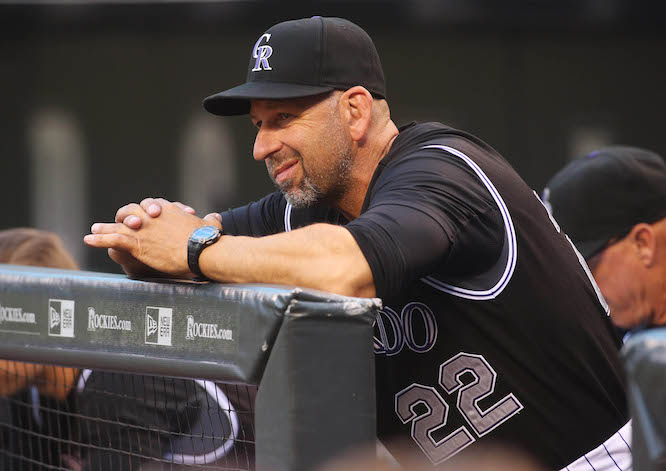 You thought those "the results don't matter" preseason games were all over after the Denver Broncos missed a late field goal and lost to the Arizona Cardinals Thursday night, didn't you?
Wrong. The preseason has a month left here in Denver. The Colorado Rockies have four more weeks to play games that, to quote John Lynch, "Don't count (for them, anyway), but do matter." This September should go a long ways towards determining who should be wearing purple pinstripes starting next April.
It's not all about the pitching, either. Sure, that's been the focus here and almost everywhere else that Rockies commentary takes place regularly, and with good reason. Yet as September dawned, Colorado had one – yes one – everyday position player hitting over .300. Only DJ LeMahieu had reached that basic, old-school statistical standard that was once commonplace for hitters that played half their games at Coors Field. While Nolan Arenado and Carlos Gonzalez are among the league leaders in home runs, neither is hitting over .300 and both will need to do so if the Rockies are going to contend in the future. The defense – dubbed "The Coors Shield" early in the season – hasn't been that great, either (with the very notable exception of Gold Glovers Arenado and LeMahieu.) There's plenty of room for improvement there, too.
But greater than those issues are these four specific questions that need to be answered, starting this September:
Who's in left?
The Rockies have at least four leftfielders on the current roster – Corey Dickerson, Kyle Parker, Brandon Barnes and yes, Charlie Blackmon, who is playing out of position in centerfield, presumably because Gonzalez doesn't want to play in center. Blackmon, while not quite reaching .300 at the plate, is doing some things well on offense (other than the all-too-often base running blunders) but is a below average defensive player in a position that calls for defensive excellence. Dickerson is a solid offensive player but well below average defensively; Parker is okay in left, and can also play first, but has yet to blossom at the plate, while Barnes seems best suited for a utility role.
Colorado has to make a decision and corresponding move(s) to determine how to improve the outfield defense while maximizing what they can get offensively. Moving Gonzalez back to center where he belongs would help clear things up.
What to do with Jose Reyes?
One report said that Colorado had a chance to trade the expensive and slightly past his prime shortstop the same day they acquired him from Toronto in the Troy Tulowitzki trade. They didn't, and now they're going to have to get creative if they want to move him out of the way for prospects Cristhian Adames and/or Trevor Story. Adames is here for the last month, so this should be his time to audition, although the Rox will also be trying to enhance Reyes trade value by showcasing him. Story had a good season split between Double-A and Triple-A, but his audition will have to happen next spring. If Reyes is Colorado's Opening Day shortstop in 2016, the rebuilding process will have been severely disrupted.
Who's three, four and five?
We'll assume that Jon Gray will be asked to take the lead spot in the rotation next year (with the shackles off, presumably.) Jorge De La Rosa and Chad Bettis – if healthy – seem likely to be part of the rotation, as well. So who will fill it out? It's safe to say that Opening Day starter Kyle Kendrick won't be re-signed. Still, there are a bunch of candidates, some of whom are here for the final month. There have been a few good moments for Chris Rusin and Yohan Flande, but both profile better in the bullpen long term. Unfortunately, the Rox can't look at injured guys like David Hale, Jordan Lyles or Tyler Matzek this September, and any thought of trying to use Tyler Chatwood as a starter next season is ridiculous, given his slight frame, macho "power pitcher" mentality and extensive injury history. Chatwood belongs in the bullpen, now permanently. And what about Eddie Butler? What did the past two seasons teach him and can he rebound and make the necessary improvements to become a stalwart in the big league rotation?
And what about the beleaguered bullpen?
First off, an improved rotation that can average more than five and a half innings per start will help any bullpen. Nonetheless, it's audition time for almost all of Darren Holmes' guys. It's probably time to cut ties with Rex Brothers. He needs a change of scenery. And the Boone Logan experiment didn't work. Gonzalez German is probably gone, too.
That leaves John Axford, Scott Oberg, Justin Miller, Christian Friedrich, Christian Bergman and Brooks Brown on the hot seat this September, and Tommy Kahnle needing a big spring. New guys Miguel Castro, Simon Castro, Jairo Diaz and Jason Gurka have a chance to show what they have to offer this month, too.
This September "preseason" can greatly benefit the Rockies rebuilding process. The games don't count for much, but they do matter.
Listen to Mark Knudson and Michael Klahr, Saturday mornings 8a-10a on Sports Stampede Radio on Mile High Sports AM 1340.