Colorado Rockies Troy Tulowitzki, Nolan Arenado and D.J. LeMahieu were a combined 0-for-4 Tuesday night, contributing to the National League's 6-3 loss at the hands of the American League in the 2015 MLB All-Star Game in Cincinnati. With the win, the American League secured home field advantage for its representative in this year's World Series.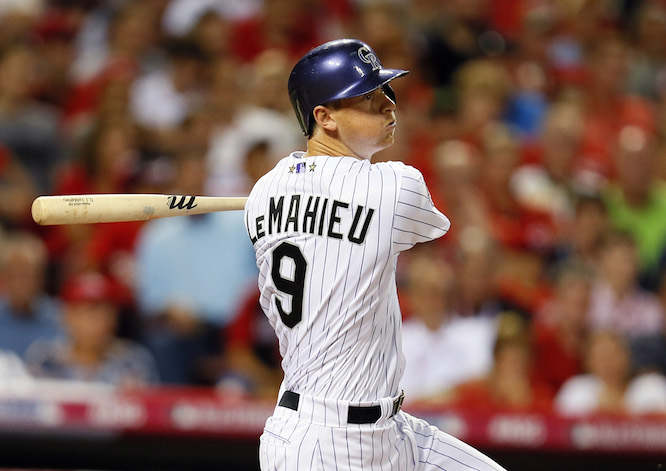 LeMahieu earned a start at second base after elected starter Dee Gordon (Miami Marlins) was forced to relinquish his spot due to injury. The Rockies' Gold Glove second baseman made a nifty play to end the second inning, stealing a possible hit from Houston's Jose Altuve. LeMahieu led off the bottom of the third for the senior squad, lining a 0-1 pitch off Seattle's Felix Hernandez to All-Star Game MVP Mike Trout of the Angels. In the bottom of the fifth, LeMahieu came to the plate with a runner on and two outs in a two-run game, but again sent a line drive out to the outfield, this time to right fielder Lorenzo Cain of Kansas City. LeMahieu was replaced defensively by San Francisco's Joe Panik in the top of the sixth inning.
Tulowitzki got his chance in the bottom of the sixth, pinch hitting for Anthony Rizzo, the DH, with two runners on base and the AL holding a 3-2 lead following a leadoff home run in the sixth by Pittsburgh's Andrew McCutchen. Baltimore's Zach Britton forced Tulowitzki into a fielder's choice to second base, ending the threat. The four-pitch at-bat was Tulowitzki's only action for the night.
Arenado came into the game as a defensive replacement at third base in the top of the seventh inning. He made a play on a ground ball to end the top of the eighth, then struck out swinging on three pitches from Kansas City's Wade Davis to lead off the bottom of the eighth.
That was the last action any of the Rockies would see on the night as Cincinnati's Aroldis Chapman struck out the side in the top of the ninth and Milwaukee's Ryan Braun replaced Tulowitzki as DH to lead off the ninth. Braun tripled and scored, but the National League could not overcome the 6-3 deficit that followed. After the sacrifice fly that scored Braun, Minnesota's Glen Perkins retired the next two batters he faced to bring the game to an end.
The midseason break will continue Wednesday and Thursday for the Rockies. They resume play on Friday in San Diego.