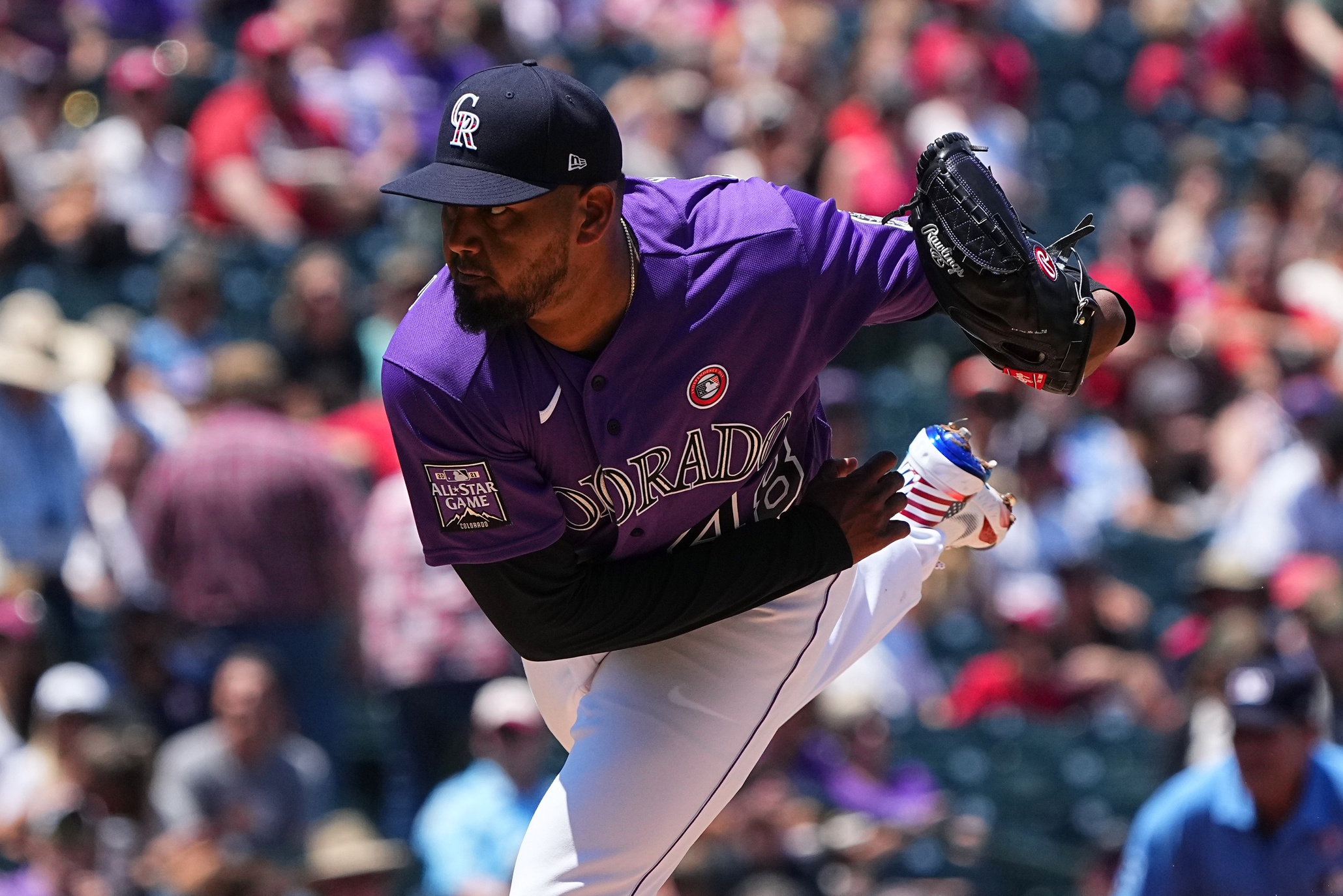 The Colorado Rockies, backed by tremendous starting pitching, took three of four from the visiting St. Louis Cardinals over the weekend at Coors Field.
Colorado starters Antonio Senzatela, Chi Chi Gonzalez, Kyle Freeland, and Germán Márquez combined to allow just six runs in 26 innings during the series. That performance set the stage for the offense to deliver a pair of walkoffs and just enough for a third close victory.
The Rockies won the series opener, 5-2, thanks to Elias Díaz's tiebreaking three-run homer in the bottom of the ninth inning. Brendan Rodgers added a two-run homer to support Senzatela, who allowed two runs in seven innings of work in an emotional game. Rockies legend Nolan Arenado made his return to Coors Field that night and was greeted with a massive standing ovation prior to his first at-bat, which ended in an infield flyout. Arenado finished the series 2-for-14 with three walks.
The Cardinals got revenge on Friday night, when Harrison Bader broke the game open in the top of the 10th inning with a grand slam off of struggling Rockies reliever Yency Almonte. St. Louis went on to win that game, 9-3. Gonzalez put in a stellar effort on the mound, nearly mimicking Senzatela's performance from the night before by allowing two runs in seven innings. Colorado, which got another homer from Elias Díaz, was a strike away from winning the game when light-hitting utility infielder José Rondón delivered an RBI single off of Justin Lawrence.
Colorado bounced back with a pair of 3-2 victories over the weekend. Freeland worked around three walks to produce six shutout innings on Saturday. The game remained in a scoreless tie until the bottom of the seventh, when Trevor Story launched a three-run homer to give the Rockies just enough cushion. Márquez responded to his selection to the National League All-Star team on Sunday by striking out 11 batters in six innings of two-run ball, paving the way for Díaz to deliver yet another walk-off hit, this one a two-out single to plate Josh Fuentes. Díaz has been a revelation since the beginning of June; the 30-year-old backstop is hitting .302/.380/.603 with eight walks, eight strikeouts, and five homers in his last 71 plate appearances.
Story, who will represent the Rockies and the NL in the Home Run Derby at Coors Field next week, homered again in the finale as part of a two-RBI day.
The Rockies now possess an NL-leading 31 home victories, a mark that is tied with the Chicago White Sox for the most in all of baseball.
Trending up
Ryan McMahon was struggling entering the final home series before the All-Star break, and that may have cost him a spot on the NL All-Star squad. But with the Cardinals in town, he showed definitive signs of coming out of his slump. McMahon finished the series 5-for-13 with three walks.
Trending down
Yonathan Daza, who was red-hot prior to this past weekend, struggled against the Cardinals. Daza went hitless in 11 at-bats in the series, drawing a walk and but striking out just once. His approach, almost entirely dependent on moderate contact with the baseball, is usually responsible for any hot or cold streaks that he has. From May 1 through June 30, for instance, Daza hit .323/.382/.418 thanks to an unsustainable batting average on balls in play of .409. On the flip side, series like this one are inevitable for Daza, whose success with contact has to be limited at some point.
What's next
The Rockies head back out on the road, where they're just 6-31, prior to the arrival of the All-Star game in Denver. Colorado will have a good chance to win its first road series of the season starting on Tuesday, when they face the Arizona Diamondbacks to begin a three-game set. From there, the Rockies head west to take on the San Diego Padres, who are a healthy 50-36 but still sit in third place in a top-heavy NL West.