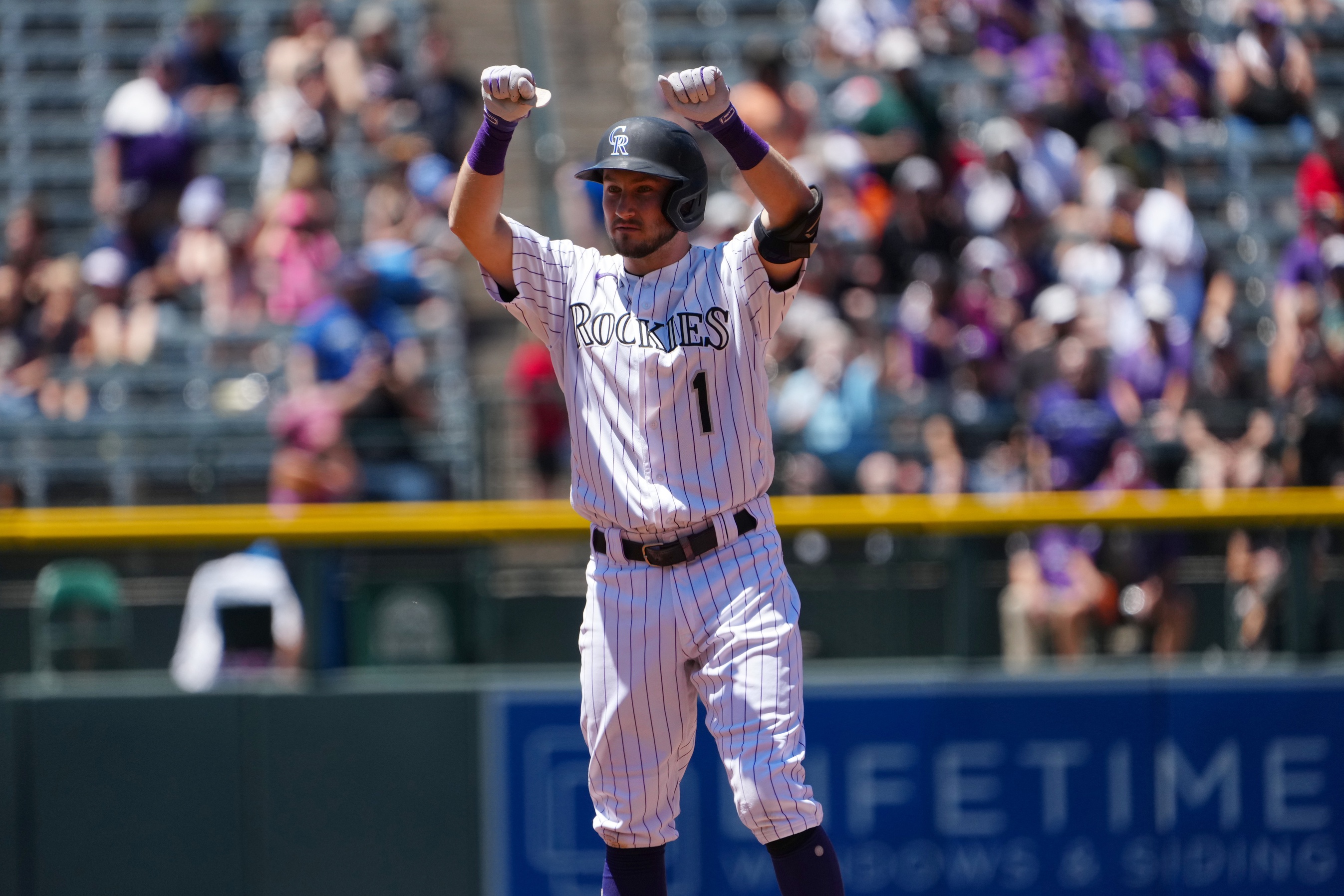 Returning home was all it took for the Colorado Rockies to go from … whatever it is they looked like during their last road series to an unbeatable force.
The Rockies rather easily dispatched of the Texas Rangers, capping a three-game sweep with an 11-6 victory on Thursday. Colorado, which scored just 10 total runs while hitting .158/.276/.253 en route to going 2-5 in seven games against the New York Mets and Pittsburgh Pirates last week, plated 20 runs against the last-place Rangers at Coors Field.
But while the Rockies hit .330 with a team OPS of over .800 in the series, it was the pitching that really stood out. Prior to Yency Almonte's four-run meltdown in the ninth inning of the finale, Colorado hurlers surrendered just five earned runs in 26 frames. It didn't hurt, in this particular series, that the Rockies got to face a bottom five offense in the American League. But overall, the Rox on the mound have somewhat surprisingly fared much better at Coors Field (4.26 ERA entering Thursday) than on the road (5.19 ERA).
Austin Gomber is one of the best examples of home pitching success. Gomber, after tossing six scoreless innings while allowing just three hits and striking out six on Thursday, owns a 1.33 ERA in four starts at Coors Field. His strikeout and walk numbers are better on the road, but in terms of sheer run prevention, he's been excellent in a difficult environment.
Germán Márquez and Antonio Senzatela were excellent in their starts, as well. Márquez tossed seven innings in the opener, allowing just a run on two hits and two walks and striking out seven. The Rockies' ace, after a rough start to 2021, is looking like his vintage self; Márquez owns a 1.97 ERA with 35 strikeouts in 32 innings over his last five starts. Senzatela the following night was charged with just one earned run in 7 2/3 innings. He has posted a respectable 3.14 ERA in five starts since returning from a brief injured list stint on May 11.
What (else) went right
It has been tough sledding for just about everyone in the Rockies' lineup in recent weeks, but few have struggled more than Garrett Hampson. Entering play on Wednesday, Hampson had just three hits in 36 at-bats since the middle of May. But Hampson came alive during his two starts against the Rangers, going 6-for-9 with a pair of doubles and three runs scored. Yonathan Daza, Raimel Tapia, and Josh Fuentes all matched Hampson's hit total for the series. Daza remains the team's leading hitter with a .328 batting average, though due to a lack of power, his OPS ranks behind that of C.J. Cron, Ryan McMahon, and—after a 3-for-4 effort that included a homer and a double on Thursday—Charlie Blackmon.
What went wrong
It's hard to pick something negative out of a sweep, but the struggles of the aforementioned Almonte have officially surpassed "deeply concerning" territory. Almonte's ERA, after he allowed four runs on two walks and two hits including a homer in the final inning on Thursday, sits at 14.09 for the season. A short appearance on the injured list didn't seem to fix him; his ERA was 12.46 when the Rockies shut him down near the end of April, and he's posted a 16.20 ERA since his return. Almonte has walked more batters than he's struck out in 2021, and six homers in just 15 1/3 innings have ensured he's paid for those mistakes.
What's next
The first-place Oakland Athletics arrive at Coors Field on Friday for a three-game weekend set. The A's boast a top-five offense in baseball in terms of wRC+, presenting a good test for slated Rockies starters Márquez, Jon Gray, and Kyle Freeland.