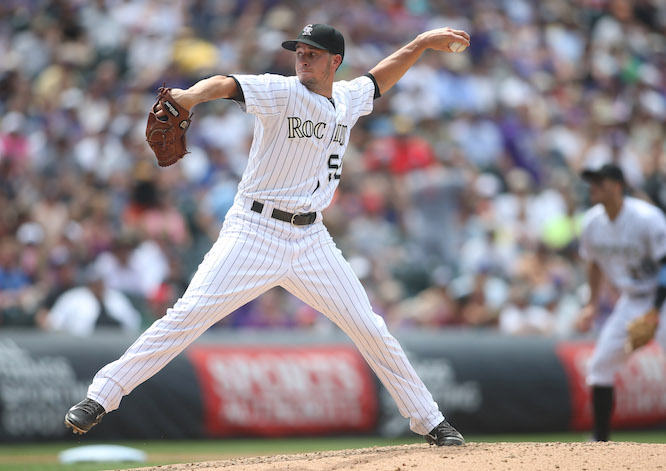 If there are one thing the 2015 Colorado Rockies should be used to it's a rain delay. So far during the 2015 season, the Rockies have been halted by rain for 26+ hours.
"We invented it," manager Walt Weiss said."We've been making it rain all year. I don't think I've ever seen rain in San Diego. This is strange."
With a 39-51 record, Colorado is still looking for its first win post-All-Star break.
On Friday the Rockies lost 2-4 to the San Diego Padres and Saturday were defeated again 4-5. Sunday's game was suspended in the top of the fifth inning due to, not surprisingly, rain. It was the first rainout or postponement in San Diego since 2006.
The Rockies will seek victory against the third place AL West Texas Rangers on Monday at Coors Field.
The Rangers will be starting off with pitcher Nick Martinez. He currently owns a three-start losing streak, but faces a Colorado squad that currently owns the worst interleague record this season.
On a more positive note, Troy Tulowitzki is on an amazing hot streak as of late – he has reached base in 40 consecutive games. If he gets a base hit today, it will tie him with former Rockies first baseman Todd Helton (2007) and Andres Galarraga (1996-1997) for the second-most consecutive games reaching base in franchise history.
Also, if Tulowitzki gets a base hit, he would be five back from Michael Cuddyer's franchise leading 46 games with consecutive base hits.
Tonight the Rockies will start Chris Rusin against Martinez. Rusin is 2-0 with a 3.32 ERA in three home starts..his interleague play is anything but attractive. He's 0-1 with a 8.10 ERA.
The Rockies are 1-10 in interleague play, the worst in MLB. However, in their previous four match-ups, The Rockies have outscored the Rangers 29-10, winning three of the last four.
The Rockies are on a four-game home winning streak, their longest streak of this kind since closing out 2014 with six straight wins.
First pitch Monday is scheduled for 6:40 p.m. MDT. The forecast in Denver at game time is for cloudy skies with a 25 percent chance of rain. Tomorrow's forecast calls for (what else?) rain.