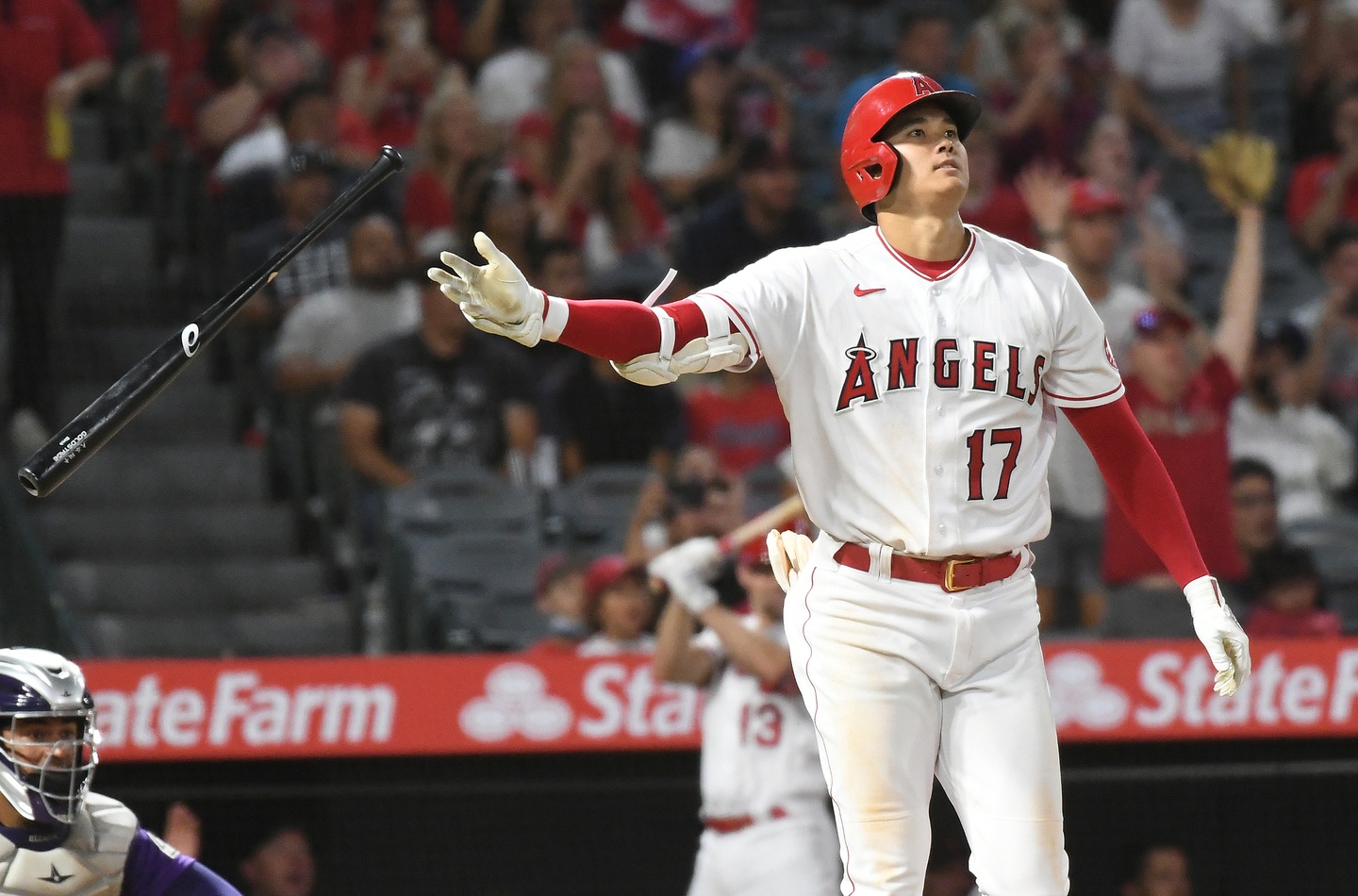 The Colorado Rockies, with a one-run loss to the Los Angeles Angels on Wednesday, dropped their second consecutive road series on their current three-set swing away from Coors Field.
Starting pitcher Chi Chi Gonzalez became the Rockies' latest player to hit the COVID protocol list, so the club was tasked with an unexpected bullpen day for the rubber match after a rare blowout win on Tuesday. Most of the damage was done against Jesus Tinoco, who was recalled from Triple-A Albuquerque prior to the game. Tinoco allowed five runs on five hits, including three homers, in an inning and a third. The Rockies found themselves in a 7-3 hole before rallying to tie the game in the top of the eighth inning on Brendan Rodgers' RBI single. However, the Angels regained the lead in the bottom half of the inning against scuffling reliever Carlos Estévez, who allowed the go-ahead run on two hits and a walk.
Colorado also dropped the series opener in a highly anticipated matchup of staff aces Germán Márquez and Shohei Ohtani. Both starters pitched well, but Ohtani, who allowed a run on five hits in seven innings, came away victorious. Márquez was hurt by a Jack Mayfield home run that barely cleared the short wall in left field and, because it was softly hit and didn't travel all that far, had an expected batting average of .040, per Statcast. Márquez allowed three earned runs on eight hits in 6 1/3 innings. He struck out eight and didn't issue a walk.
The Rockies slugged their way to a 12-3 victory between losses. Connor Joe and Sam Hilliard led Colorado with three hits apiece. Hilliard hit a three-run homer that gave the Rockies a 9-0 lead at the time. Austin Gomber was solid for six innings, allowing two runs on five hits and striking out seven. The lone blemish against him came off the bat of Ohtani, who walloped a hanging breaking ball over 460 feet into the right field stands.
Trending up
Hilliard looks like a much more confident hitter than during his first stint with the Rockies, when his strikeout rate was way up en route to a .108/.154/.324 batting line from April 2 through May 4. Hilliard still looked extremely down bad, as the kids say, as recently as the middle of June, when he was struggling with Triple-A Albuquerque. His body language at the plate was questionable at best, and he wasn't hitting the ball with much authority even when he did make contact, which wasn't often. But ever since returning the majors following the All-Star break, Hilliard has his swagger back. His beautiful, effortless power swing is paying dividends, resulting in a .269/.367/.538 line in 30 plate appearances. He's still striking out a decent amount, but Hilliard is also drawing walks and, perhaps more importantly, make hard contact regularly.
Trending down
Justin Lawrence found himself demoted to Triple-A after a poor outing in the Rockies' lone win of the series. Lawrence again struggled to throw strikes, walking a pair of batters and allowing two hits while recording only one out. In four appearances since the All-Star break, the hard-throwing reliever walked six and gave up six hits in just 2 2/3 innings. The free passes are Lawrence's biggest problem; he's now issued as many of those (17) as he has strikeouts in 16 1/3 total big league innings. His inability to consistently find the zone is somewhat amplified by what appears to be a problem with umpires correctly calling his pitches. He throws from a weird angle, and his pitches travel extremely quickly and, at times, move tremendously from side to side. But he's got a problem finding the zone nonetheless, and his struggles mirror a poor 2019 season in which Lawrence walked 29 batters in 37 innings across two levels in the minors.
What's next
The Rockies, now 11-38 on the road and 44-58 overall, head south to face the San Diego Padres in a four-game set at Petco Park. That, of course, is where Colorado picked up its lone road series win of the season right before the All-Star break. The Rockies send Kyle Freeland, who is on quite a roll, to the mound to start Game 1 tonight opposite Joe Musgrove. Jon Gray is scheduled to start on Friday, but the possibility of a trade still looms. Perhaps in preparation of a trade occurring, the Rockies on Wednesday acquired Ashton Goudeau, who is stretched out to start, from the Cincinnati Reds for cash considerations.
Márquez and Gomber are the scheduled starters for the weekend. The former will be engaging in another star-studded matchup, as Yu Darvish is set to go for the Padres on Saturday.