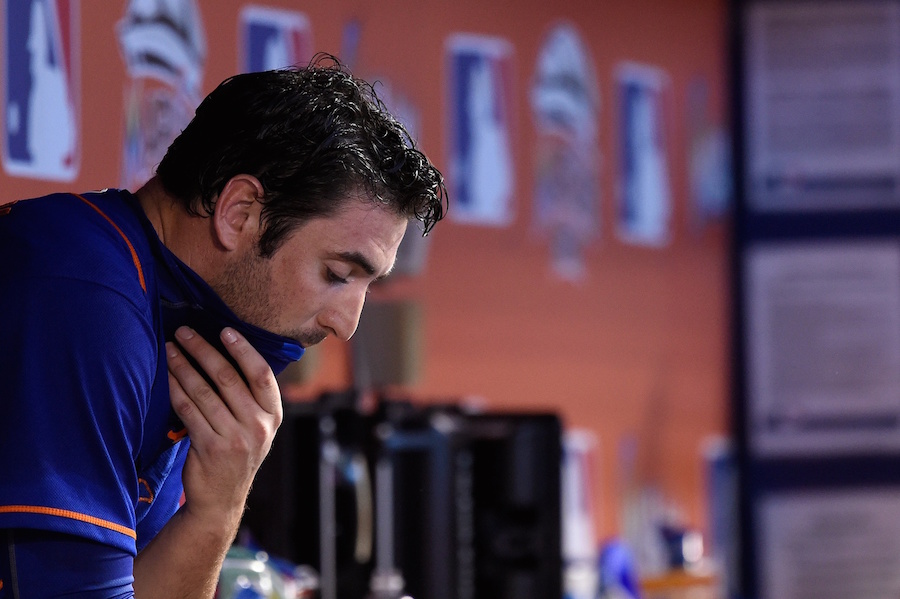 The red-hot Rockies aren't without their flaws.
And believe me, when you find a way to win series after series right out of the gate, that's a tremendous compliment.
The fact Colorado is playing baseball well north of .500 to start the season, with all the bad luck they've experienced, is a big accomplishment.
Their problems – from the rotation, to stars in slumps – have been well documented. Fortunately, they just keep throwing W's up on a daily basis.
Some reinforcements are back (Desmond, Dunn) and others should follow relatively soon (Dahl, Gray), but whether or not this is a sustainable formula to keep winning is uncertain.
If the Rockies truly believe they're a contender in 2017 – which right now it definitely feels like they are – GM Jeff Bridich should make one more bold move to ensure we see Rocktober for the first time in nearly a decade.
Mets pitcher Matt Harvey can probably be had right now; the Rox should make the phone call to New York.
If you've somehow missed the Harvey saga the last few days, he and the Mets are like a constantly fighting couple with an inevitable breakup coming soon.
Harvey partied hardy over the weekend, and was reportedly too hungover to show up to the ballpark in a game he wasn't pitching in. Sure, his services weren't needed that night, but not sitting on the bench is a bad look. Harvey is being compensated handsomely to chill for a few hours at work.
The worst part in many people's eyes is that Harvey allegedly lied to the team about his whereabouts, telling the Mets he had a migraine headache. But when team security showed up they didn't buy his story.
Long story short: Harvey and the Mets are feuding; it's unclear if he has a real future with the team.
While Kyle Freeland and Antonio Senzatela have been very good for the Rox, and Tyler Anderson and Tyler Chatwood both rebounded over the weekend, Bud Black's squad feels like it's still one rotation arm short from being a top-tier NL talent.
That's where Harvey could fit in brilliantly.
He's 31-30 in his MLB career, but with an ERA of 3.08 he's clearly a better pitcher than his record would indicate.
Meanwhile, the Mets desperately need a third outfielder. Curtis Granderson is hitting below .150 and his struggles at the plate go well beyond that. The fact he's even in the big leagues is a head scratcher. Over the last five years, Granderson has hit .232, .229, .227, .257 and .237. He's good on television – it's remarkable that hasn't become his full-time gig.
Here in Colorado, the team has a plethora of outfielders. Between Charlie Blackmon, Gerardo Parra, Ian Desmond, the soon-to-return David Dahl and Carlos Gonzalez, there simply isn't enough room for everyone to get the playing time they deserve.
And with Cargo in a terrible slump at the plate, a change of scenery might do him well. It would also cure a very glaring problem in New York.
Harvey straight up for Gonzalez: Who says no?
My initial gut is neither team – the Rockies open up the logjam and the Mets ditch a guy they're no longer willing to work with.
Look, what Harvey did wasn't a good look; no one is going to argue that. But partying a little too hard on Cinco de Mayo isn't exactly criminal, it's just dumb.
He'd benefit by hitting the reset button in Colorado just as much as the Mets would by dumping him off on another team.
Once Gray returns, Harvey would slot in nicely as the Rockies No. 2 starter. Some combo of the Tylers and the rooks would be Nos. 3, 4 and 5 with an incredible insurance policy for whoever became the odd man out. A return by Bettis would just be gravy. Right now, the concern is him getting healthy and living a long and happy life.
It'd be the gutsiest move the Rockies have made since signing Mike Hampton and Denny Neagle, but after more than 15 years it's time to get over those failures. Bridich has earned the trust of owner Dick Monfort and city of Denver after his monster offseason – pulling the trigger on this deal would be a cherry on top.
The red-hot Rockies aren't without their flaws, but because they keep winning no one has really discussed those issues.
Shoring up the starting rotation with a potential ace would go a long way toward seeing Rocktober 2017 become a reality.
Make the call. The worst the Mets can say is no.