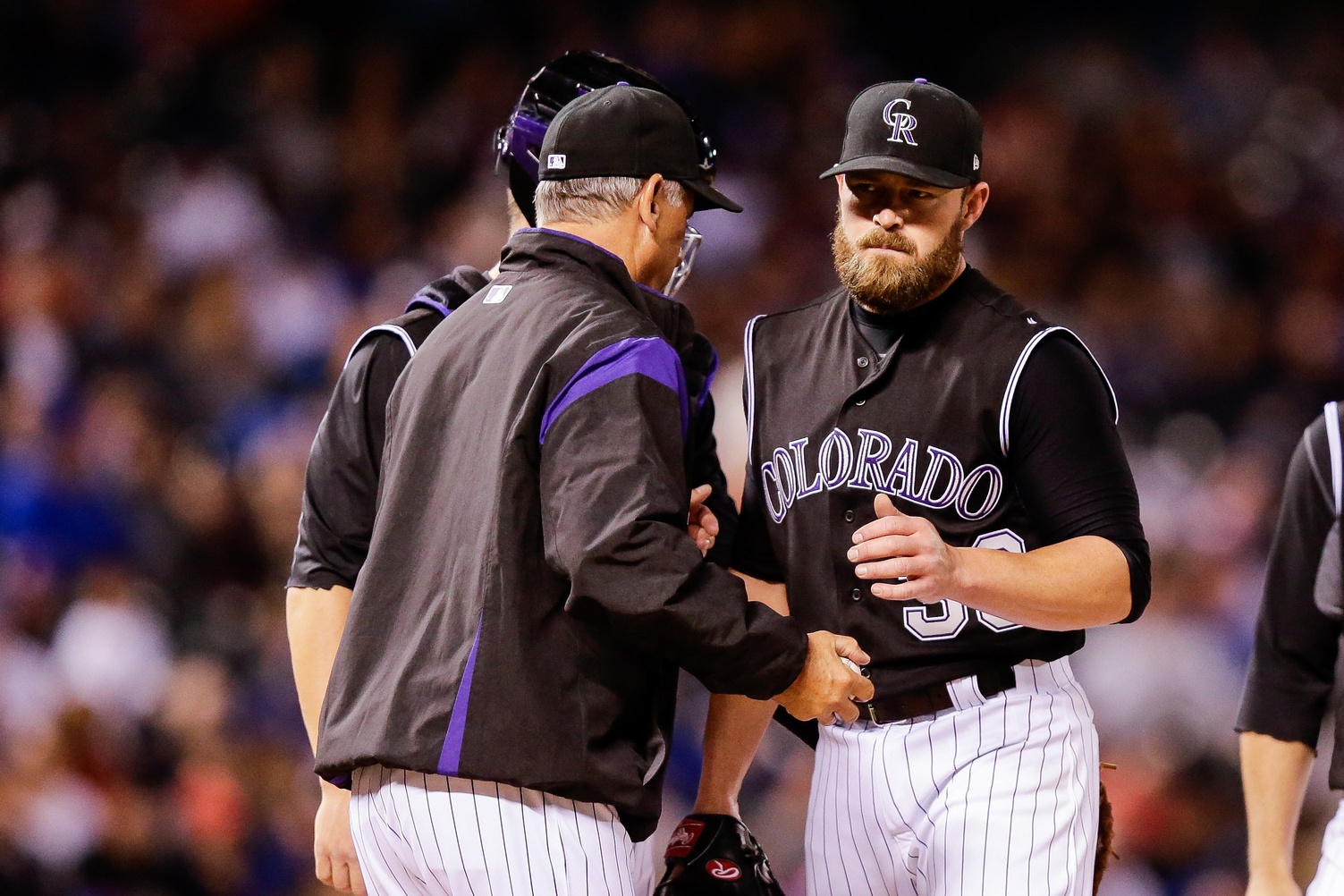 Middle relief pitchers in Major League Baseball face some of the toughest duties in any given game. Not only are they tasked with neutralizing the opponent's offense (like all relievers), but more often than not they have to serve as damage control to keep a game from getting out of hand.
While logic would suggest that certain situations can change an individual pitcher's approach, when it comes to the Colorado Rockies' relievers, the coaching staff preaches a technique that keeps a singular goal in mind.
"For the middle relievers and for the relievers in general, it's a 'we' mentality," pitching coach Steve Foster said. "It's not about self stats, it's about keeping the lead or protecting us in a game, and for me it's about throwing strikes.
"More importantly than that, it's the 'we' mentality, and that is, 'We got it done,' or 'We didn't get it done. It's not about me.' When a relieving staff takes on that mentality, it's a platoon mentality. That's how we've been doing this for a couple of years now, and we're starting to see the fruits of that."
For the first time in a while, the fruits of the Rockies' labors – whether it be the efforts of the front office or the team's farm system –  appear to have reached harvest season, and the crop is, for the most part, bountiful and healthy.
Thanks in part to the bullpen's significant improvement this year, the Rockies boast an early 28-17 record – best in the National League. Last year, it took them until June 10 to earn as many wins, and by then they already had compiled 33 losses.
While much of the team's success undoubtedly falls on the starting rotation, the middle relievers are some of the unsung, underappreciated heroes of those gains. That's when a strong-willed, uniform mindset serves them best.
"Sometimes you get used to a certain situation, but ultimately, you still got to go do your job," offseason acquisition Mike Dunn said. "Pitching's pitching – it doesn't matter if it's a one-run lead or you're up 10 or down 10. You still have a game plan against those hitters, so it's just going out there and executing it.
"The longer you're in the game, you learn how to be able to handle those situations. You go back to spring training, you're going to work. It doesn't matter if you're pitching this inning or this situation, it doesn't matter. It's the same thing. You go out there and do your stuff and make sure you execute pitches."
According to Jordan Lyles, the relief job breaks down to one straightforward definition of his role.
"For me personally, my role right now is to eat innings," Lyles said. "Sometimes I'm not in there when the game is close, so I'm here to help save a bullpen or save innings, so our later guys don't have to cover those innings. For me, it's not necessarily putting up zeros, but getting multiple innings."
That production across various innings is undoubtedly valuable, and can take immense pressure off the rest of the staff from day to day. This year, for the most part, that's something the Rockies have been able to do well.
So far this season, Lyles has struggled to garner the command necessary to put up zeros as he holds an 8.53 ERA across 19 innings in 12 games, but he's also struck out 17 batters.
Once he regains his control, however, he feels he'll be back to his old self in no time.
"I think the biggest thing for me was just fastball location within the park, but it's really key here, not putting people on base," Lyles said. "That's the biggest thing, not giving people free bases."
Dunn agreed, saying that's something he's also noticed in his years pitching for the Yankees, Braves, Marlins and now, the Rockies.
"I think just over the years, I've been trying to get command over all my pitches,"Dunn said. "I've been trying to command the fastball, the slider, in any count to anybody.
"I know like in Miami you can get away with stuff, because you fall behind 3-0 or 3-1 or whatever, you knew that as long as you kept them in the middle of the park, they weren't going to hit them out. I guess you got to really execute your pitches down in the zone, and when you go up, you got to make sure they're put in the right spot."
In his first 17 games as on the Rockies' staff, Dunn boasts a 4.85 ERA across 17 games with 15 strikeouts. He had worked his ERA down to 2.92 before a tough outing in Cincinnati on Saturday in which he allowed three runs over 0.2 innings. Between Dunn and Chad Qualls, it was a night where the 'we' didn't get it done. But those nights have been more the exception than the rule so far this season.
Dunn has held opponents scoreless in 13 of his 17 appearances this year. Chris Rusin boasts a 2.19 ERA over 24.2 innings pitched. Until Saturday, Qualls had allowed only two earned runs in eight appearances. And Lyles has a 17:5 strikeout-to-walk ratio.
A look at the stat lines for any given game usually reveals a fractional innings pitched total for the middle relievers, meaning Bud Black isn't shy about using the unit as a whole to secure wins for his young starting rotation or to keep his team in games when trailing. If one falters, the others are there to pick him up.
Rockies middle relievers have the added pressure of performing well at Coors Field 81 times each season, battling hitters in a majorly hitter-friendly park at altitude.
As someone who's been in the game for a long time and has played at Coors throughout the years, Dunn had plenty of practice to prepare for his stint in Rockies purple.
"Coming here on the road, I think I learned early that as long as you execute your pitches, you'll be all right," Dunn said. "You can't really let that factor into your mind. You can make excuses or whatever, but ultimately you can go back and look at the execution in the pitch, it can tell you whether it was a good pitch or not."
For every pitcher that comes through the Rockies' system, the coaches' advice to them is simple. It all goes back to that 'we' mentality.
"We say the same thing to every one of them," Foster said. "We say, 'Altitude matters, but attitude matters more.' If your attitude's right and you have the right approach, every time you go out there with that 'we' mentality, everything's going to be just fine."