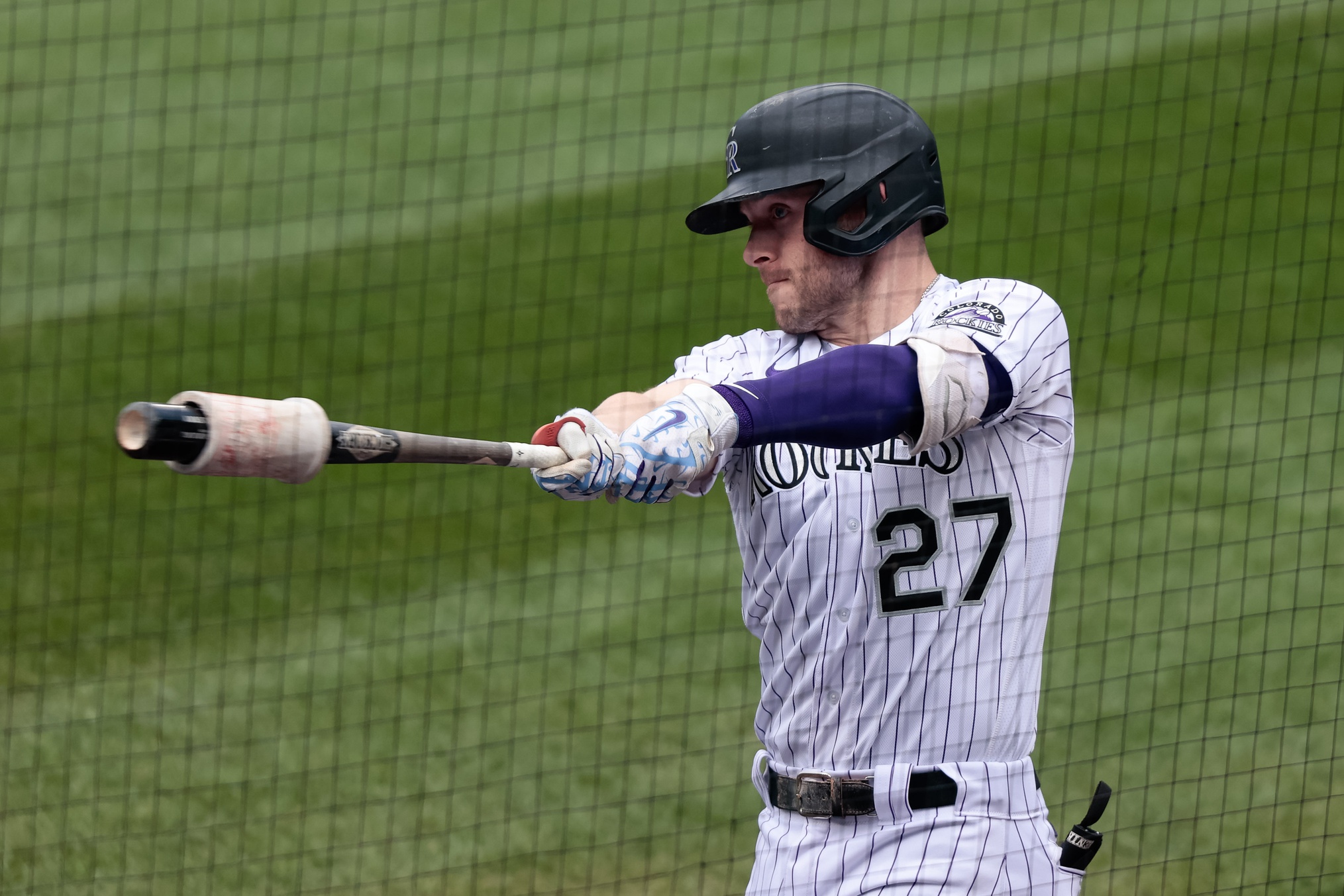 The bad news about the Colorado Rockies not doing much so far this offseason is that there's not a lot of news to cover, and if your job entails covering the Rockies, well … yeah.
However, there is good news brought about by the inactivity is that fans have questions—lots and lots of questions, in fact. Here's part 1 of our two-part Rockies mailbag, the second part of which will run next week.
How many at-bats will Ian Desmond take away from Sam Hilliard?
-Seth Klusmire (@sethklusmire)
If the Rockies approach this the correct way, Seth, then hopefully not many. Desmond hit 320 points higher against left-handed pitchers than against righties in 2019. If the Rockies give him any significant playing time against right-handers, they're simply doing it wrong. And this is where it helps to have Hilliard; in 150 career plate appearances against righties, the big 26-year-old Texan owns a .566 slugging percentage, fueling an OPS that is about 170 points higher than it is against southpaws.
It will take some work for Bud Black to field the optimal lineup each day, particularly when considering the defensive alignment in the outfield. But to some degree, he's got the pieces if he chooses to deploy them correctly. This is one of those instances.
I was wondering if you could briefly look into or explain of any instances where boycotting the stadium has actually gotten the message across to the front office. One team that comes to mind is the Browns but I also kinda feel like they just hit the jackpot with drafting Mayfield.
-Mo Riah Mo Questions (via email)
I can think of one instance when this might've made a difference, Moriah, and it was the mid-2000s Detroit Lions, who somehow turned a long run of mediocrity into an even worse with Matt Millen serving as general manager. Millen's teams didn't win a road game during his first three years in the position, and eventually an entire movement that spread throughout the entire Detroit sports scene (as in, signs and chants took place at area college sporting events, Pistons and Red Wings games, etc.)—and even gained national notoriety as, seemingly, a form of comic relief—led to his ouster in 2008.
That said, I recently came across something that suggested no more than roughly 10 percent of any given fanbase would be the type to actually boycott poor performance. In the case of the Rockies, where winning appears to be secondary to providing fans with an entertaining product, that's nowhere close to enough to really move the needle.
Are you in favor of extending Trevor Story if possible, given that he would be over 30 at SS with declining athleticism for most of the contract?
-Jambron (@jambron303)
Given the wear and tear that playing in Denver seems to contribute to any player who spends a significant amount of time with the Rockies, it isn't a good idea for the Rockies to sign anyone to big-money extensions. That might seem silly on the surface, but I'm still waiting for a single Rockies player to have more than seven or so good seasons before they start to break down.
That said, it's hard to know what the market is going to look like even after this season, due to the supposed havoc that the pandemic has wreaked upon the budgets of MLB owners. As such, the situation could actually play into the Rockies' favor if they decide to extend Story. But he's the type of player who is going to get nine figures either way, so the real question is how high winning is on his list of priorities.
In my opinion, the best course of action is for the Rockies to see what they can get for Story, Nolan Arenado, and possibly others when teams who are in contention inevitably come calling this summer. The Rockies are in no shape to contend for a pennant with these guys, so it's time to start figuring out how to get back there without them.
There are well over 200 free agents on the free agent trackers, an average of more than seven per team. Will the Rox sign any of them at this offseason's depressed prices? Which ones would you want them to sign?
-Ken Goldman (@kengold)
The Rockies have an awful lot of young position players who need to, for lack of a better and more grown-up term, poop or get off the pot. The team needs to help them get there (more on that in a minute). As such, Colorado's best course of action doesn't include signing any major league free agents on offense, unless the club thinks it can contend, which is an entirely different question with much different and more long-winded answers.
The Rockies should, however, pick up a starting pitcher—and even a bullpen arm or two—if for no other reason than to ensure everyone makes it through the season, allowing the team to not have to rush Ryan Rolison or other young pitchers who may not be ready. Considering the context of where the team sits in terms of contention status, Ken, I'd like to see Colorado target Carlos Rodon, a 2015 first-round draft pick who isn't far removed from being an above-average starter and doesn't possess any major red flags as far as reasons for his decline in an extremely unconventional 2020 season.
Where's the silver lining in this year's lack of offseason acquisitions?
-Neil Anglen (@prisonneil)
As I mentioned above, it doesn't really behoove the Rockies to make a bunch of additions on offense unless they're going to go all-in on trades or free agency, neither of which appear to be forthcoming. The reason for that is they have a host of players—Hilliard, Brendan Rodgers, Dom Nuñez, and Yonathan Daza, just to name a few—who need a real opportunity to prove themselves at the major league level. Continuation of a quiet offseason would almost certainly result in that.