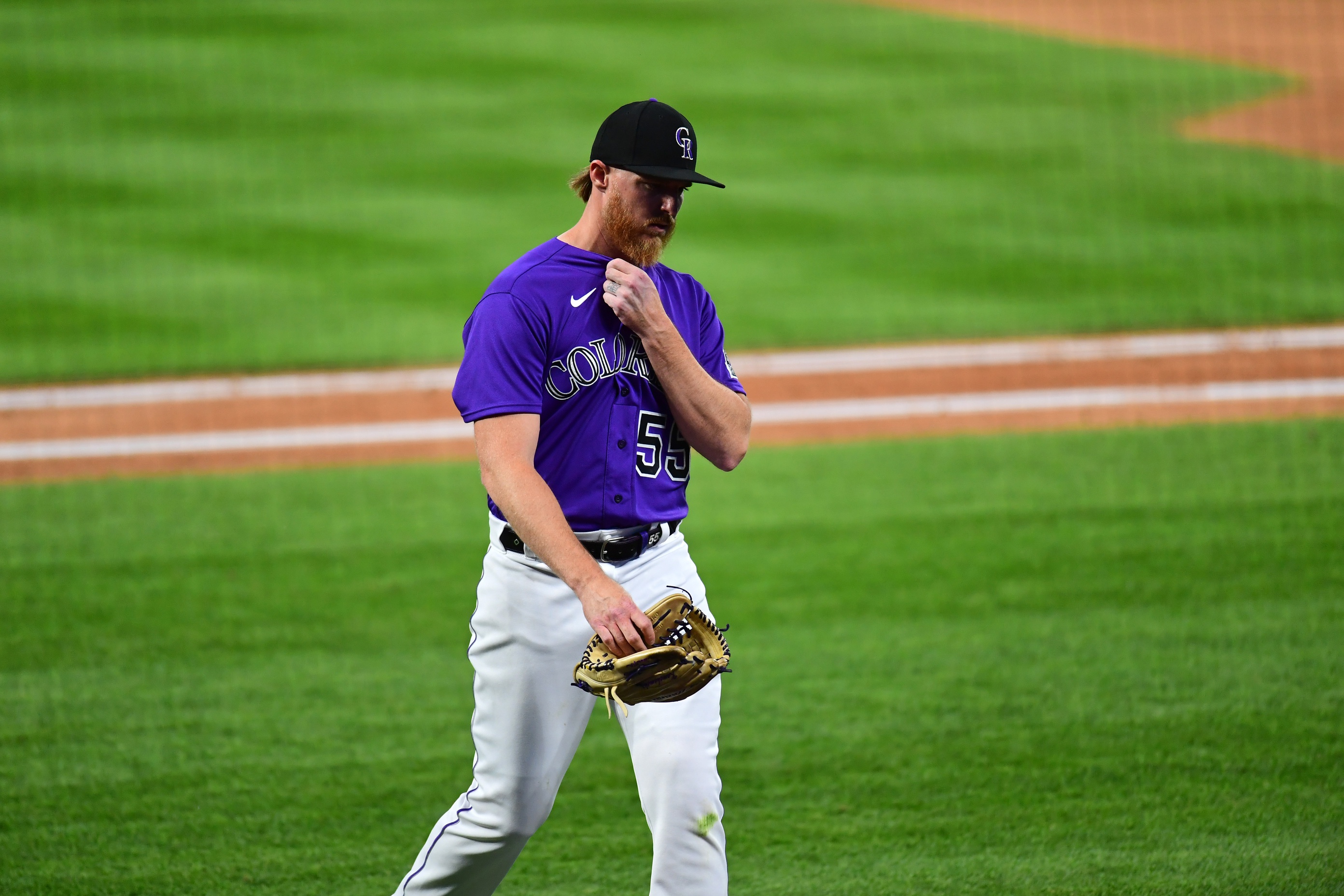 As promised last week, here is Part 2 of our Colorado Rockies offseason mailbag, which was pretty full thanks to the efforts of the wonderful people who read our coverage of the hometown nine. This time, we'll tackle the huge dip in the Rockies' starting pitchers' strikeout rates, what needs to happen for the club to get back on track in 2021, and try to find some bright spots in Colorado's seemingly underwhelming farm system.
What the [redacted] is going on with the Rockies' pitchers' strikeout rates?
-Matt Patston (@MattPatston)
The Rockies' starting pitchers in particular had an extraordinarily low strikeout rate in 2020, so that's what we'll focus on. The unit's combined 6.07 strikeouts per nine innings and 15.6 percent overall strikeout rate were both easily the lowest in the majors in 2020; in fact, Rockies starting pitchers, on a rate stat basis, struck out fewer batters than any rotation since 2013.
There are really three main culprits:
Antonio Senzatela has never, and likely will never, be a high-strikeout pitcher. Since 2017, Senzatela has the fifth-lowest strikeout rate among all major league starters with at least 200 innings. Prior to last season, he'd never been responsible for more than 14 percent of the total innings pitched by Colorado starters. But Senzatela in 2020 tossed nearly 23 percent of the innings logged by the Rockies' rotation. As such, his 5.03 K/9 had a much higher affect on the overall team number.
The likes of Senzatela, Kyle Freeland, and—to some degree—Ryan Castellani, weren't going to be counted on to rack up the Ks. Jon Gray, though? He was one of the team's—and the league's—most prolific strikeout pitchers from his debut in 2015 through 2019. However, Gray's swing and miss percentage dipped dramatically—from 15.8 percent to 12.8 on pitches in the zone and from 52 to 45.5 percent outside of the zone—from 2019 to 2020. He lost velocity on his fastball, but perhaps more importantly, the effectiveness of his slider all but disappeared.
Gray's regression and the Rockies' mediocre season in general aside, pitching to contact kinda worked for them. The Rockies allowed a higher rate of contact on pitches inside of the zone and yielded far more batted ball events overall than any other team in baseball, but the percentage of time an opposing hitter actually barreled up one of those pitches was low—the second lowest in the majors, in fact, behind only the Cincinnati Reds.
Everyone in the Rockies' rotation, including ace and noted strikeout artist Germán Márquez, saw a dip in Ks. Some of that is small sample size-related, but it's no secret that the Rockies value efficiency from their starters. Pitching to contact is a good way to achieve that if a team's defense is up to the task, and in 2020 at least, Colorado could be characterized as such.
Why should we have hope for 2021?
-Rich Kurtzman (@RichKurtzman)
Márquez and Freeland are a terrific 1-2 punch atop the rotation. The bullpen has some bright spots, and it seems Jeff Bridich is figuring out the right way to build it—as sustainably as one can build a relief corps, anyway. And, it appears the team is going to hang on to Nolan Arenado and Trevor Story, at least to start the season. Regardless of how you feel about how that reflects upon the direction of the organization, those are two of the very best players in the entire league, so they're going to be fun to watch.
What are your thoughts on the Rockies' system? Obviously it's lacking in premier talent but it seems a lot of guys impressed at instructionals in the fall.
Tyler Paddor (via email)
It has been almost seven years since the Rockies have had a first-round draft pick who went on to make an impact in the majors. That's a big reason why people who aren't necessarily prospect experts are so down on the Rockies' ability to draft and develop.
But even those who are prospects experts don't necessarily see an impactful group; Colorado's farm system ranks in the bottom third in baseball according to most ranking systems. My theory isn't that it's a system devoid of talent; it's that the club graduated a lot of prospects from 2015-2018 or so, leaving the cupboard understandably bare. On top of that, the fact that there was no 2020 minor league season on which to judge those prospects left in the system makes things seem worse than they are.
Brendan Rodgers, who has lost a lot of his luster but still has "major league role player" as his floor, is probably still the top prospect in the system. Zac Veen, the Rockies' first round pick in 2020, is right behind him largely because of his elite power potential. Ryan Rolison, a polished lefty who is likely going to make his big league debut this season, is an easy third. But there's talent behind those guys, too. Here are a few names to watch:
Michael Toglia is an actual first baseman; he's got a great glove that will complement the likes of Arenado and Story—if they stay in purple beyond 2021—well in the future. He probably won't hit for average, but he potentially packs enough power to be somewhat of an asset rather than a liability at the plate.
Brenton Doyle is one of the players who has generated a ton of buzz in instructional ball. He's a player who settled on a Division II program in college because of a late decision to not attend a military school, so he went somewhat unnoticed. The Rockies believe he has the potential to be a five-tool player at any one of the three outfield positions, and some prospect gurus are coming around to that description.
Aaron Schunk, after a great senior season in college and an impressive pro debut at Boise in 2019, has also made a name for himself during instructionals. Schunk, who hit .306/.370/.503 in the at-times offensively challenged Northwest League, has a strong arm at third base, and his glove is coming along well. The thing that has scouts buzzing about Schunk is his knack for making solid contact while avoiding strikeouts. I can think of another third baseman in the organization who possesses those traits.
It's going to be exciting to see how these guys, as well as the likes of Helcris Olivarez—a power lefty starter who is seemingly improving by the day—and the Rockies' highly regarded 2020 draft class, perform if and when minor league baseball returns this year. It's important to note that many of the players whom the team and scouts are high on have yet to reach Double-A, where you really start to see major league potential. There's at least a decent chance the Rockies' system is viewed quite a bit differently after the 2021 season than it is right now.
Assuming Dick Monfort doesn't fire Bridich, what realistic path does the team have to returning to contention?
-Tristan Boyce (@Tristan_Boyce1)
The second tier teams in the National League are going to have to be pretty mediocre, and the Rockies will need all hands on deck. That means the rotation has to stay healthy and consistent, and the bullpen must be able to hold up for the majority of the season. The likes of Ryan McMahon, Garrett Hampson, and Brendan Rodgers must also play to their prospect pedigree.
If all of that happens, and the team gets the usual level of performance from its stars, you don't exactly have to squint to see a slightly better than .500 team. If it's a weird enough year, that might work.