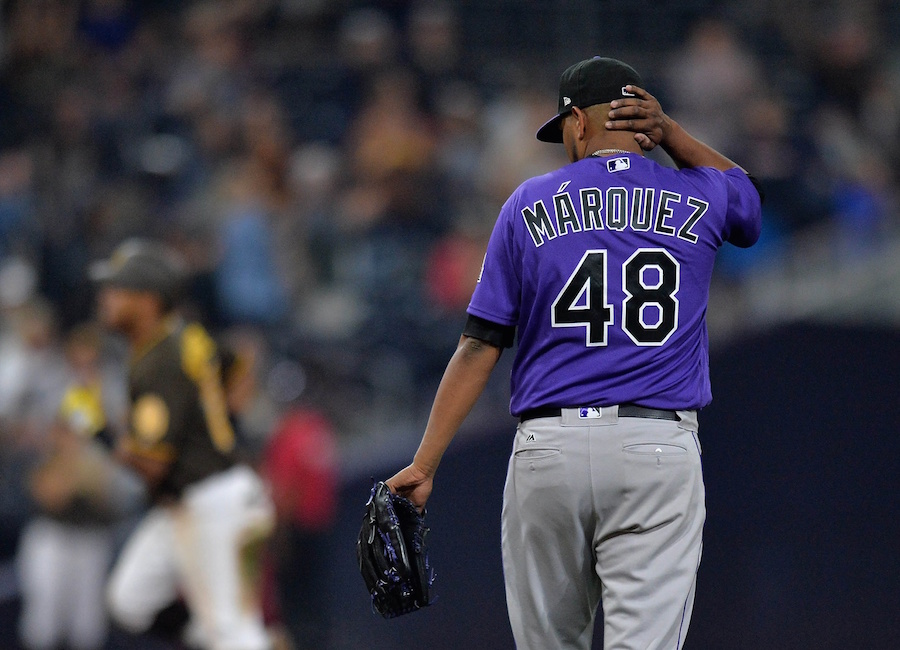 Call it a road trip to forget for the Colorado Rockies. Sunday afternoon ended much like the majority of the games on the road trip for the Rockies, in a loss.
An RBI-single from Ketel Marte off Chris Rusin in the ninth inning propelled the Arizona Diamondbacks to a 4-3 win in Arizona. It was Colorado's eighth loss in their last nine games on the trip and their 10th loss, of their last 11 games.
The Rockies did rally and show fight in the ninth inning, when Charlie Blackmon singled home the tying run off Diamondbacks closer, Fernando Rodney. However the tie didn't stand long, when in the bottom of the ninth, Adam Ottavino allowed two-hits before being relieved in favor of Rusin, who allowed the Marte single that ended the game.
German Marquez pitched well for Colorado, rebounding from his most recent start where he struggled against the San Francisco Giants. Marquez threw 5.2 innings before being lifted by manager Buddy Black.
Marquez didn't look the sharpest on the stat sheet, but with active movement on his pitches, depth on his curve and heat on his fastball, leading to six strike-outs, Marquez was far from the same struggling pitcher. Marquez missed on one pitch that Chris Owings took for a ride in the fifth inning, a two-run shot that barely crept over the left-field wall. Aside from that missed pitch, he was consistent in the 101 pitches he threw.
Making a failed leaping attempt at robbing that Owings home run, was Ian Desmond, who caught a line-out on the next at-bat, only to pull-up limping, leaving the game with what was announced by the Rockies later as a right calf cramp.
The Colorado offense failed to score four runs again, who have failed to reach that mark in five of the last six games.
The Rockies return home to Coors Field for a four-game series against the Cincinnati Reds. Jeff Hoffman for Colorado and Luis Castillo for Cincinnati are the projected starters for Monday.