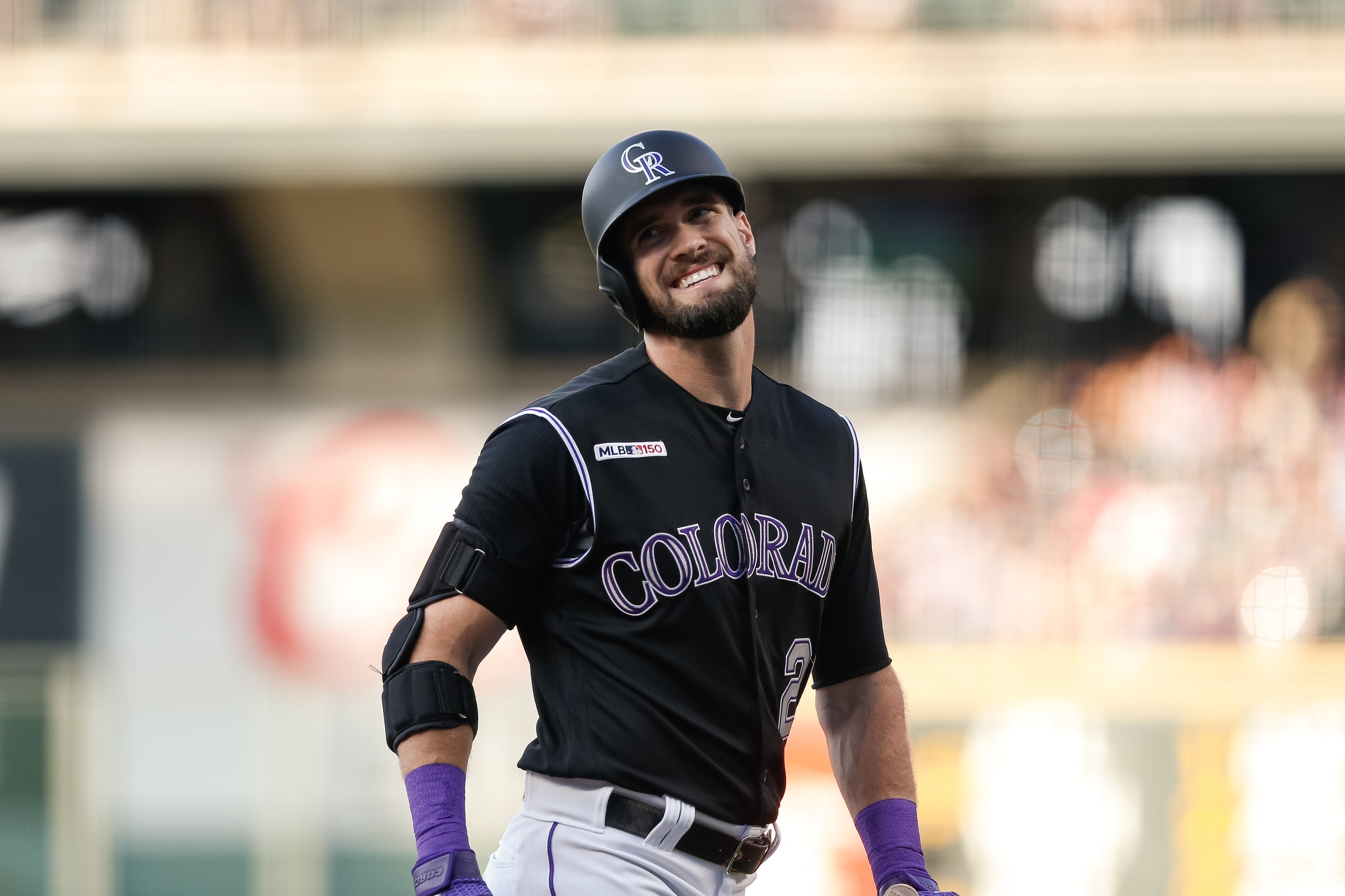 The Colorado Rockies have declined to tender 2021 contracts to David Dahl, Chi Chi Gonzalez, and Tony Wolters, the team announced on Wednesday. Those three players are officially free agents, and Colorado now has three open spots on its 40-man roster.
Dahl comes as the biggest surprise of the three; the 26-year-old outfielder is just a year removed from an All-Star selection and entered 2020 with a career .297/.346/.521 line in 921 plate appearances. Injuries have always been part of Dahl's story; that, combined with a poor 2020 during which he hit just .183/.222/.247, likely contributed to the Rockies' decision to non-tender him. Dahl was projected to make $2.7 million in 2021, so it's fair to question the Rockies' strategy here. With the likes of Raimel Tapia, Sam Hilliard, Yonathan Daza, and Ian Desmond in the mix for playing time alongside Charlie Blackmon, it's not exactly like Colorado is stacked with quality players in the outfield group.
Wolters is somewhat of a surprise too, if only because of the organization's adherence to giving him most of the reps behind the plate despite years of dismal offensive production. He was good enough defensively in 2019 to post 1.5 rWAR despite an OPS of just .666, but the defense and, somehow, the offense took a dip in 2020, when Wolters finished with a career-worst .230/.280/.270 line at the plate and was two runs below average behind it.
Gonzalez gave the Rockies some decent innings during his two-season tenure with the team, particularly down the stretch in 2019, but was poor overall. He posted a 5.66 ERA in 82 2/3 innings while walking almost five batters per nine.
All three players could theoretically be re-signed by the Rockies if interest isn't shown elsewhere, but in the case of Dahl and Wolters, it doesn't sound like that will happen. Bridich indicated that rather than bring back Dahl, the team plans to give playing time to the other outfielders on the roster, according to Nick Groke of The Athletic. The Rockies' GM added that the events of today were "not business as usual" when asked about Wolters, per DNVR's Drew Creasman, and added that the team could make a move to supplement incumbent catchers Elias Diaz and Dom Nunez.
Jon Gray, due to his projected 2021 salary and disastrous 2020 season, was thought to be a non-tender candidate, but Bridich made it clear that the right-hander will be part of the Rockies' plans going forward. Gray lost his fastball and, with it, his ability to strike out hitters in 2020, posting a 6.69 ERA with just 22 punch outs in 39 innings. However, he's only a year removed from putting up a 3.84 ERA with a strikeout per inning, and his career production (4.59 ERA, 9.2 K/9, 2.9 BB/9) remains solid especially given his home park.
It appears the Rockies will move forward with Carlos Estevez, as well. Estevez, who still has that powerful fastball but fell off in 2020 after a very strong 2019, could make somewhere around $2.5 million in arbitration in 2021. That would represent a bargain for Colorado if he's right but somewhat of a burden, especially when considering Dick Monfort's comments to ticket holders at the end of the season, if his struggles continue.