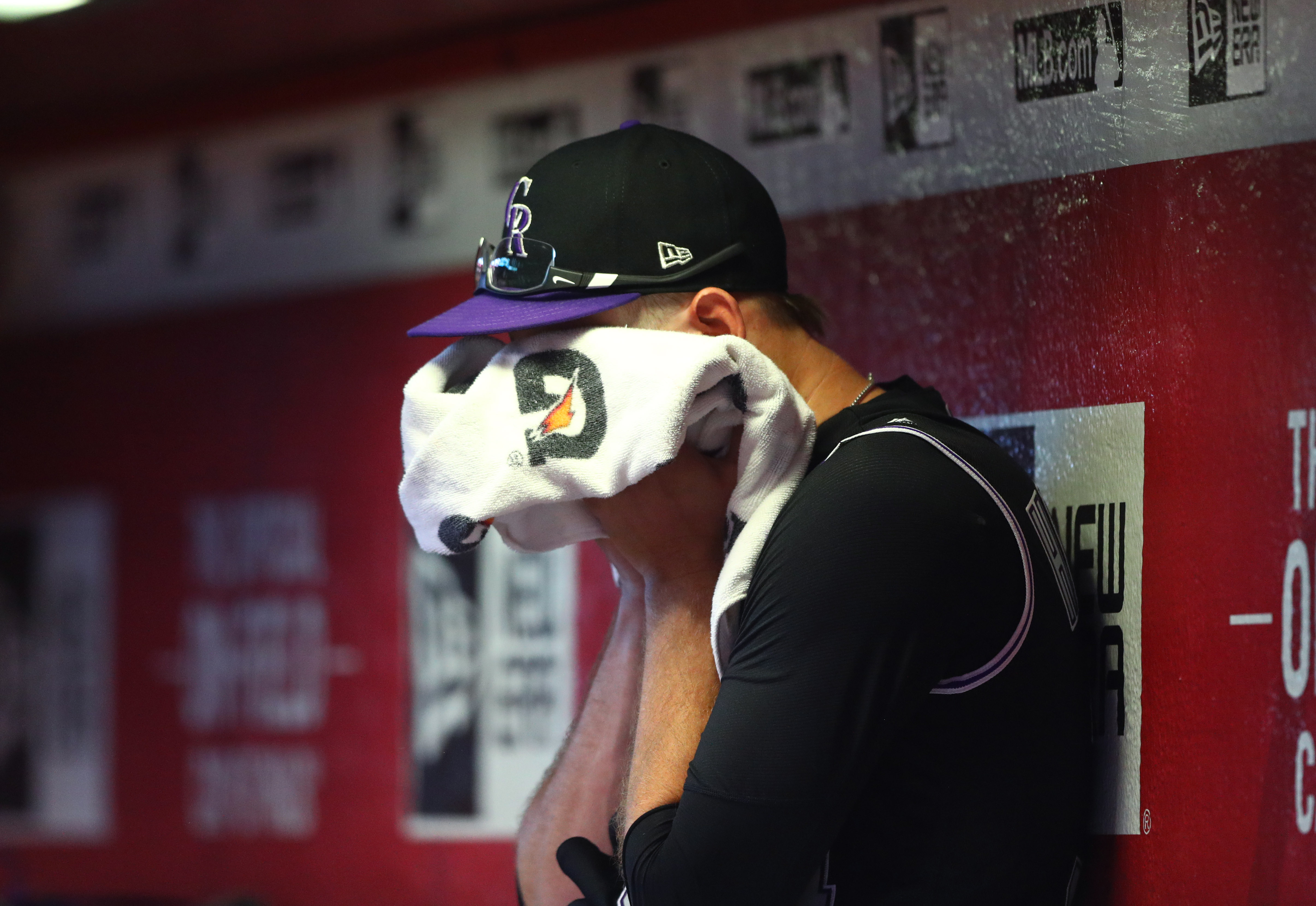 The Colorado Rockies' starting rotation continues to be a carousel. On Sunday, the club announced that Jeff Hoffman was being optioned to Triple-A Albuquerque.
Hoffman is the most well-known piece still in the organization from their trade of Troy Tulowitzki to the Toronto Blue Jays. Once a top-rated prospect, the hurler has endured a fall from grace.
This season, Hoffman has started seven games, accruing 33.1 innings throughout his outings. In those frames, he's registered a 6.75 earned run average, as well as 36 strikeouts.
The demotion comes after a letdown start in Arizona. Against the Diamondbacks, he went only 2.2 innings and walked four hitters. In only the eight outs worth of work, he threw 82 pitches.
In his seven starts since being called up in the wake of several roster moves to the Opening Day rotation, Hoffman went more than five innings only once. His lifetime ERA with the big league club sits at 6.05 through a myriad of chances.
Hoffman was slated to start Tuesday in San Francisco. With Kyle Freeland starting Sunday, the identity of the former's replacement is still to be determined. Among starters with the Isotopes, Chi Chi Gonzalez lines up for the start, with a free spot on the 40-man roster making the possibility greater.
While part of the change was due to inconsistency, Manager Bud Black also made it clear that several players are dealing with ailments.
"We have a couple (of) guys who are a little banged up," Black said. "We felt as though we needed some position players to get us through the next couple days."
Though the move was made due to several players being on the mend, Black stressed that none are at risk of heading to the injured list as of right now.
To supplant the infield, the Rockies recalled Garrett Hampson, a versatile infielder from the Isotopes. In 97 at-bats this year, he's hit .186, including his first career home run.
In other news, Trevor Story also made it clear that the club has yet to eliminate his return after a minimum stint on the disabled list.
"I'm encouraged by how I'm feeling," Story said. "(Returning after 10 days is) a possibility for sure. As a player, that's obviously my goal."
Story was placed on the 10-day injured list on Friday with a right thumb sprain and a bone bruise. In 72 games this year, the shortstop has hit .294 including 39 extra-base hits. He's also fifth in the National League with 12 stolen bases.
Since his placement on the injured list, Story has yet to take swings in batting practice but has been part of several drills on the field. The regimen has also included Story's normal workout routine every day.