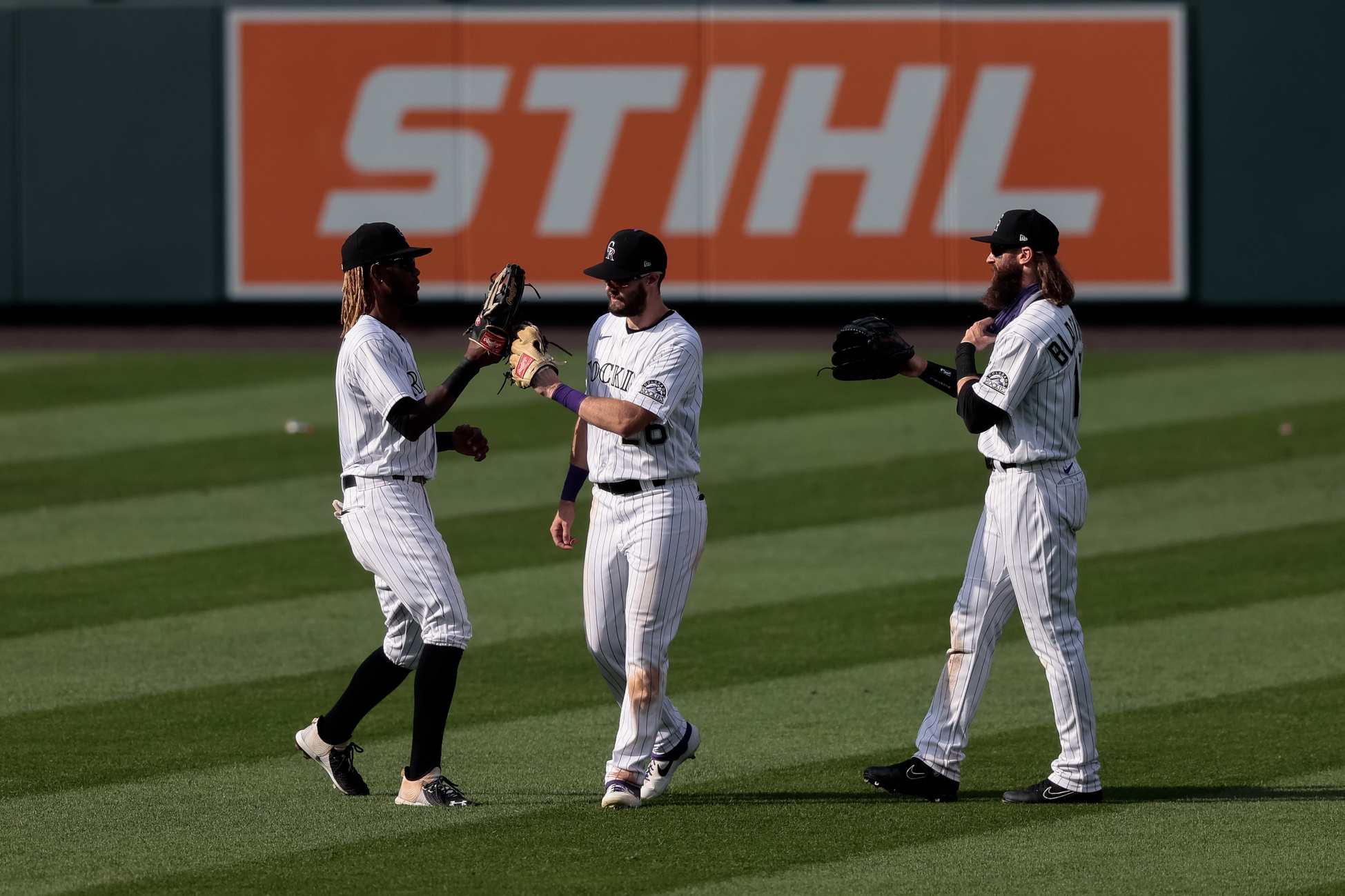 Entering the season with a pair of All-Star outfielders should've been enough to give the Colorado Rockies at least a reasonably good feeling about the state of the group as a whole. But, of course, 2020 happened, and now who knows what to expect going forward.
The Rockies, depending on which version of WAR you prefer, finished with the 24th or 25th-best group of outfielders in the majors. But really, when taking a look at the results and weighing them against the expectations, only one thing went wrong: David Dahl.
Dahl was an All-Star in 2019, finishing an injury-shortened campaign with a stellar .302/.353/.524 line. He looked to be in tremendous shape after rehabbing an ankle injury and, at the beginning of the season, it showed. Dahl had three hits on Opening Day and appeared to be on his way to yet another strong year until, well, he didn't. Bugged by a shoulder injury, Dahl missed almost a month during the middle portion of the season and, when it was all said and done, posted a paltry .183/.222/.247 line in 99 trips to the plate.
Dahl's injury and ineffectiveness opened the door for the likes of Garrett Hampson and Sam Hilliard, but neither took advantage of the increased playing time (offensively, at least; both showed the ability to handle center field quite well). So, general manager Jeff Bridich opted to trade for veteran outfielder Kevin Pillar, who got off to a good start with the Boston Red Sox. Pillar continued to play well upon joining the Rockies, managing a .308/.351/.451 line in 97 plate appearances, though he uncharacteristically struggled in the field (minus-3 Defensive Runs Saved).
Overall, the ranking of the Rockies' outfield as compared to the rest of the league seems to be about right. The group was prone to long stretches of ineptitude at the plate, and they were held down a bit defensively by their aging anchor in right field and about as bad of a year as anyone could've possibly imagined from Dahl.
Here's a deeper look at how things went for the Rockies' outfield in 2020…
Most Valuable: Charlie Blackmon (0.8 fWAR, 0.5 rWAR)
Blackmon's 2020 season almost perfectly mimics that of his team as a whole. The four-time All-Star was the talk of baseball over the course of the first 17 games of the season, hitting .500/.527/.721 in his first 74 plate appearances. The Rockies were 12-5 during that stretch. Blackmon proceeded to hit just .216/.283/.327 in 173 trips to the plate from Aug. 12 through the end of the season. Colorado went 13-29 in those games.
The Rockies' right field stalwart was nearly unplayable for a month and a half, but he got off to such a great start that he wound up as the team's second-best regular in terms of OPS+. How about that.
Least Valuable AND Most Disappointing: David Dahl (-0.8 fWAR, -1.1 rWAR)
As bad as Dahl was offensively, which was covered above, he was arguably worse in the field. Dahl, in terms of DRS, finished the season four runs below average on defense. A bum shoulder is likely to blame for a large chunk of his issues at the plate, but who knows what caused such a steep drop off in the field. At this point, it's safe to wonder if Dahl, who has missed huge chunks of every season in which he's been on the roster, will ever be healthy enough for it to matter.
Most Surprising: Raimel Tapia (0.7 fWAR, 0.6 rWAR)
Tapia, really for the first time in his big league career, got a shot to play every day after Ian Desmond's decision to opt out combined with Dahl's aforementioned struggles. And, you know what? It was hard not to like what transpired. Tapia led the Rockies with a .321 batting average. He slugged only .402, so that average was a little bit empty, but Tapia showed off decent on-base skills in addition to what has always been a solid contact tool. Granted, he has some improvements to make in that category as well, but a 6.8 percent walk rate in 2020 was far better than his 4.8 career walk rate entering the season.
Perhaps most surprisingly, Tapia was a net positive in the field, finishing the season a run above average in terms of DRS. Even Fangraphs' Ultimate Zone Rating, which doesn't often shine a positive light on Rockies outfielders, rated Tapia solidly above average. All in all, it was a good year for the 26-year-old outfielder, and it will be interesting to see where he fits in next season and beyond.
What Happens Next?
The Rockies will almost certainly try to retain Pillar, who—for better or worse—is a perfect fit for the team and organization as whole. If he can rediscover some of his defensive prowess and continue to hit like he did in 2020, it will be a fine short-term move. With the designated hitter likely to become permanent in the National League, finally getting Blackmon out of the outfield would be in the team's best interest. That should leave Tapia, Pillar, and Dahl as the starting group heading into 2021. As solid as those three have been at various points in their careers, the unit lacks firepower, and raises a whole bunch of questions going forward. Desmond, Hampson, and Hilliard will figure in somewhere, and with what we know regarding the potential starting group mentioned above, they'll definitely be needed.
Not feeling too confident in those names? You're not alone. It's one of the many reasons why fielding a legitimate contender in 2021 is going to be a tall task for the Rockies. In the unlikely scenario in which the Rockies' brass decides to spend some money or other resources and take one last run at it with their current core of players next season, Joc Pederson, George Springer, and Kiké Hernández are among the outfielders who are set to hit free agency this offseason. Potential trade targets include Miguel Andujar, Kris Bryant, and Clint Frazier, all of whom will likely be aggressively pursued by other teams with outfield holes to fill.