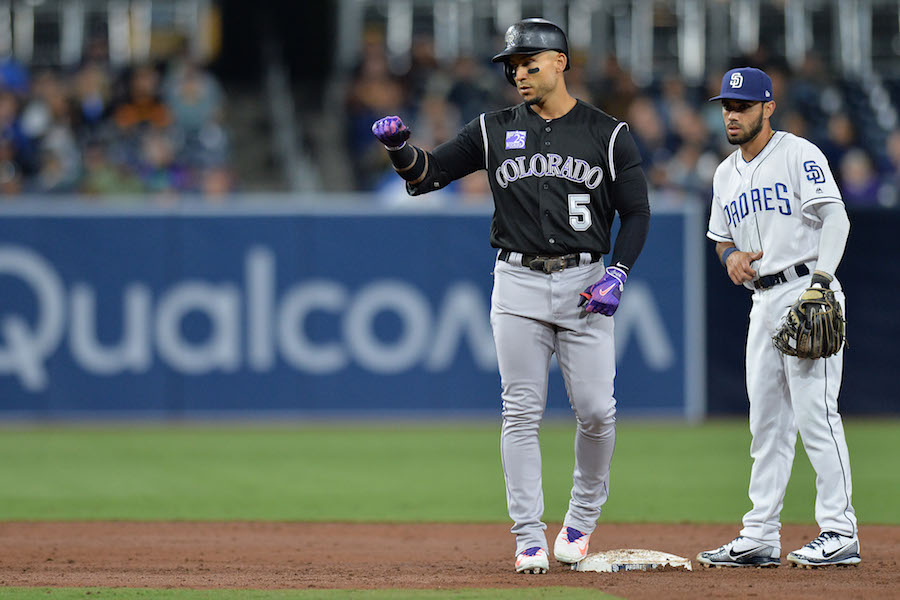 In the early going it looked like the Rockies might again be in for a short outing from their starting pitcher. Chad Bettis labored through the first three innings of his 2018 debut, but a clutch catch and some big hits from Charlie Blackmon helped secure a 7-4 Rockies victory to open a four-game series in San Diego. Carlos Gonzalez, meanwhile, made some Rockies history.
The Rockies jumped out front early against Bryan Mitchell, the former Yankee making his Padres debut. Blackmon hit a leadoff double down the third-base line, which DJ LeMahieu followed with a single to the opposite field. Nolan Arenado drove in Blackmon with a line-drive sacrifice fly to left.
Wil Myers got the run back on the first pitch he saw from Bettis (1-0, 3.60 ERA), driving a fastball over the centerfield fence with one out.
Both sides turned over the lineup in the second inning and neither side scored, but Bettis escaped a scary situation with (who else but) Myers.
With the bases loaded — including a chopper off the plate that produced Mitchell's (0-1, 9.00) first big-league hit and a two-out walk to Manuel Margot — Myers sent another high blast to straightaway center. Blackmon tracked the ball all the way to the wall and made a leaping catch to save at least three runs and end the inning.
Colorado manufactured another two runs in the third. Carlos Gonzalez with hit No. 1,206 in his Rockies career doubled down the left-field line to drive in LeMahieu, who led off the inning with a four-pitch walk. Ian Desmond followed the Gonzalez opposite-field RBI double with one of his own to double Colorado's advantage.
Gonzalez's hit tied him with Vinny Castilla for fourth on the club's all-time hits list. An infield single in the seventh moved him into solo fourth place on that list. Gonzalez is now 71 hits behind Dante Bichette in third.
San Diego got one right back in the bottom half of the third and made Bettis labor through yet another inning. Eric Hosmer hit a leadoff double, which Carlos Asuaje followed with a one-out double of his own to score Hosmer. A wild pitch moved Asuaje to third before Bettis struck out Chase Headley, but the next two hitters reached base on free passes. Bettis walked Freddy Galvis for the second time in as many plate appearances, then hit A.J. Ellis to load the bases. Mitchell hit another high chopper, but Bettis had a play on it to end the inning. Bettis sat at 63 pitches through three innings. He would finish at 88.
Bettis returned the base-hit favor on Mitchell with a two-out single in the fourth. Blackmon's second double of the game followed that, but LeMahieu couldn't beat out a chopper to Galvis at short to capitalize.
Bettis worked the first 1-2-3 inning of the game in the bottom of the fourth.
Desmond continued his hot start to 2018 with a two-run home run off Mitchell in the fifth, driving in Arenado who led off with a walk. Desmond was 2-for-5 with three RBIs in the game.
Bettis allowed a base hit to Asuaje in the fifth, but earned two strikeouts in the inning to level his register. After a shaky start, Bettis ended with the two runs allowed, one hit batter, four walks and four strikeouts in the game.
Former Rockies reliever Jordan Lyles pitched three innings of scoreless relief for San Diego, allowing two hits.
Adam Ottavino continued his dominance through the early part of 2018, striking out the first two batters he faced in relief of Bettis in the sixth. The first eight hitters Ottavino retired in 2018 were by strikeout; a Margot line-out to Arenado at third ended the run.
Desmond in the seventh inning made an acrobatic catch in foul territory to steal a first out for Bryan Shaw. Shaw then gave up his first hit in a Rockies uniform, Hosmer's second double of the game, before Jose Pirela drove a loud out to the right-field warning track and Trevor Story made a nice play going to his right to end the inning.
Jake McGee worked a perfect eighth inning for his second hold in as many outings. Ottavino, Shaw and McGee each earned holds.
Blackmon and LeMahieu put up back-to-back home runs in the top of the ninth off Kyle McGrath to give the Rockies a five-run cushion. Blackmon's home run was his fourth of the season in as many games.
Chris Rusin struggled in his third appearance of the year, giving up a leadoff home run to Cory Spangenberg and walking Hunter Renfroe. Pirela tripled to deep right-center, scoring Renfroe and chasing Rusin. A pair of ground outs earlier in the inning meant Wade Davis needed to earn just one out — an Asuaje line out to left — to record his second save in a Rockies uniform.
The win levels Colorado's record at 2-2. The Padres fall to 0-4 with the loss.
UP NEXT: Colorado and San Diego continue their four-game series on Tuesday night. Kyle Freeland (11-11, 4.10 ERA career), Colorado's wins leader (tie) in 2017, gets his first start of the year. He will face Tyson Ross (35-56, 3.91). First pitch is scheduled for 8:10 p.m. MDT.