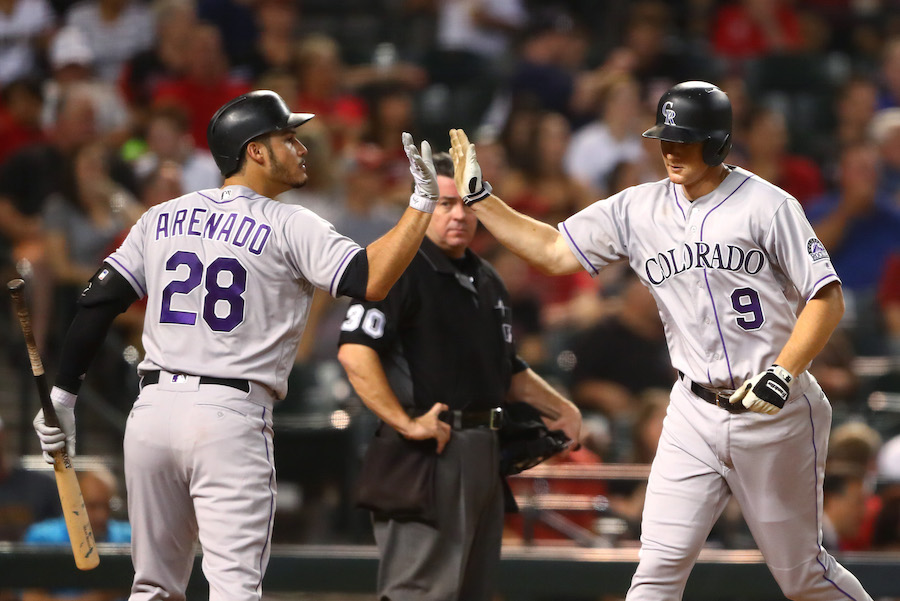 The Colorado Rockies since falling in the National League Wild Card Game in Arizona last October have spent freely, investing more than $200 million in marquee players they believe can help deliver the club's first NL West title and make a run at a World Series. Their biggest investment, however, could be yet to come.
Colorado this offseason committed more than $100 million combined to relief pitchers Wade Davis, Bryan Shaw and Jake McGee. Their deals could keep the back end of Colorado's bullpen strong through the 2021 season, based on player options.
Colorado's latest commitment, $108 million to two-time All-Star and 2017 N.L. batting champion Charlie Blackmon (with another $8 million possible in incentives on the back end of the contract), could see them spending big on centerfield through 2030. The contract avoided Blackmon's impeding free agency, which the 31-year-old was set to hit at the conclusion of this season.
More free agency decisions loom with other Rockies All-Stars. DJ LeMahieu and Carlos Gonzalez will both be free agents after this season unless extended. Franchise cornerstone Nolan Arenado has one remaining year of arbitration eligibility before he becomes a free agent after the 2019 season.
Colorado's payroll in 2018 currently ranks 15th in baseball, according to the salary tracking website Spotrac.com. They had ranked as high as 12th on that list during Spring Training before other teams went on a late spending spree as the season approached. At $141.339 million, it is the second-highest payroll in club history, trailing only 2017 ($146.651 million; 17th overall).
The concern with Rockies fans after seeing Owner Dick Monfort and General Manager Jeff Bridich dole out these big deals for the bullpen and Blackmon — not to mention the five years, $70 million committed to Ian Desmond last offseason — is that there may not be money left over to sign Arenado long-term. The five-time Gold Glove winner and three-time All-Star who has finished top-5 in NL MVP voting in each of the last two seasons will be due a massive payday, either next year or the year after.
Thomas Harding, who covers the Rockies for MLB.com, said on Mile High Sports AM 1340 | FM 104.7 yesterday that a $350-million deal isn't out of the question for Arenado. The 26-year-old will make $17.75 million this year, the last of a two-year deal, but Spotrac says his value is more like $26.5 million. Whether he plays 2019 on an arbitration contract, a one-year deal or a long-term deal, the Rockies should budget to pay at least that much for what is unquestionably one of the best all-around players in the game.
LeMahieu, a batting champion and two-time All-Star and Gold Glove winner himself, likely won't ink a deal of the same total scale as Blackmon — woe is the life of a second baseman — but he will be due a large payday in 2019 and beyond. LeMahieu, who turns 30 in July, will make $8.5 million in 2018. That ranks 12th (cash value) among MLB second-basemen this year, according to Spotrac. LeMahieu is without question a top-5 second baseman in the league in terms of performance. The Rockies (or any team) would need to pay him north of $11 million next season and beyond to put him in the top-5 in annual cash at the position. He could be due as much as $17.5 million, the amount Daniel Murphy made this year.
Gonzalez has made his big money. Colorado paid him $78.43 million over his first nine seasons with the club. He's set to make another $5 million this year, but a bounce-back season in 2018 could see the slugger's worth climb back around $10 million annually.
With Blackmon's new contract inked, the Rockies now have $82 million in cash committed for the 2019 season according to Spotrac. Those dollars will go to seven players, with another $12 million possibly going to Gerardo Parra on a club option. Arenado, LeMahieu and Gonzalez are not included among those seven.
And none of that considers the more than one-dozen arbitration and pre-arbitration contracts the Rockies will need to pay in 2019 to round out their roster.
Here's how the dollars currently on the books for 2019 (base salaries only, not including signing bonuses already paid) break down, per Spotrac.
2019 Guaranteed Contracts
Charlie Blackmon (OF) – $21,000,000
Wade Davis (RP) – $18,000,000
Ian Desmond (IF/OF) – $15,000,000
Mike Dunn (RP) – $7,000,000
Chris Iannetta (C) – $4,000,000
Jake McGee (RP) – $8,500,000
Bryan Shaw (RP) – $8,500,000
Guaranteed Total: $82,000,000
Running Total: $82,000,000
2019 Club Option Contracts
Gerardo Parra (OF) – $12,000,000
Club Option Total: $12,000,000
Running Total w/o Parra: $82,000,000
Running Total w/Parra: $94,000,000
Before diving into how Arenado, LeMahieu and Gonzalez could impact the payroll in 2019, it's important to remember the other 15 to 20 players who will comprise the roster over the course of the season.
Colorado has a wealth of talented young starting pitchers and team control over multiple promising prospects, which will help keep their overall numbers down. Still, those arbitration and pre-arbitration contracts add up.
In 2017, the Rockies had 19 players see major-league playing time under pre-arbitration deals. Those deals were valued between $535,000 and $545,000, with an average value of $537,684, per Spotrac, and $10.216 million spent in total.
So far in 2018, Colorado has 11 players on the roster in pre-arbitration deals. Those contracts range between $547,000 and $610,000 with an average value of $556,727 and $6.124 already committed. That number will climb with call-ups as the year rolls on.
The MLB minimum salary for 2019 will be $555,000. Seven players currently on the 40-man roster are tabbed by Spotrac for pre-arbitration deals, which for these purposes we'll say the Rockies will pay out at an average of $560,000.
The declining numbers of pre-arbitration contracts in this exercise (19 in 2017, 11 in 2018 and seven in 2019) are impacted by two factors. First, the 2018 season is young and call-ups have not yet happened, while the 2019 season is only a projection at this point. Second, and more important for these purposes, is that Colorado has a number of players who will move out of the pre-arbitration phase in 2019 and into arbitration contracts, which are usually worth at least double the value of pre-arbitration deals.
For simplicity's sake, we'll say that the Rockies will have 13 pre-arbitration contracts to pay out in 2019 at that average of $560,000.
Here are the top 13 names that figure to be in the mix for those spots in 2019…
2019 Pre-Arbitration Estimated Contracts
David Dahl* (OF) – $560,000
Jairo Diaz* (RP) – $560,000
Carlos Estevez (RP) – $560,000
Kyle Freeland (SP) – $560,000
Rayan Gonzalez (RP) – $560,000
Jeff Hoffman* (SP) – $560,000
German Marquez (SP) – $560,000
Ryan McMahon (IF) – $560,000
Tom Murphy (C) * – $560,000
Antonio Senzatela* (SP) – $560,000
Raimel Tapia* (OF) – $560,000
Mike Tauchman (OF) – $560,000
Pat Valaika (IF) – $560,000
*Not presently on Spotrac's 2019 Rockies MLB ledger, but expected to be included.
Pre-Arbitration Estimated Total: $7,280,000
Running Total w/o Parra: $89,280,000
Running Total w/Parra: $101,208,000

The Rockies in 2019 will be hit with a big wave of arbitration-eligible players, including No. 1 starter Jon Gray and starting shortstop Trevor Story. (For this exercise, we'll omit Arenado, as his deal will be in a different stratosphere than the other eight Rockies due up in 2018).
The Rockies can strike non-arbitration deals with any of these players (they can do the same with pre-arbitration players, but there is no need), and have done so historically on one-and two-year deals except in rare cases like Carlos Gonzalez and Troy Tulowitzki who were signed to lengthy deals early to avoid situations like the one the Rockies are approaching with Arenado.
Most players have three years of arbitration, unless they qualify as a "Super Two" for a fourth year. (Click here for MLB's explanation of Salary Arbitration.)
Generally speaking, the dollars wind up being about the same whether a player signs directly or goes through arbitration, with each successive year being worth more money. Teams typically come out the winners in the short term on these deals when players take major leaps forward (see, Arenado).
These deals are a little tricker to calculate, as they depend on not only the market value but a player's performance.
The contract values below for first-year (ARB1) arbitration-eligible players are estimated based on similar players' 2018 arbitration contract values, but could rise or fall based on that player's performance. The contract values for second-year (ARB2) players, are based on an incremental increase of 25 percent on their current contracts.
2019 Arbitration-Eligible Estimated Contracts (Comparative 2018 Contracts)
Tyler Anderson (SP/ARB1) – $2,000,000 (Chad Bettis)
Chad Bettis (SP/ARB2) – $2,500,000
Jon Gray (SP/ARB1) – $2,700,000 (Aaron Sanchez)
Scott Oberg (RP/ARB1) – $1,050,000 (Danny Farquhar)
Zac Rosscup (RP/ARB1) – $650,000 (Daniel Winkler/Trevor May)
Chris Rusin (RP/ARB2) – $1,609,375
Trevor Story (SS/ARB1) – $3,125,000 (Addison Russell, Marcus Semien)
Tony Wolters (C/ARB1) – $905,000 (Josh Phegley)
Arbitration-Eligible Estimated Total: $14,539,375
Running Total w/o Parra: $103,819,375
Running Total w/Parra: $115,819,375

If you haven't been keeping track, we've put a total of 28 contracts on the books for the 2019 season in this exercise — 29 if you include Parra.
The Rockies in 2017 had 35 players in total tally against their annual payroll ledger (not including dead money owed to players like Jose Reyes). They had 37 on that ledger in 2016, 38 in 2015, and 39 in 2014 and 2013. That's an average of 37.6 players per year over the past five years.
For our purposes we'll use the number 37 for 2019, meaning the Rockies have eight or nine spots still to be used depending on Parra's situation.
As mentioned earlier, the Rockies over the past two years have spent within a spot or two of the league average total payroll.
In the six years between 2012 and 2017 (2018 figures omitted because payrolls are still in flux), the MLB average payroll increased by $8.847 million on average. Using that number, the average MLB payroll in 2019 will be $169.834 million.
So, if the Rockies plan to spend right around the league average again in 2019, they would have $54 million available for those remaining eight or nine spots if they keep Parra, and $66 million available if they do not.
The good news for Rockies fans is that with that much money still to spend, Colorado can make a very legitimate run at both Arenado and LeMahieu — and perhaps even Gonzalez.
Even if Arenado breaks the bank north of $30 million in 2019 (and beyond), the Rockies should still have enough money to spend on LeMahieu and Gonzalez — although it might limit their options with other veteran free agents.
The contracts below are somewhat aggressive estimates, simply for the sake of showing that the Rockies actually do have the ability to pay those three "marquee" impending free agents.
2019 Marquee Impending Free Agents Estimated Contracts
Nolan Arenado (3B/FA2020) – $30,500,000
Carlos Gonzalez (RF/FA2019) – $9,500,000
DJ LeMahieu (2B/FA2019) – $17,500,000
Marquee Impending Free Agents Estimated Total: $57,500,000
Running Total w/o Parra: $161,319,375
Running Total w/Parra: $173,819,375

2019 Estimated MLB Average Payroll: $169,834,000
Remaining Available Dollars w/o Parra: $8,514,625
Remaining Available Dollars w/Parra: -$3,485,375
If the Rockies can retain Arenado, Gonzalez and LeMahieu at those rates, they would still have a little money to play with and be under the estimated average payroll in 2019. That would mean a handful of pre-arbitration players and even possibly a low-cost free agent to round out those projected 37 active players they'll pay next year — but it would mean saying goodbye to Parra or spending above the average.
LeMahieu's number is particularly interesting, as this projection has him earning an equivalent salary to what Daniel Murphy is making this year. Murphy will also be an unrestricted free agent in 2019. He is currently on the 10-day DL after offseason knee surgery and will be 35 at the start of next season. Those factors could increase the younger (30 in July) LeMahieu's value. The Rockies have 2015's No. 3 overall pick Brendan Rodgers charging through the minors, and he could feasibly be ready as early as 2019 although 2020 seems like a more realistic timeframe. That puts the Rockies in a bit of a tricky spot with LeMahieu, who should be looking for at least four years on his deal.
Gonzalez may not see his pay rate jump quite that high, and he has made it clear he wants to end his career in Colorado. That gives the Rockies some leverage, especially if they remain contenders. A monster year from Gonzalez, however could put him in line for a multi-year deal north of $10 million per. He'll turn 33 in October, so it's not out of the question.
If Arenado comes in south of $30 million, it would give the Rockies even more flexibility in 2019. On a long-term deal his number would likely climb to the $35-million range in 2020 and beyond, which will make for tough decisions on Gonzalez, Parra and other veterans whose deals expire over the next two years.
All of it adds up to a feasible scenario where the Rockies can sign Arenado and LeMahieu to long-term contracts this offseason and even Gonzalez on at least a one-year deal for 2019. However, it also means they would have to part ways with several veteran outfielders and top prospects in the coming years, plus they would have very limited means to make acquisitions from outside the organization in free agency in 2019.
Of course, if the Rockies are willing to spend above the league average down the road, they will have even more flexibility both internally and externally.
The prospect of having Arenado, Blackmon and LeMahieu together long-term (not to mention Gonzalez for another year or two) seemed slight as recently as last week; however, Blackmon's deal signals that the Rockies front office wants to make it happen — certainly with Arenado.
Both Jeff Bridich and Dick Monfort indicated on Wednesday that signing Arenado long-term remains a priority. These numbers suggest it's financially possible without breaking the bank. LeMahieu may be the harder one to keep, but based on these numbers it's not impossible.