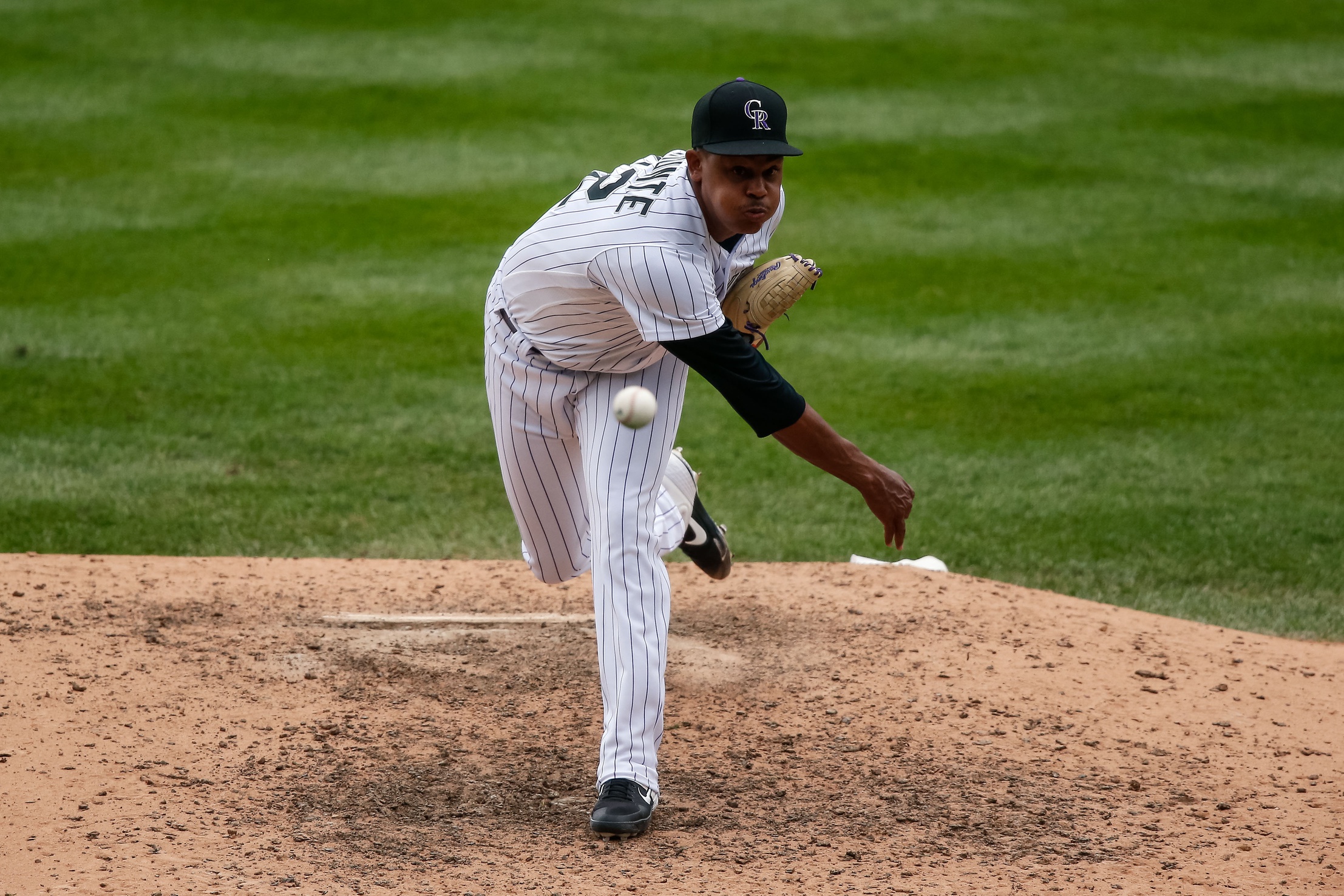 The dangers of evaluating a team, or a specific unit within a team, based on a small sample size have never been more evident than they are right now.
The Colorado Rockies, whose pitching staff allowed 3.3 runs per game heading into this week, gave up more than 10 runs per game in a three-game set against the
Arizona Diamondbacks. The result was the Rockies' first series loss of 2020.
The bullpen combination of Yency Almonte, Daniel Bard, Jairo Díaz, Phillip Diehl, Carlos Estévez, and Tyler Kinley boasted a collective ERA of 1.80 through the Rockies' first 15 games, and the unit was coming off of a particularly impressive performance in Seattle over the weekend. But three games, five innings, and 13 runs later, those same six pitchers  now own a combined ERA of 4.20—a mark that certainly isn't terrible when considering where the Rockies play their home games, but one that perhaps represents more of what was actually expected from this unit heading into the season.
Almonte (three earned but six total runs in two innings) and Kinley (five runs with no outs recorded) took the biggest hits among relievers, but a couple of the Rockies' starters gave them a run for their money, though perhaps through not quite as much fault of their own. Jon Gray surrendered eight earned runs in 3 1/3 innings in the Rockies' 12-8 loss on Monday, raising his season ERA to 6.41. But after Gray allowed a couple of runs on some hard-hit balls in the first inning, he was dink and dunked by D-backs hitters; in the third and fourth innings, Gray gave up six runs despite not allowing a single batted ball of more than 95 mph. However, one reason for concern is that Gray's velocity continues to hover about 2 mph slower than where it sat last season, perhaps correlating with a sharp decrease in strikeouts and, therefore, an increase on balls in play—unlucky as the outcomes may be.
Antonio Senzatela saw more of the same in his start on Wednesday afternoon. In a fateful fifth inning that saw the Rockies' three-run lead evaporate, Senzatela allowed four hits but only one qualified as a hard-hit ball. He was also done in by poor defensive plays from Sam Hilliard and Raimel Tapia in that inning, and eventually had to exit after six frames, leaving it to the bullpen to give up eight runs in the seventh to put the game away for Arizona.
As much as Coors Field and a crazy series in terms of batted balls hurt the Rockies' pitching staff and the team's overall record, which now sits at 12-6, the offense was certainly helped. Following a 5-for-7 performance over the final two games of the series, Raimel Tapia—previously relegated to the bench—is now hitting over .300. The same can be said for Garrett Hampson, who had seven hits in the series and appears to have settled in as the Rockies' new leadoff hitter. That spot once belonged to David Dahl, but he went 0-for-12 in the series and is now hitting .203 with a dismal .514 OPS.
Perhaps the most important development for the Rockies, despite the series loss, was the emergence of Nolan Arenado. The perennial MVP candidate went 8-for-13 with three home runs in the series, raising his OPS to over .900, more familiar territory than the .614 number at which it sat heading into his unplanned day off this past Sunday. Ryan McMahon showed some signs of life offensively as well, which will help the Rockies if their pitching staff continues to experience regression to the mean.
Even still, Colorado will need a much better performance from the likes of Ryan Castellani and Germán Márquez, let alone the bullpen, this weekend if the team is to get back on track with another series win. The Rockies should get some reprieve by facing a Texas Rangers offense that has the third-worst OPS in baseball. Of course, if the pitching staff happens to struggle again, it might be indicative of a larger problem that will need some attention—there can't be a lack of urgency in a 60-game season, after all—if the Rockies plan to keep any sort of pace with the Dodgers in the National League West.