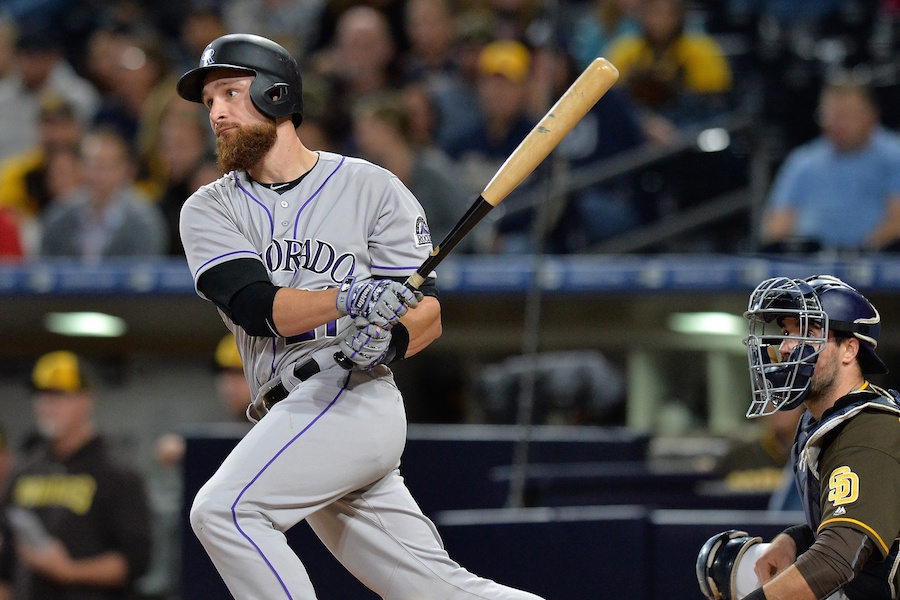 Rockies general manager Jeff Bridich executed many moves and saw the fruits of his labor flourish in the 2017 season, but while executing moves is one thing, retaining those pieces is another.
One of those players Bridich moved on during the trade deadline season was the savvy, veteran catcher Jonathan Lucroy. Retaining Lucroy in 2018 should be priority number one for Bridich this offseason.
Lucroy arrived in Colorado via Texas in a July trade for a player to be named later (minor leaguer Pedro Gonzalez). Batting .242 when he was acquired and on pace for the lowest average of his career, Lucroy pushed that number to .265 by the end of the year. The bearded catcher batted .367 at Coors Field in 2017 and .320 overall in September and October.
While it was satisfying to see his offensive numbers balloon upon arrival to the hitter-friendly Coors Field, it's his defense and presence behind the plate that should have the Rockies working hard to re-sign Lucroy.
"I think it's important to build those relationships," said Lucroy back in August about working with Colorado's pitching staff. "I'm just really amped up, ready to go, ready to get started with these guys, and ready to contribute where I can. We have a great staff. Great coaching staff, great pitching staff, great lineup, and hopefully I can come in and make contributions."
The young pitching staff in Colorado is a good one. They are talented, fearless and aggressive, however inexperienced. Lucroy's veteran presence behind the plate installs, by default, an experience factor that improves each of Colorado's budding starters incrementally with each start.
"I'm going to do everything I can" responded Lucroy when asked about helping the young arms, "I've had the privilege of playing almost eight years now and catching a pretty significant amount of games and catching different types of pitchers," he said. "I've caught a lot of really good pitchers – very grateful and thankful for that. It's a lot of experience. I'm going to do my best to help these guys out and try to keep it simple for them. Really just try to complement them."
Complementing the young staff and an improving bat down the stretch, paired with his veteran leadership, should easily make Lucroy, priority number one this offseason.