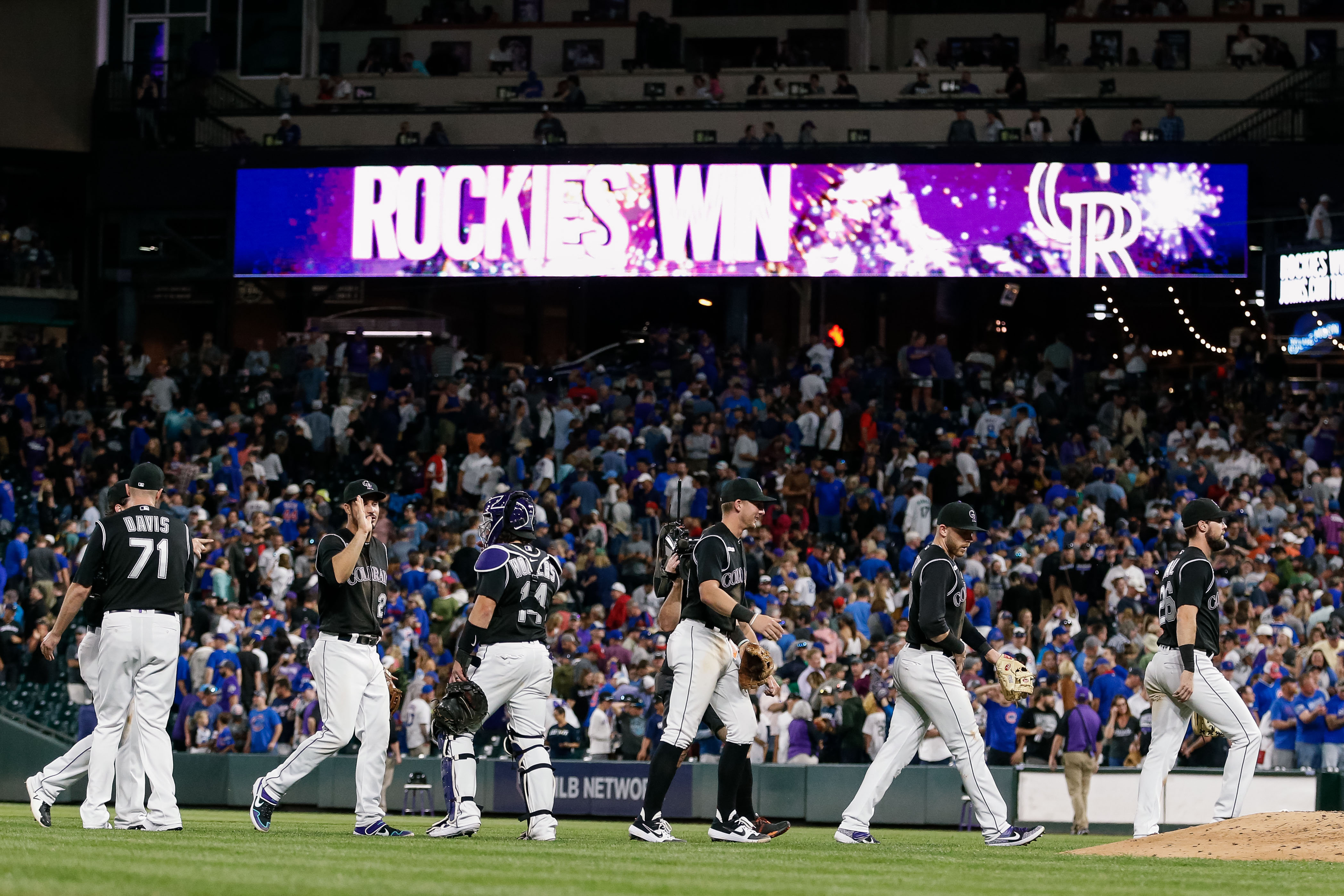 Revenge is a dish best served cold. For leg one of a three-game set, the Colorado Rockies provided the ice in a 6-5 win.
German Marquez once again faltered early, but the club bounced back. The four-run comeback was their 17th of the year and tied their largest come-from-behind victory of the year.
Ahead are takeaways from the bounce-back performance.
Murphy's hidden wheels come in handy 
Daniel Murphy has been in the majors for 11-plus years. In that 1,320-game sample, he'd stolen 67 bases. That total rose to 68 on Monday, a catalyst for his game-winning run.
After a double, that clipped the first base bag and hopped over a diving Anthony Rizzo, Murphy stood on second with one out and Raimel Tapia up. The youngster struck out, but the veteran wouldn't be denied as he garnered a huge jump and nabbed third against Steve Cishek.
The play came only an inning after Murphy dropped a possible double play throw from Trevor Story at short.
A Ryan McMahon single brought him home, sealing the Rockies win. After falling behind 4-0 early, the club once again showed the resiliency that's allowed them to bounce back from a franchise-worst 3-12 start.
Marquez finds himself after disaster
Eight. That's how many earned runs German Marquez gave up in his first-ever start against the Cubs last Wednesday. The total was tied for the worst outing of Marquez' career.
Once a pair of clean innings had passed, Marquez looked to be crumbling again.
Opening the damage was back-to-back home runs from David Bote and Kyle Schwarber. Both jacks came on center-cut fastballs to the opposite field.
Already hobbled, Marquez gave up a two-run home run – this time on a slider – to Anthony Rizzo to complete the trifecta. Each part of the stadium received a ball, putting the Rockies down 4-0 and reeling.
Once again, the Rockies' bats picked up a struggling starter.
Nolan Arenado and Charlie Blackmon both knocked in a pair of runs with homers and the Rockies pulled back even, allowing Marquez to take over.
He retired 12 of the next 13 hitters, with five punchouts, to end his outing. In all, he went six innings and allowed four earned runs and struck out seven.
His season earned run average rose to 4.19 with the effort.
Bats restore power after roadtrip outage
Against both the Cubs and New York Mets in a pair of three-game series last week, Rockies' hitters tallied only three long balls in six games. In their latest effort, they reversed course.
In their aforementioned rebound inning that brought their starting pitcher back to life, Arenado hit a ball 431 feet to even the score:
#NolanBeingNolan just tied it up at Coors Field for the @Rockies pic.twitter.com/u6trc7Ktt9

— AT&T SportsNet™ | RM (@ATTSportsNetRM) June 11, 2019
It was his first time exiting the ballpark since June 2nd against the Toronto Blue Jays.
Just two at-bats prior, Blackmon rediscovered his groove as well. After scuffling against the Mets in his return from the injured list, the outfielder hit his first home run since May 19th. 
He now has nine home runs at home and only two on the road.
Not to be outdone, in game-clinching fashion, Ian Desmond smacked a ball to the concourse, a hefty 486 feet away:
Ian Desmond to the MOON pic.twitter.com/lvzGuo5VPV

— Starting 9 (@Starting9) June 11, 2019
The shot was the longest across the league in 2019, per Statcast. Since the beginning of May, Desmond has hit .295 and swatted 14 extra-base hits after a sluggish start.
As a team, the Rockies have now hit 48 homers in 31 games in the friendly confines of Coors Field, with only 35 in 34 road games.
Cargo makes his return to long-time home
Carlos Gonzalez walked to the plate, adorned in a Rockies jersey, 5,069 times. For the first time in his major league career, he stepped to the plate at Coors Field with another team's colors on.
He was greeted warmly:
Welcome back to Coors Field @CarGo5!

You'll always have a home here 💜 pic.twitter.com/7wKJOubZPS

— Colorado Rockies (@Rockies) June 11, 2019
In his return, Gonzalez went 0-for-3 with a walk.
The return was a bittersweet one for the Rockies' former slugger after the club declined to bring him back last offseason. Since then, he's taken swings for two different teams in the majors, with his latest stint off to an eerily similar start with the Cubs.
His average is at .210 in six games with the Cubs after he was brought in on a minor league deal on June 1st. With the Indians, across 30 games, he hit an identical .210. 
Room on the Rockies' roster was limited for the veteran who appears to be on the back end of his career. Gonzalez was a fan and clubhouse favorite nonetheless.