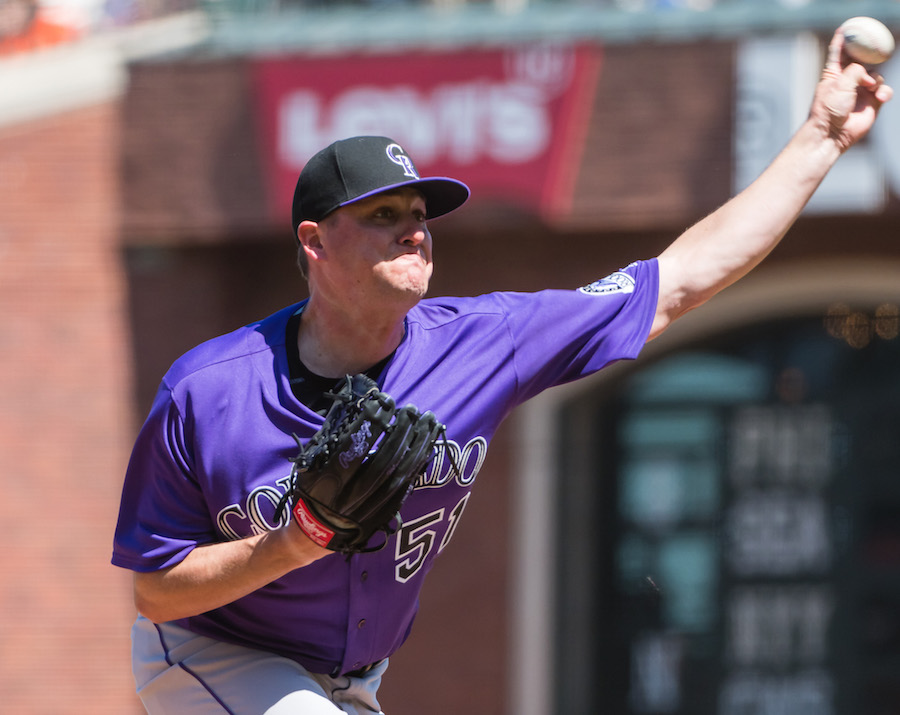 Just how strong is the Colorado Rockies bullpen heading into the 2018 season? According to reliever Jake McGee, there's not a single weak link.
McGee joined Eric Goodman and Les Shapiro live at Talking Stick Resort near the Rockies' Spring Training facility on Wednesday and spoke to the quality of Colorado's bullpen.
The 31-year-old lefty, who spent the last two seasons in Colorado, was one of three high-profile signings this offseason, along with Bryan Shaw and Wade Davis. The addition of those pitchers, coupled with the maturation of several homegrown talents, puts Colorado in an enviable position entering the 2018 season.
"We guys with so much closing experience, they're going to throw in the fifth inning. Maybe even in the fourth inning. There isn't one 'mop-up' guy in our 'pen," McGee told Goodman and Shapiro.
Colorado has a three-time All-Star closing for them in Davis, the MLB innings leader over the past five years in Shaw and a former closer in McGee. That trio is expected to pitch the 7th, 8th and 9th innings when the Rockies have the lead; however, the bullpen is full of other plus-side pitchers.
Chris Rusin performed yeoman's work in 2017, logging an NL-best 85.0 innings pitched and compiling a 5-1 record with two saves, 13 holds and 2.65 ERA. Mike Dunn was also 5-1 out of the 'pen with a team-leading 68 appearances, earning 18 holds.
Scott Oberg took a big leap forward in third MLB season, earning 14 holds and posting his first sub-5.00 ERA season.
Adam Ottavino had a solid start to the season, posting 15 holds through May, but faded a bit down the stretch. With more depth behind him, Ottavino should benefit from more selective use by manager Bud Black.
Carlos Estevez projects to be the No. 8 man in the Rockies bullpen. He posted a 5-0 record in 2017 as a middle-innings pitcher, coming off a rookie season in which we was 11-of-18 in save opportunities for Walt Weiss. He is a power arm that could evolve into a plus-side pitcher with time, and can now grow into that role with so many effective arms ahead of him.
Gone are warm bodies like Jordan Lyles and Chad Qualls, who often failed to keep games close when the Rockies fell behind early.
"Years past when a mop-up guy would go in — saw it in Colorado a few times — they'd give up 5, 6 runs and we'd lose the game," McGee continued. "So, I think their philosophy is you put lockdown guys every inning in the bullpen [then] that's not going to happen."
Click here to listen to the full interview with Jake McGee, live from Talking Stick Resort and Casino, or click on the podcast below.
Catch Afternoon Drive with Goodman and Shapiro every weekday from 4p-6p on Mile High Sports AM 1340 | FM 104.7 or stream live any time for the best local coverage of Colorado sports from Denver's biggest sports talk lineup. Download the all-new free Mile High Sports Radio mobile app forApple or Android.