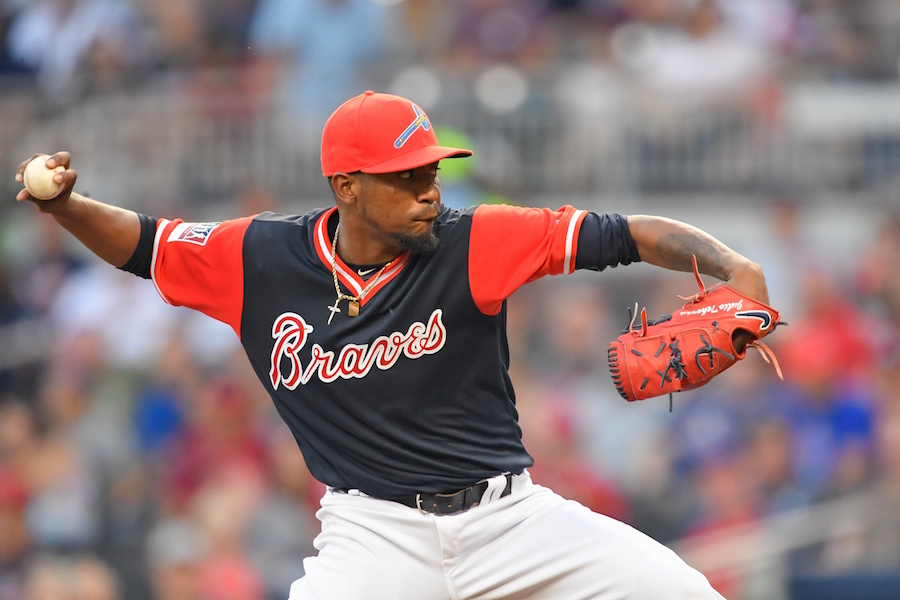 The last time Julio Teheran faced the Colorado Rockies, he pitched seven scoreless innings and watched his team lose. He faced those same Rockies on Friday night, allowing two runs over 7.1 innings but picking up the win. The Colorado bats again had no answer for the right-hander, falling 5-2 to open their series with the Braves in Atlanta. Colorado is now 6-21 on the road since June 23.
Teheran (8-11, 4.90 ERA) scattered five hits and walked none in the win. Two of those hits came in the third inning, when Trevor Story doubled and Charlie Blackmon singled him home. Another was Mark Reynolds' 27th home run of the year, a solo shot with one out in the seventh. Sam Freeman picked up the final two outs in the eighth. Arodys Vizcaino allowed a two-out single in the ninth to Gerardo Parra, but struck out Reynolds to close things out.
Chad Bettis (0-1, 3.79), who himself pitched seven scoreless innings against Teheran on Monday, Aug. 14, was not so fortunate this time around. The right-hander walked Freddie Freeman with two outs in the bottom of the first, only to give up a two-run home run to Matt Kemp. The home run bit him again in the second inning when Kurt Suzuki led off the inning with a solo shot. The Braves manufactured another two runs in the inning to jump out to an early 5-0 lead.
Tyler Chatwood had a strong outing in relief. He allowed just one walk over two scoreless innings. Adam Ottavino walked the bases by way of a base hit and a pair of walks in the eighth, but escaped unscathed.
The loss is now Colorado's seventh in their last 10 games and their fourth consecutive loss to open a road series. Kyle Freeland (11-8, 3.71) will try and pick up his first win since July 30. The Rockies rookie has a loss and a pair of no decisions in August, having spent time on the 10-day DL with a groin injury. He will face Sean Newcomb (2-7, 4.13).