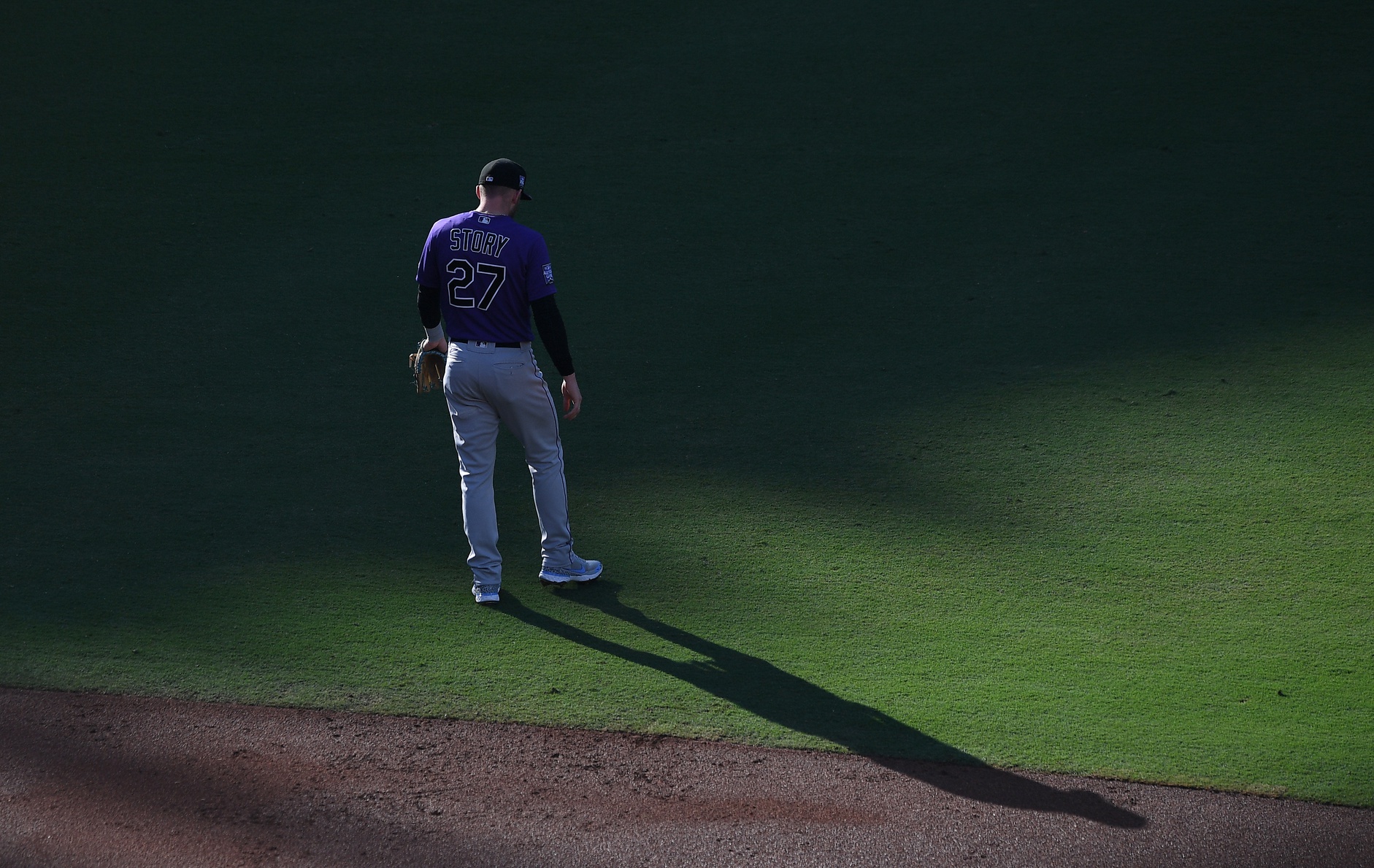 The Colorado Rockies entered their weekend series against the San Diego Padres mired in uncertainty with the trade deadline looming.
Jon Gray, Trevor Story, and others were facing the possibility of having their careers and lives turned upside down, though the prospect of playing for a contender would've softened the blow. Meanwhile, the Rockies themselves were stuck in the middle of another losing road trip, dropping four of six against baseball's two L.A. squads.
Those ingredients made for a tense week, one that didn't end quite how many envisioned it should.
Story, Gray, and everyone else on the trade block save for reliever Mychal Givens remained with the Rockies through Friday's deadline, and the Rockies powered through rollercoaster of emotions to split a four-game series with the Padres, against whom the Rockies have won seven of the last 10 meetings. In the case of Gray, happiness and relief ruled the day. For Story, confusion and frustration boiled to the surface. The Rockies, meanwhile, are just as non-competitive as they've been for the better part of three full seasons, sitting at 46-60 overall and 13-40 away from Coors Field.
The weekend wasn't all bad. The Rockies won consecutive games, walloping the Padres 9-4 on Friday before following up with a 5-3 win on Saturday. Colorado hit four homers, getting deep flies from Ryan McMahon, Connor Joe, Brendan Rodgers, and Elias Díaz, in the first of those contests. Gray, meanwhile, rewarded the Rockies' faith in him by tossing 6 1/3 innings of two-run ball. Staff ace Germán Márquez got the job done with his arm and his bat the next night, producing a quality start of his own and hitting a solo homer to straight-away center field offf of Yu Darvish, who also surrendered dingers to the aforementioned Rodgers and Díaz.
Sandwiched between the wins was a pair of losses in which the Rockies generated just one total run in 18 innings. A strong start from Kyle Freeland, who allowed just one run in six innings, was wasted on Thursday, when the Rockies had just five hits and finished 0-for-7 with runners in scoring position in a 3-0 defeat. Sam Hilliard hit a solo homer on Sunday, but that lone run wasn't nearly enough to make up for a rare poor outing from Austin Gomber, who lasted just one inning. The left-hander threw 40 pitches in the first inning alone, allowing four runs on four hits a pair of walks before Rockies manager Bud Black opted to pull him in an eventual 8-1 loss.
"There had to be some flaws with his location and his feel and after 40 pitches, I just didn't want to push him," Black said after the game of Gomber, who had been rolling to the tune of a 2.08 ERA with 52 strikeouts and just six walks over his previous 10 starts.
As for Story, Gray, and the others whose futures with the Rockies remain in question following the trade deadline inaction, it remains to be seen whether the remainder of the season will breed continued feelings of discontent and discomfort, something we've seen all too many times with Colorado's stars over the last few years. Story sat out on Friday, the emotions of the days leading up to that game having taken their toll. He proceeded to go 2-for-7 with a double over the next two contests. Gray seems happier, and could be the benefactor of a contract extension when the year is over. Of course, knowing the recent history of the Rockies, that means little.
Winning can help chip away at a negative aura, and the Rockies have a chance to do a bit of that with an upcoming homestand against a pair of teams—the Chicago Cubs and Miami Marlins—who are below .500 and sold big at the deadline. Beyond that, it's anyone's guess, though it appears the Rockies—based on public comments—are going to be more than happy to accept a compensation draft pick for Story should he choose to leave for free agency. The problem with that, of course, is that there's no guarantee such picks will exist next year following the upcoming negotiation of a new collective bargaining agreement that—from the players' side, anyway—seeks to get rid of that compensation system.
Interesting times ahead, for sure.