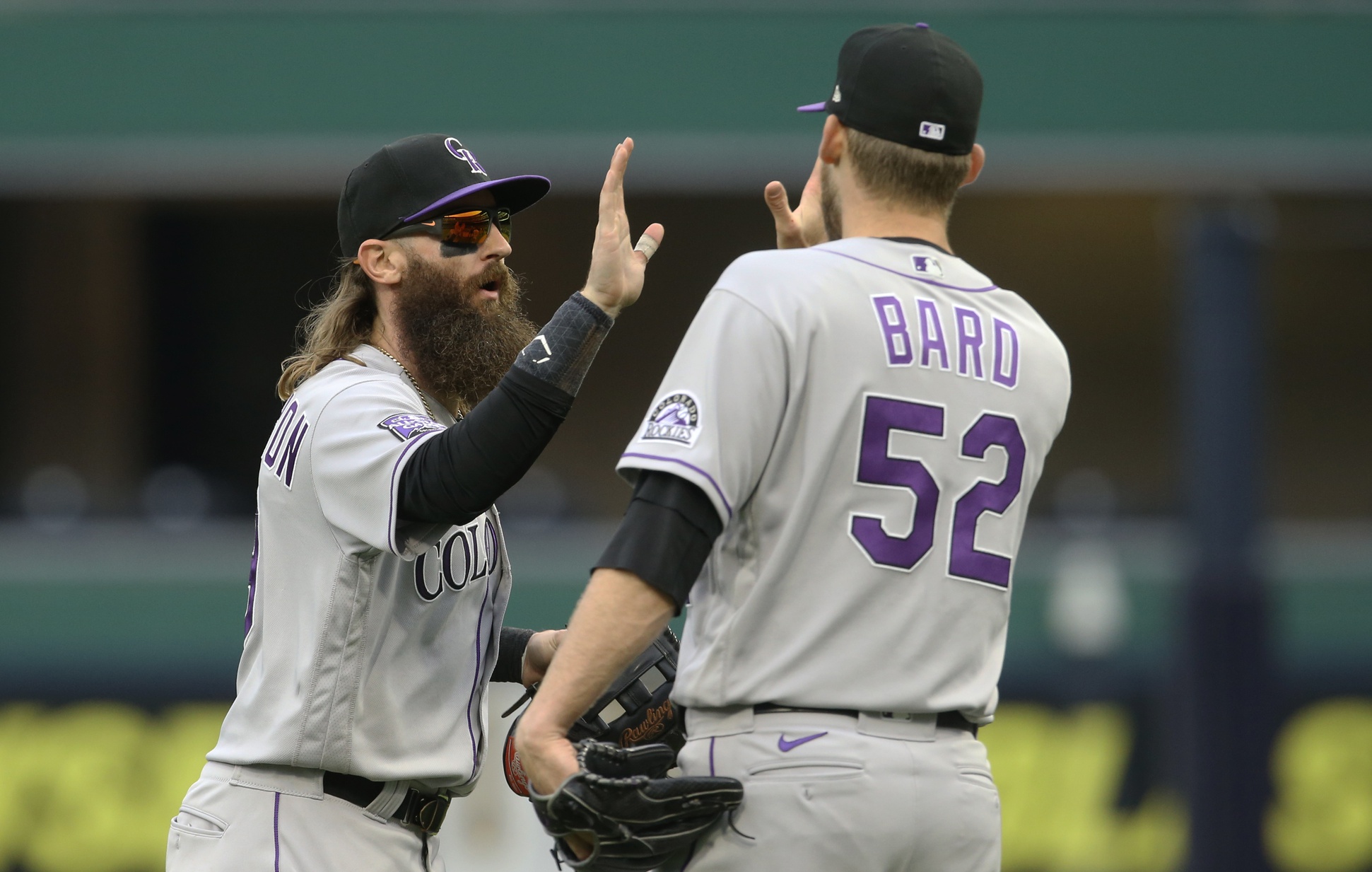 The Colorado Rockies, after going 14 innings on Saturday without scoring a single run, earned a 4-3 victory over the Pittsburgh Pirates on Sunday to break a five-game losing skid and head home with some semblance of positivity.
Charlie Blackmon hit an RBI triple in the fourth inning and a game-tying double in the ninth as part of a 3-for-4 performance that carried his team to just its fourth road victory of the season. Matt Adams, who had just three hits in his first 23 at-bats in a Rockies uniform, plated the go-ahead run with a two-out single following Blackmon's heroics. Daniel Bard, who has pitched really well since a blowup on May 2, tossed two scoreless innings to shut the door on the Pirates and keep the Rockies out of the National League West basement.
The win, which several of the Rockies' players and coaches credited to a "clubhouse adjustment" made by the veteran leader Blackmon, came after Colorado was swept in consecutive doubleheaders that were played as a result of inclement weather in New York and Pittsburgh. The Rockies tallied just six total hits in the twin bill on Saturday and didn't get the type of help they've come to expect on the mound from their starting pitchers during the series. Jon Gray allowed three runs on four hits and three walks in three shaky innings in Game 1 of the doubleheader, and Austin Gomber gave up a pair of homers in four innings in an otherwise decent start—though not compared to how well he's pitched lately—in the nightcap.
Kyle Freeland pitched poorly in the series finale, walking four batters and scattering five hits in four innings. He struck out just one. Fortunately for the Rockies, Freeland was picked up by Blackmon and the bullpen, which tossed five scoreless frames.
What (else) went wrong
Rockies catchers Dom Nuñez and Elias Díaz combined to go 0-for-10 with four strikeouts in the series. Díaz made matters worse by allowing a run to score in the third inning of Game 2 of the doubleheader on Saturday when he attempted to throw out a base stealer on ball four. The throw sailed past third baseman Josh Fuentes and into left field, resulting in a pivotal run that gave the Pirates a 2-0 lead.
The catcher position in 2021 has continued a long tradition of being an absolute black hole for the Rockies. More on that soon.
What went right
Bard didn't get a save on Sunday, but that's because he worked for two innings and, as such, was the pitcher of record when the Rockies took the lead in the ninth. Ever since that aforementioned meltdown against the Arizona Diamondbacks earlier this month that left his ERA sitting at an even 9.00, Bard has been nails. The Rockies' closer has allowed just one earned run in 11 innings over his last nine appearances, racking up 16 strikeouts while issuing five walks.
Overall, while his walks and hits are up a bit from last year, Bard has punched out a career-high 12.2 batters per nine innings. He's almost reached his workload from 2020, and he appears to only be getting better after some early season lumps. Bard is, through and through, a bright spot in an overall gloomy situation for the Rockies, elevated ERA and all that aside.
What's next
The Rockies return home for a six-game, all-interleague homestand. The Texas Rangers, who are 22-33 and in last place in the American League West, arrive first. The Rockies will need to take advantage of that weaker opponent because the AL West's first-place team, the Oakland Athletics, immediately follow.