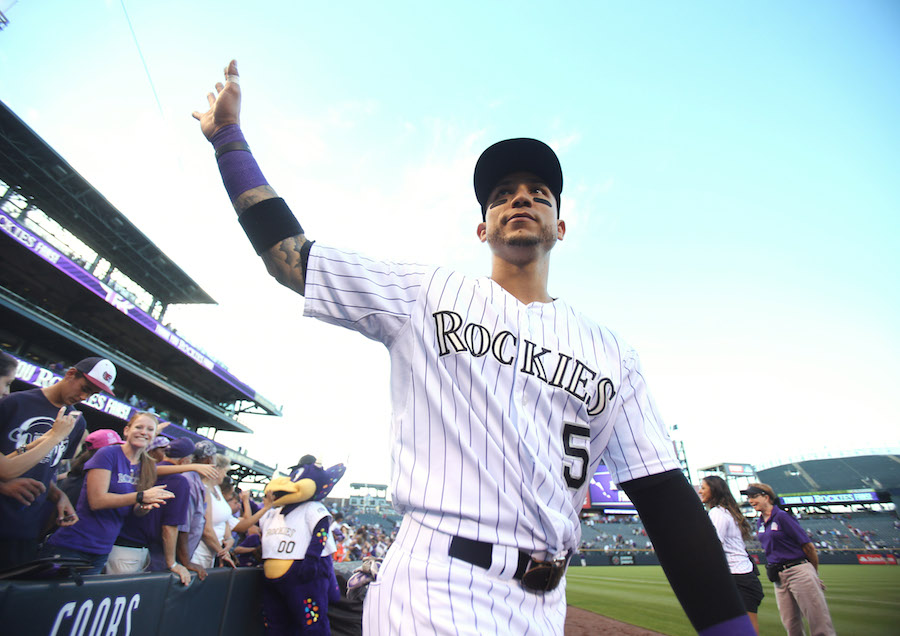 On Sunday the Rockies sent their fans home for the 2015 season with a happy ending, despite what has played out to be one of the toughest seasons in franchise history. The three-game sweep of the Dodgers concluded with a Sunday afternoon affair that reminded Rockies fans what September baseball can be about.
Los Angeles had to win and see the Giants lose in Oakland in order to clinch the NL West, so some scoreboard watching happened. The late season call-ups had to play a part, and names like Murphy and Diaz played contributing roles. And the Rocky Mountain weather cooperated, so more than 32,000 fans showed up for a home finale that did actually mean something (if only pride).
But the three-game sweep of the Dodgers, who still need to beat the Giants once between now and Thursday to clinch the West, was still somewhat bittersweet. It was a reminder that Colorado – when it's pitching cooperates – can compete in the division, even against the free-spending Dodgers.
And so as the home schedule came to an end, the players and the team took time to thank the fans – first with the ceremonial walk around the park to sign autographs, then in the very 21st century way of taking to social media. Over the next 24 hours, as the players enjoyed their last off day before the offseason, they continued to post and reflect, thanking the fans for their support.
We've gathered some of the highlights below.
Sights from today's Fan Appreciation Walk! pic.twitter.com/UO0x3ERXV3

— Colorado Rockies (@Rockies) September 27, 2015
#CarGo says thanks ✋ https://t.co/uWcl5fNLvF

— Colorado Rockies (@Rockies) September 27, 2015
Thanks to all the @Rockies fans for coming out and supporting us at Coors Field! Look forward to next year!! #BestFans

— Corey Dickerson (@MCoreyDickerson) September 28, 2015
Thanks @Rockies fans! #Love pic.twitter.com/i7yzn044Tx

— Car Go (@CarGoMedia5) September 28, 2015
Good night from #CoorsField. THANK YOU #Rockies fans for your support this year & every year! Best fans in baseball! pic.twitter.com/wLJRJFazEi

— Colorado Rockies (@Rockies) September 28, 2015
Thank you @Rockies fans, you are the best. Thanks for the support all year, see you next season.

— Brandon Barnes (@TheBarnyard15) September 28, 2015
Awesome night experiencing the love from @Rockies fans last night. Couldn't ask for better fans #thanks

— Tom Murphy (@TomJMurphy30) September 28, 2015