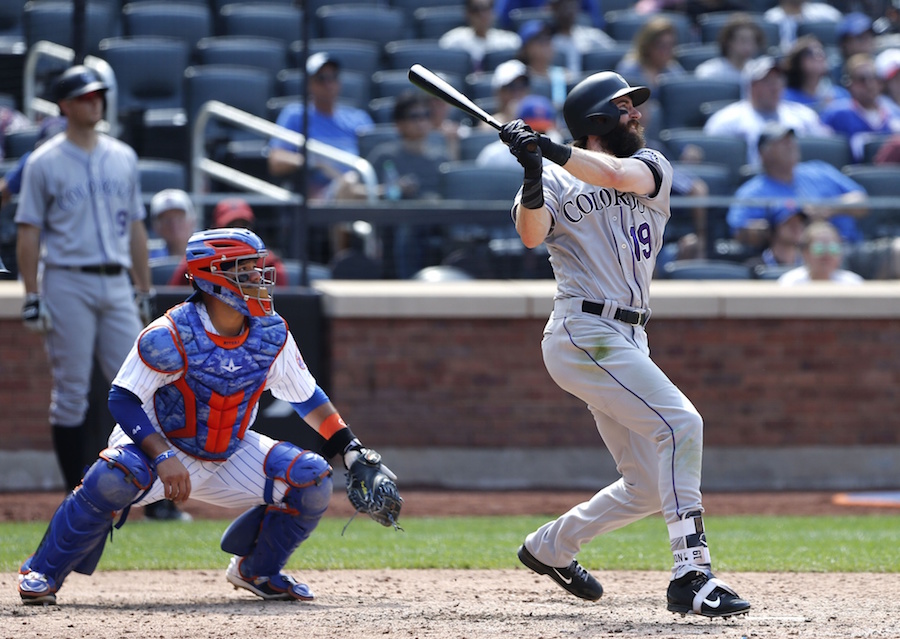 The Colorado Rockies did a little bit of everything to earn a 13-4 victory Sunday and salvage the final game of a three-game series with the Mets at Citi Field. The bats woke up, and did so early. The starting pitcher went deep into the game, relatively speaking. And the bullpen held a lead, allowing just one meager hit over three innings.
Colorado jumped out to a 7-0 lead after two and put up crooked numbers in five different innings en route to a season-high 13 runs in the game. Ian Desmond and Trevor Story each had a pair of RBIs in the first inning, and Nolan Arenado hit a three-run home run in the second to spot Jeff Hoffman a healthy lead. DJ LeMahieu, who had four hits on the day, scored his third run of the game in the fourth inning on a Mark Reynolds single. Gerardo Parra drove in Reynolds, who also had four hits in the game, with a sac fly later in the inning. Charlie Blackmon hit an inside-the-park home run (that cleared the center field fence but wasn't ruled a home run) to score Story in the sixth. Parra again drove in Reynolds in the eighth, this time with a two-run home run to cap the scoring.
After Colorado's starters failed to get out of the third and first innings, respectively, in the first two games of the series, Bud Black finally got some mileage out of a starter. Hoffman (6-1, 4.33) scattered seven hits over six innings, but did allow a pair of home runs. He struck out three and walked one. Scott Oberg pitched a 1-2-3 seventh inning, striking out one. Mike Dunn duplicated that effort in the eighth. Zac Rosscup allowed an infield single in the ninth to close things out.
The victory runs Colorado's record to 53-41, still holding the second National League Wild Card spot. The Rockies return home to start a six-game home stand on Monday. They'll open with three against the Padres before a day off on Thursday, followed by a weekend series with the Pirates. German Marquez (6-4, 4.36) will have the ball for Colorado in the opener against San Diego. First pitch is scheduled for 6:40 p.m. MDT.