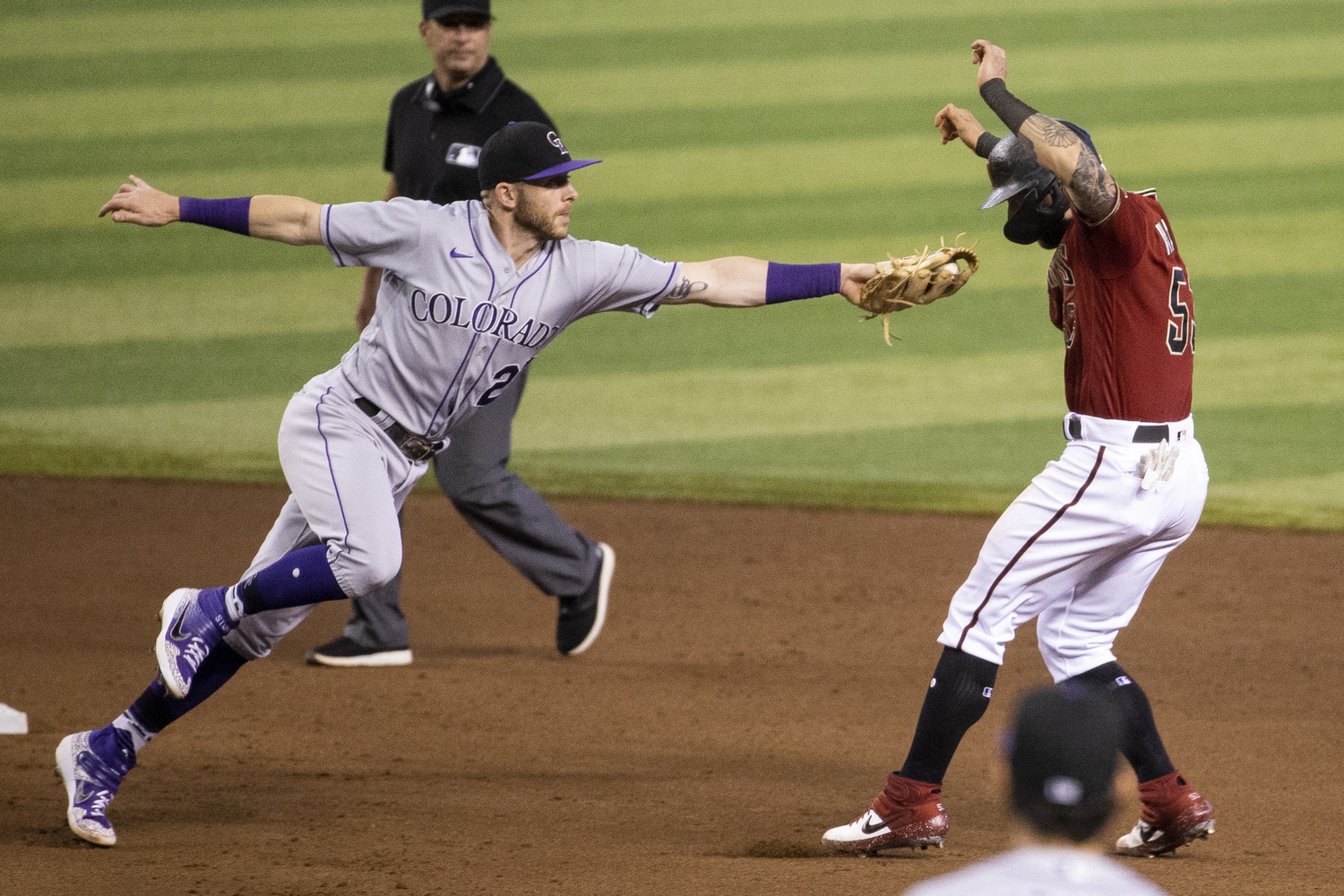 The Colorado Rockies' season officially ended on Sunday, two days after the team's postseason chances died after a defeat in Game 1 of a doubleheader that saw the last-place Arizona Diamondbacks take both games. The D-backs won three of four total, finishing the 2020 campaign with a blowout win over the hapless Rockies, who ended the season 15-31 after an 11-3 start.
After finding a way to split their previous series—a hard-fought, four-game set against the San Francisco Giants—the Rockies went belly up in the desert, doing nothing on offense in a 4-0 loss that sealed their fate as one of just seven National League teams to miss out on the expanded playoffs. Antonio Senzatela, after an excellent season, failed to finish on a positive note, allowing four runs on eight hits and four walks in 4 1/3 innings. Of course, it didn't matter much; Colorado had just six hits—none of which went for extra bases, and three of which were off the bat of Raimel Tapia—and struck out 11 times in seven innings.
The lame-duck Rockies got three hits from Kevin Pillar and a pair, including a homer, from Ryan McMahon in the nightcap on Friday but Antonio Santos and Jeff Hoffman combined to allow nine runs in 2 2/3 innings in an 11-5 loss.
The Rockies bounced back on Saturday thanks in large part to seven strong innings from Germán Márquez, who didn't allow an earned run and finished the season with a 3.75 ERA, the lowest mark of his career. Márquez struck out seven and walked only one, reversing a recent trend that saw a relatively low number of Ks and high number of BBs for the Rockies' top starter. Márquez ended 2020 with the highest walk rate and lowest strikeout rate of his career as a big leaguer, hopefully not pointing a shift to the same type of nibbling, pitch-to-contact approach that has gotten so many Rockies pitchers in trouble in the past.
In that 10-3 win—the Rockies' first margin of victory of more than six runs in 97 games, setting a club record—Tapia contributed three more hits, as did Elias Díaz, whose two-run homer in the fourth inning broke a 1-1 tie. McMahon in that contest homered for the second straight day and ninth time overall, ensuring he ended the season with the second-most long balls on the team behind Trevor Story (11).
Tapia chipped in another pair of hits in the finale but little else went right for the Rockies, who got a rare poor start from Kyle Freeland. The Denver native was touched up for six runs in 2 1/3 innings, ending the Rockies' shot at having three starters finish the season with a sub-4.00 ERA. Colorado's bullpen followed by surrendering five more runs. Their 6.79 ERA in 2020 is the highest single-season mark of any bullpen in franchise history.
The parade of hits for Tapia raised his batting average to .321, which led the team. Overall, it was a horrible season for the Rockies offensively; Tapia's lack of power and on-base skills—combined with necessary park adjustments—resulted in below-average production in terms of the all-encompassing wRC+. In fact, only one Rockies hitter—Story—finished the season with a wRC+ above 100. That means the Rockies had precisely one above-average offensive player in 2020, and anyone who watched the games should be inclined to acknowledge that the eye test agrees.
We'll have a full, position group-based breakdown of what went right, what went wrong, and what is next for the 26-34 Rockies over the coming weeks here at Mile High Sports.