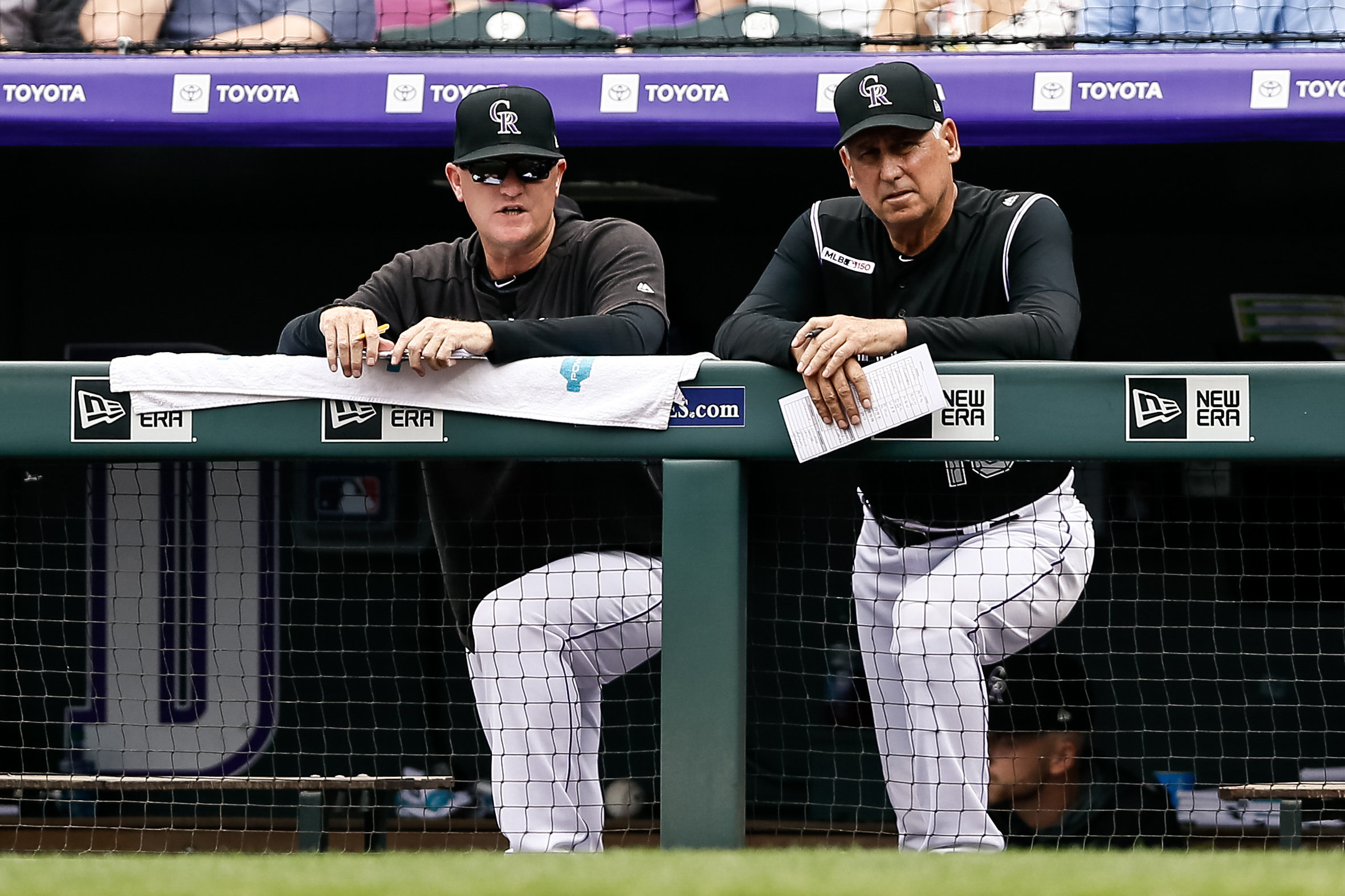 Jeff Bridich and company kept moving through the process of rejuvenating their farm system on Tuesday, with their efforts resulting in eight new Colorado Rockies' prospects. Of the 11 total picks made, all have been collegiate prospects.
While the first and second rounds of the Major League Baseball Draft were about hitters with raw potential for the Colorado Rockies, the club's second-day picks were about pitching:
RHP Jacob Wallace (100th overall)
RF Brenton Doyle (129th overall)
RHP Will Ethridge (159th overall)
RHP Gavin Hollowell (189th overall)
RHP Jared Horn (219th overall)
RHP Jacob Kostyshock (249th overall)
2B Isaac Collins (279th overall)
RF Jack Yalowitz (309th overall)
On the pitching side of the day's picks, Bridich made several interesting decisions. Wallace, Hollowell and Kostyshock were all relief pitchers in their collegiate stints. While one could argue that the relievers were picked due to a shallow pool of impact starters, they're curious nonetheless.
The normal theory in drafting pitchers is to stick to starters. If they fail, an organization can quickly change a starter's course, relegating him to the bullpen where pacing matters less than raw stuff.
Selecting a reliever limits a prospect's upside. In college, if they were already held back from joining the rotation, their ability to convert back to a starter in the future is diminished.
Naturally, the top reliever of the three the Rockies picked is the one they picked they highest: Wallace. For the University of Connecticut, the hurler served as the club's closer in his final year. In that final season, he accrued 16 saves on the year (30 appearances) and pitched to a 0.64 earned run average.
The marks in his final year were a marked improvement over his 3.95 ERA in 28 appearances as a setup man for the Huskies in his sophomore stint.
Leading the way for the right-hander is a high 90s fastball that ranked 70 out of 80 on the scouting scale, a common trait for today's relievers.
Both Hollowell and Kostyshock feature a different skillset.
Neither of the two boasts the same level of fastball, though Hollowell's 6-foot-7 frame lends itself to increased velocity if he can add weight onto his current 215 pounds. The same could likely be said about Kostyshock who sports a mid-90s fastball currently, but also weighs only 175 pounds despite being 6'4″. The latter has often had control issues, woes that create further skepticism with his selection.
At best, the Rockies likely drafted a possible closer in Wallace, while the other two appear to be quality setup men if they can reach their full potential.
Horn and Ethridge, a pair of starters, both appear to have conquered the college landscape. Both carried a sub-3.00 ERA through their final years with their respective teams, while Horn's 2.06 ERA finished third among Pac-12 pitchers who registered a start. Ethridge's mark of 2.91 finished 14th in the Southeastern Conference.
With a fastball that sits in the lower 90s, Ethridge's arm slot and consistent yet simple motion have allowed him to become a control artist. Similar to a Kyle Freeland, he relies on creating groundballs and weak contact, though he comes from the opposite side of the Rockies' southpaw.
Horn, on the other hand, has utilized a pacing style to carry him deep into games for the Golden Bears. In the middle of his final campaign, he went eight-or-more innings in four consecutive starts against Pac-12 foes. To add to his victims, he twirled a complete game against Arizona State in his final regular-season outing.
Similarly, Horn is also a pitch-to-contact starter. He struck out only 7.5 batters per nine innings and allowed six home runs across 74.1 innings.
While neither leaps off the screen, both starters who were chosen on day two appear to be safe choices that can likely jump into the back end of the Rockies' rotation in the future.
The final three pieces for the Rockies, all hitters, appear to be a mixed bag. Both Yalowitz and the switch-hitting Collins are hitters that carry middling power, with speed as their lead characteristic (24 combined steals). Doyle, on the other hand, swatted 13 home runs in his final year and hit .392.
Of the trio, only one appears to have a middle-of-the-order impact in his future. Doyle's power, if refined, could make an impact one day from a corner outfield spot.
It's hard to imagine many of the front office's second-day choices becoming stars one day. Sticking safe, following the selection of Michael Toglia, an extremely raw prospect, appears to have been the plan.
Unfortunately, the likelihood of college relievers becoming true difference makers one day is slim. The same goes for a pair of light-hitting fielders that both failed to hit over .300 or get on base at a remarkable rate in their final collegiate seasons.
Overall Grade: C+