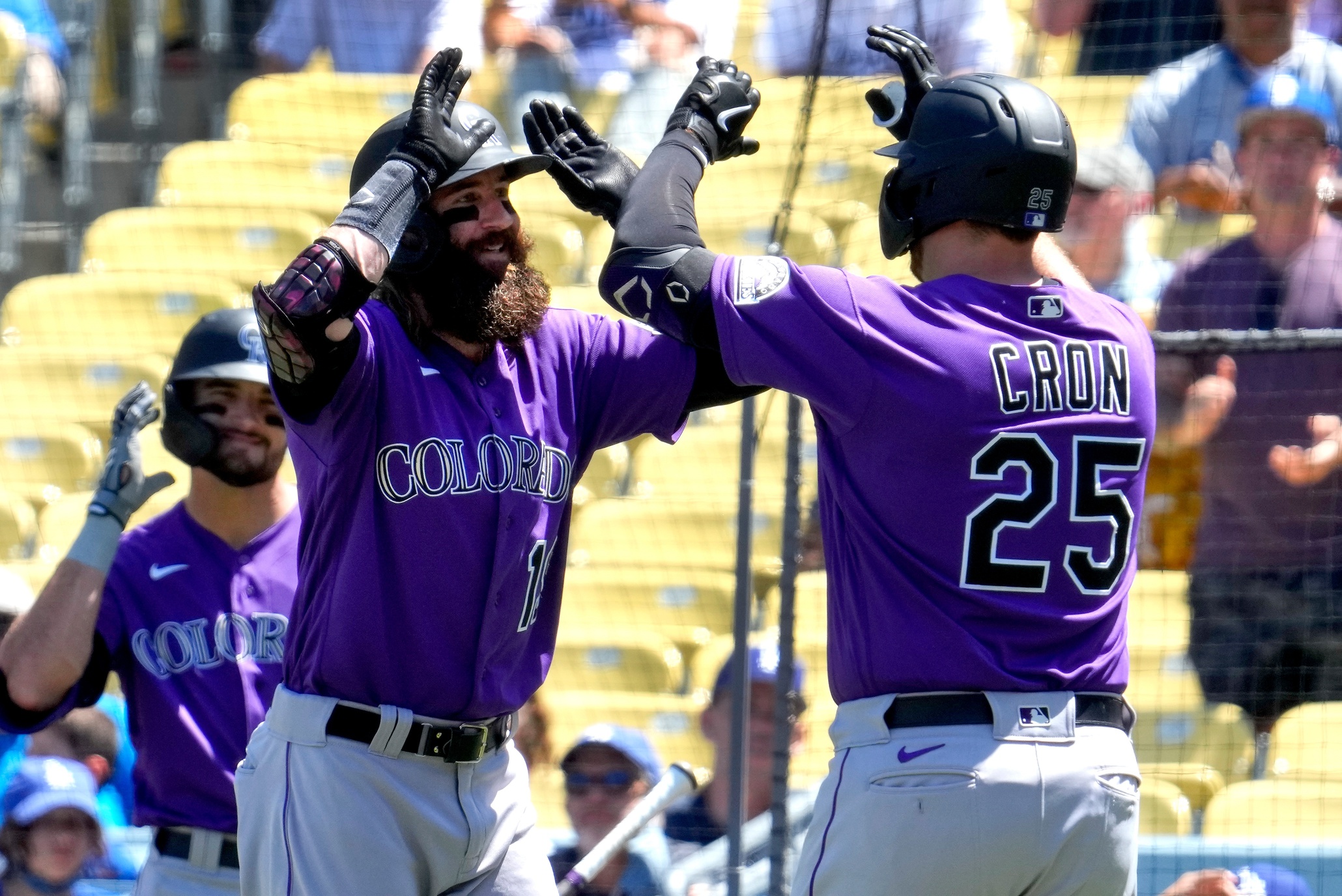 The Colorado Rockies entered their weekend series against the Los Angeles Dodgers with a 15-47 record on the road, so it's safe to say that a series victory over one of baseball's best teams wasn't exactly in the Rockies' crosshairs.
But thanks to strong pitching from Antonio Senzatela and Kyle Freeland and big hits from a red-hot C.J. Cron, the Rockies accomplished the improbable.
Colorado capped a road series win–just its second of the season–with a 5-0 victory on Sunday. Senzatela allowed just two hits in seven scoreless innings, overcoming his personal Dodger Stadium demons; in six previous starts in L.A., the right-hander posted a 7.48 ERA. Senzatela didn't need much help, but Cron provided all the offense the Rockies needed with a three-run homer in the top of the first inning.
The Rockies got the series started with a 4-2 victory behind a solid start from Freeland, who struck out seven while allowing a pair of runs on four hits in six innings. Freeland was supported by Cron, who homered in that game as well, plus a solo shot off the bat of Elias Díaz and a two-run dinger courtesy of Charlie Blackmon.
Sandwiched between the wins was a 5-2 loss in a game that the Rockies were in until the late innings. Jon Gray left after just two innings with an injury, but Rockies relievers Tyler Kinley, Yency Almonte, and Jhoulys Chacín kept the team in the game with five innings of one-run ball. Unfortunately, the Rockies only had two runs on three hits themselves, and Daniel Bard allowed three runs on a pair of hits and two walks without recording an out in the eighth inning to put the game out of reach.
The Rockies, with the series win over the Dodgers, are the only team in baseball to win a series in L.A. in both 2020 and 2021.
Trending up
Carlos Estévez pitched well en route to a pair of saves in the series. In fact, the 28-year-old right-hander has been on top of his game for quite a while now; Estévez hasn't allowed a run all month, and over his last 12 appearances, owns a sparkling 0.00 ERA with 14 strikeouts and five walks in 12 innings.
Trending down
Estévez's status as the Rockies' new closer was made possible because of the straight-up disastrous recent performance of Daniel Bard. He's been streaky all season, but Bard has taken that to a new level of late. The veteran righty lost his closer job after allowing two or more runs in three of his five previous appearances leading into the series against the Dodgers. And though he pitched well in the opener, striking out two in a scoreless inning, Bard's wildness came back to bite him again in the aforementioned Saturday loss.
Bard has been poor since the All-Star break, posting a 9.88 ERA in 16 appearances. Luck hasn't been on his side; opposing hitters have a .425 batting average on balls in play during that stretch, but Bard has exacerbated the problem by allowing six walks and four home runs.
Estévez will have to cut down on his walks, too, in order to have continued success in the role vacated by Bard, but the Rockies have made the right decision for now.
Up next
The Rockies, now 60-70 overall, finish up their nine-game road trip this week with a three-game set against the Texas Rangers. Texas has fallen to 40 games under .500 by virtue of going just 8-18 so far this month. The Rangers are similarly bad to the Rockies on the road, but are also comfortably under .500 in their brand-new home ballpark.
Colorado will send Germán Márquez, Austin Gomber, and Kyle Freeland to the mound in the series. The Rangers, meanwhile, having struggling veteran and former Rockie Jordan Lyles pitching in Game 2 and rookie Kohei Arihara, who owns a 6.59 ERA, pitching in the finale. Right-hander A.J. Alexy, who has posted a 1.66 ERA in 10 minor league starts this season, will make his major league debut opposite Márquez in the opener.