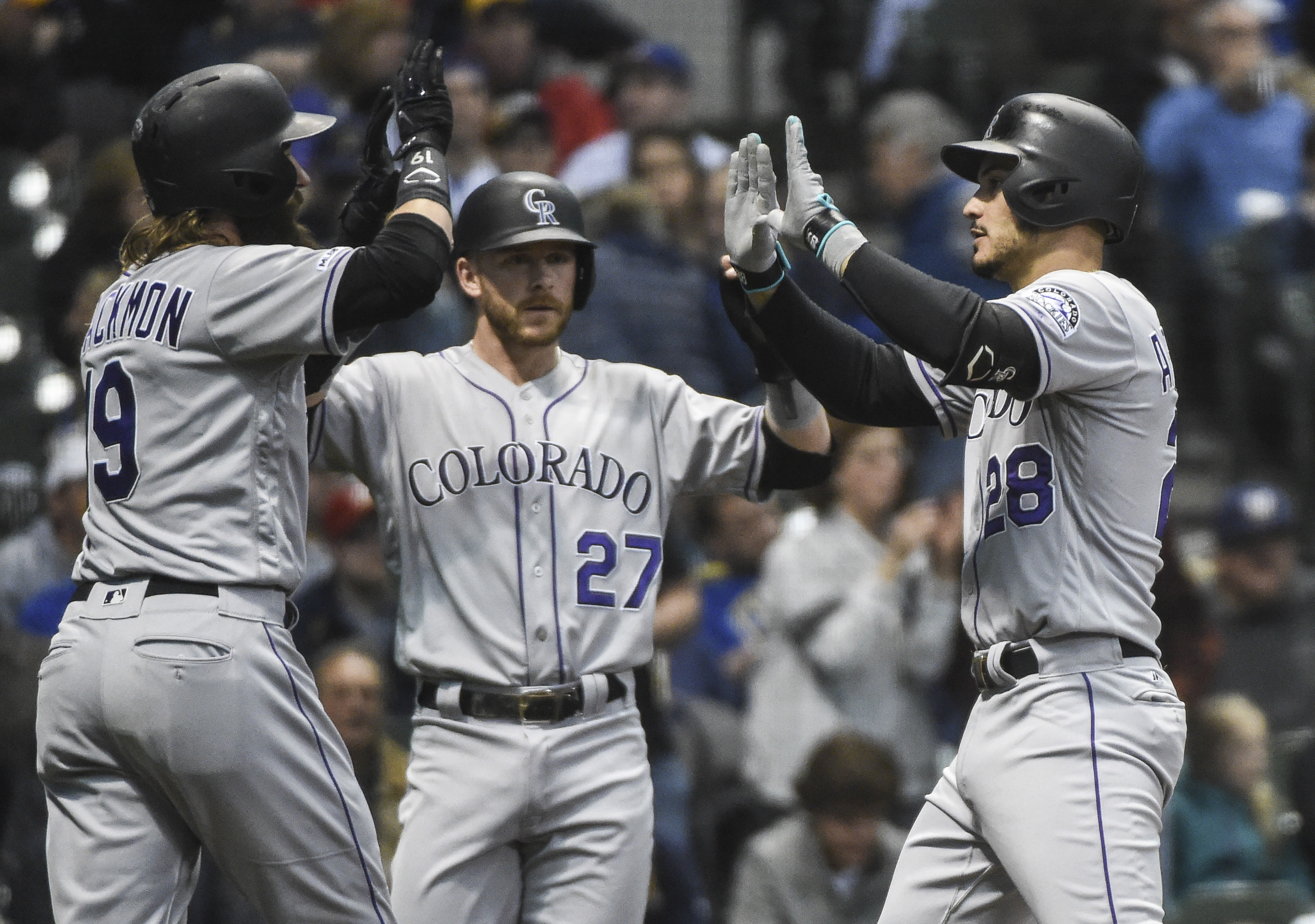 A dynamic offense and active fan base appear to have paid off for the Colorado Rockies. Per an announcement from the league, the club has three players – Nolan Arenado, Charlie Blackmon and Trevor Story – advancing to the final round of All-Star voting.
With the new voting system, starters are selected through a pair of rounds. The final round will feature the top three vote-getters from each position, except for the outfield that's granted nine finalists.
For the Rockies, Arenado, Story and Blackmon have been the lifeblood of the club's offense this year, along with David Dahl. The latter of the quartet missed the final cut, finishing 19th in the voting with 391,729 votes.
Arenado finished the highest of the three. With 2,483,867 votes, he beat out both Josh Donaldson and Kris Bryant to lead the third-base spot in total votes.
On the year, the Rockies' star has hit .328 with a team-leading 18 home runs as well. In similar fashion to his past campaigns, Arenado has been impactful with runners on base, driving in 60 runs already. The mark is tied for second in the National League, only six behind Josh Bell (66).
If held throughout the year, Arenado's average would represent a career high.
Blackmon has also garnered attention with his historic run in recent contests. Last week, the outfielder collected 15 hits, the most for a player in a series of four-or-fewer games in league history.
In all, Blackmon has hit .336, the fourth-highest mark in the NL. His 48 RBIs on the year put him on pace to break his previous leadoff record of 104 in 2017.
The last of the three, Story, made a late run to make his way into the final voting period. For both of the first two updates, the Rockies' shortstop trailed Corey Seager of the Dodgers.
A dose of good news for Story comes just a day after he was placed on the 10-day injured list with a right thumb sprain. According to The Athletic's Nike Groke, he is expected to miss "multiple weeks," putting his status for the game, if selected, in jeopardy.
Each of the three Rockies' finalists has been selected as an NL Player of the Week this year as well.
The final voting period will begin on Wednesday at 12 p.m. ET, with the ballot being closed the subsequent day at 4 p.m. ET.