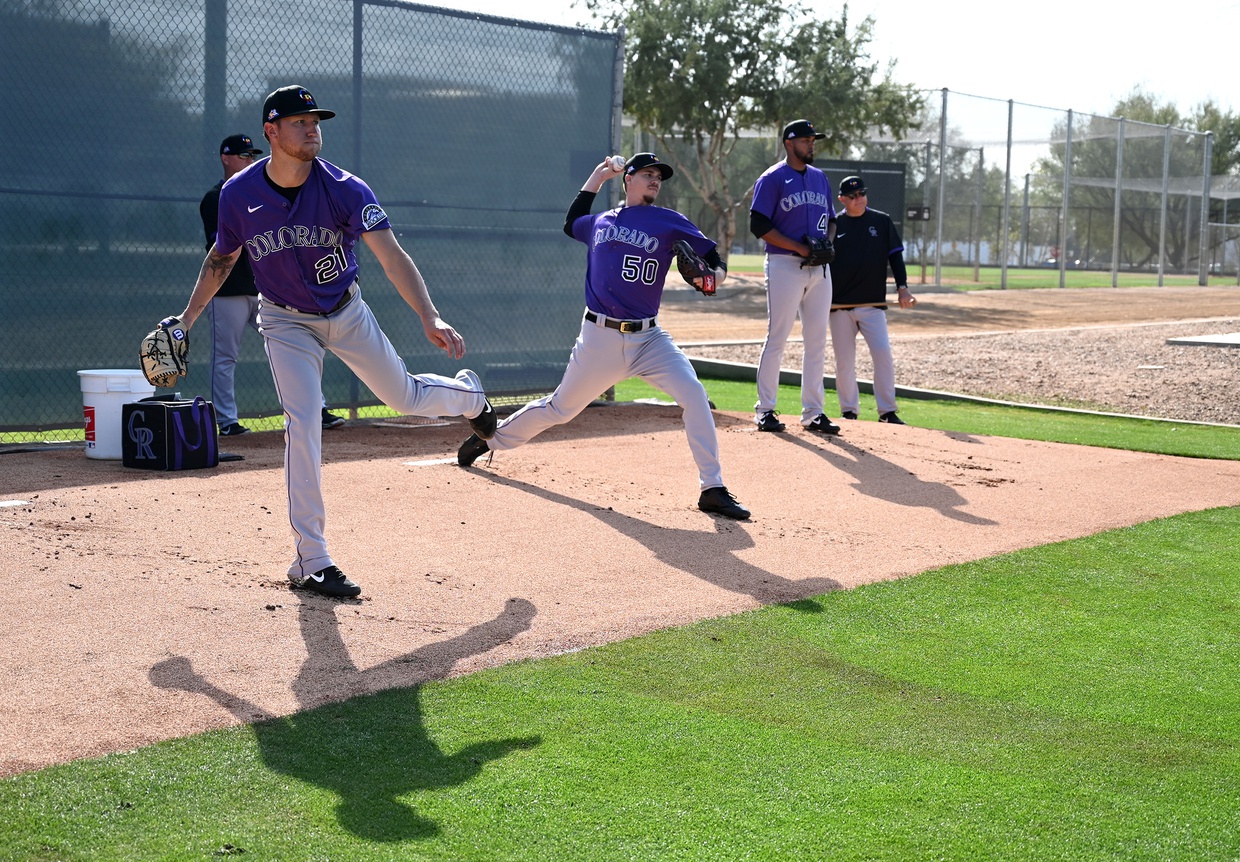 Earlier in the week, we profiled each of the position players—minus the random minor leaguers appearing on any given day's travel roster—set to appear for the Colorado Rockies this spring. It was a quick and dirty analysis that should tell you just about all you need to know when evaluating the offense during Cactus League play.
Now, let's do the same for the several dozen pitchers expected to see action at some point before April.
40-man roster
Yency Almonte
Pros: Almonte is coming off of a breakout year of sorts. The 26-year-old righty posted a 2.93 ERA with 23 strikeouts and just six walks in 27 2/3 innings out of the Rockies' bullpen in 2020. From start to finish, he was a solid, steady presence in a bullpen that statistically was one of the worst in the history of baseball.
Cons: He's only a year removed from putting up a 5.56 ERA in 2019. The big difference, aside from the walks (he issued 3.7 BB/9 in 2019 and lowered that to 2.0 BB/9 last season), was that Almonte was a lot more homer prone that year. Hopefully the deadened baseball allows him to keep limiting the long ball.
Yoan Aybar
Pros: Aybar is a left-handed reliever, which immediately makes him intriguing; the Rockies (in)famously played large chunks of 2020 without any southpaws in their bullpen. Another thing that stands out about Aybar, who started his pro career as an outfielder before transitioning to the mound in 2018, is his live arm; the 23-year-old former Boston Red Sox farmhand has struck out 10.3 batters per nine innings in the minors.
Cons: He's also walked almost six batters per nine, which absolutely will not play at Coors Field, where baserunners of any kind are almost always a bad idea.
Daniel Bard
Pros: Bard was rightfully named the National League Comeback Player of the Year in 2020 after posting a 3.65 ERA with 27 strikeouts and 10 walks in 24 2/3 innings for the Rockies following a seven-year absence from the majors. Bard routinely threw his fastball in the upper 90s and served as a steady hand at the backend of Colorado's bullpen.
Cons: The walks are a little high, but even that's a reach when considering he strikes out enough batters to make up for it. Bard just has to show that he can do it again.
Ben Bowden
Pros: Bowden has been dominant for the entirety of his pro career. The big 26-year-old lefty has struck out 13.1 batters per nine innings across four levels. If not for a back injury that forced him to miss the entire 2017 season, Bowden would likely already have an established role within the big league bullpen. As it sits now, he's ready.
Cons: Bowden is a fastball-changeup guy, and both pitches are of the plus variety. He also uses a slider that is basically a show-me pitch at this stage; if he can turn that offering into an out pitch, it could be the difference between Bowden being a dependable middle reliever/setup type and a near-untouchable closer.
Ryan Castellani
Pros: Castellani had some stretches where he looked like he belonged in the majors in 2020. He didn't allow a hit in his first start and had a pretty respectable 4.46 ERA after eight appearances—before the Dodgers and Giants smacked him around in his final two starts.
Cons: He walked more batters than he struck out, and that's always a huge red flag. Castellani was particularly bad in that department in his final four starts, walking 18 batters and strikeout out only seven in 19 innings. It's only spring training and he's made just one appearance, but those issues have, so far, continued into 2021.
Jairo Díaz
Pros: In the last non-pandemic season, Díaz struck out 63 batters and walked only 19 in 57 2/3 innings, showing off the type of stuff he had earlier in his career before Tommy John surgery.
Cons: Díaz was one of baseball's very worst relievers in 2020, posting a 7.65 ERA with 7.7 K/9 and an inexcusably high 6.3 BB/9. His fastball velocity was down a couple of ticks, and he just looked like a mess overall. Here's to hoping a somewhat normal spring can help Díaz rekindle his velocity—and, with it, his effectiveness.
Phillip Diehl
Pros: Diehl, in limited big league innings, has shown the ability to limit walks and—in 2019, at least—get strikeouts at a decent clip. He's done that in the minors, too, punching out 11.2 and walking only 2.6 batters per nine innings.
Cons: In a larger sample, Diehl's stuff might not be good enough to play in the bigs. He needs to be relatively perfect command wise, and while he's good, he hasn't been good enough in the zone. Diehl is just too hittable.
Tommy Doyle
Pros: Doyle rules. He's 6'6, 244 pounds, and has backend of the bullpen potential, striking out 10.3 and walking just 2.7 batters per nine innings across three minor league stops.
Cons: Doyle most certainly did not rule during his cup of coffee with the Rockies in 2020, allowing six earned runs on six hits and four walks in 2 1/3 innings. Still, all is not lost; he'd never pitched above High-A until making his big league debut last September. Let's see how he does with a little more seasoning.
Carlos Estévez
Pros: During his first 15 appearances of 2020, Estévez posted a 2.25 ERA with 13 strikeouts and four walks in 16 innings. He allowed a run in just two of those appearances. That came after a very good 2019 season during which Estevez, who finished with a 3.75 ERA, struck out 81 batters and walked 23 in 72 innings.
Cons: From Aug. 29 through the end of the season, the Wild Thing went off the rails, allowing 16 earned runs in just eight innings. The five long balls he surrendered certainly didn't help. Estévez thinks a hand injury he suffered on Aug. 16 contributed to his struggles. He deserves the benefit of the doubt.
Kyle Freeland
Pros: Freeland rediscovered his form in 2020, finishing the season with a highly respectable 4.33 ERA in 70 2/3 innings. He might not ever be the Cy Young candidate he was in 2018, but the Denver native is back on track toward being a solid mid-rotation option for any team, not just the Rockies.
Cons: That strikeout rate (5.9 K/9) is … woof. Freeland, not unlike some other pitchers on Colorado's staff, is going to have to hope that the Rockies' defense doesn't take too much of a hit without Nolan Arenado. He's going to yield a lot of batted balls, and it's going to put some pressure on his infielders.
Lucas Gilbreath
Pros: The Rockies seem to be focused on making Gilbreath a reliever going forward, which will allow him to use his plus fastball to its full potential. The 26-year-old southpaw was sitting at 95-97 during instructionals last fall and has under his belt a season (2018 at Low-A Asheville) in which he struck out 119 batters and walked just 24 in 116 innings.
Cons: Gilbreath hasn't posted an ERA below 5.00 since his pro debut, when he finished with a 4.60 ERA in rookie ball. But if his role is set as a reliever, much of his past performance no longer matters.
Mychal Givens
Pros: Givens has struck out almost 11 batters per nine innings while posting a 3.41 ERA over the course of what has been a solid career.
Cons: He allowed four homers in 9 1/3 innings after being traded to the Rockies last August. That home run rate will almost certainly go way down with a larger sample size, but Givens also lost his ability to strike batters out during his brief run with Colorado (just 5.8 K/9). His track record points to an anomaly, and the Rockies better hope that's the case.
Austin Gomber
Pros: Gomber, the prized piece in the Rockies' return for Nolan Arenado, posted a 1.86 ERA last season. He was particularly good as a starter, allowing just one run while striking out 17 batters in 15 2/3 innings.
Cons: Walks have been a problem. Gomber has issued 47 free passes in 104 big league innings, which works out to 4.1 walks per nine innings. That's too high, especially for a pitcher who will play his home games in Denver.
Jon Gray
Pros: Gray is one of the best starting pitchers the Rockies have ever had. It's hard for some people to look past his 4.59 career ERA, but his 9.2 K/9 and 2.9 BB/9 are the mark of a true upper-rotation guy.
Cons: He completely fell off a cliff in 2020. Gray did not handle the circumstances well, posting a 6.69 ERA while seeing his strikeout rate plummet to 5.1 K/9. If Gray is healthy, it's hard to see him with those awful numbers in 2021, especially considering it's his final year before free agency.
Tyler Kinley
Pros: Small sample sizes are the damndest thing. Take away a stinker of an outing in August against the D-backs during which Kinley allowed five runs without recording an out and his ERA for 2020 would've been a commendable 3.42.
Cons: As it sits, Kinley's season-ending ERA was 5.32. A lot of his issues, as has been the case throughout his career, are tied to walks; Kinley issued nearly five free passes per nine innings—a marked improvement over his 2019 numbers with the Marlins, but still a bit higher than one would like to see.
Peter Lambert
Pros: Lambert was a terrific hitter in 2019, putting up a .321 batting average and a .387 on-base percentage as a rookie.
Cons: He was not a good pitcher that season (7.25 ERA, 5.7 K/9, 3.6 BB/9), and now he's battling back from Tommy John surgery. We'll see how it goes.
Justin Lawrence
Pros: Lawrence flashes a triple-digit fastball and really caught the attention of the Rockies' brass in 2017 and 2018, when he posted a 2.42 ERA with 82 strikeouts in 70 2/3 innings for Low-A Asheville and High-A Lancaster.
Cons: He seemed to have developed the yips in 2019. At Double-A Hartford and Triple-A Albuquerque, Lawrence's ERA ballooned to 8.76 largely due to 29 walks (and just 32 strikeouts) in 37 innings.
Germán Márquez
Pros: Márquez led the majors in innings pitched in 2020 and posted a career-best 3.75 ERA. He's the unquestioned staff ace and, like Gray, is one of the best starters ever to don a Rockies uniform.
Cons: His strikeouts were down and his walks were up in 2020, but neither of them ended up at levels that should be considered much of a concern. The only real thing to worry about when it comes to the 26-year-old right-hander is the trade rumor mill that will surely pick up major steam at some point in the middle of 2021.
José Mujica
Pros: After posting a 3.26 ERA in six minor league seasons spent mostly as a starter, Mujica made his big league debut for the Rockies out of the bullpen in 2020.
Cons: He was not good in limited action for Colorado, finishing 2020 with a 12.46 ERA and more walks than strikeouts.
Scott Oberg
Pros: Oberg was quietly one of the very best relievers in all of baseball in 2018 and 2019, posting a 2.35 ERA with 115 strikeouts and just 35 walks in 114 2/3 innings.
Cons: Blood clots caused Oberg to miss the entire 2020 season, and the Rockies are taking it slow with him this spring. But he's feeling good and plans to return to game action at some point during Cactus League play. The Rockies' bullpen will be better off for it.
Helcris Olivarez
Pros: The 20-year-old left-hander has earned high marks from the organization for his stuff (mid-90s fastball, plus breaking ball, and playable changeup) and projectability. He appears to be the beneficiary of a fast track through the system that has rarely, if ever, been seen in the Rockies' org.
Cons: Olivarez has yet to pitch a single meaningful game above rookie ball. Keep expectations low, but don't hesitate to be excited about his potential.
Antonio Santos
Pros: Santos has walked fewer than two batters per nine innings over the course of his minor league while, in recent years especially, being able to get a strikeout when he needs it. The 24-year-old righty made his major league debut in 2020 despite having made just eight starts above A-ball.
Cons: His initial exposure to big league competition did not go well. Santos allowed 11 runs on 14 hits in six innings and walked as many batters as he struck out. He'll get more minor league seasoning this year.
Antonio Senzatela
Pros: Senzatela posted a career-best 3.44 ERA in 2020 thanks to a low walk rate (just 18 in 73 innings) and a lot of ground balls. It was Senz's third above-average season out of four total in terms of ERA relative to the rest of the league.
Cons: Among all qualified pitchers in the majors, Senzatela's strikeout rate was the lowest. That raises some concern about how much of his performance he can really control. His overall track record is good, but he's an ideal No. 4 or 5 starter, not a No. 2 or 3.
Jordan Sheffield
Pros: Sheffield is one of many low-risk, potentially high-reward bullpen acquisitions made by Jeff Bridich and company over the last couple of offseasons. The 25-year-old right-hander has struck out more than 10 batters per nine innings during his minor league career.
Cons: As is the case with Tyler Kinley, Yoan Aybar, and several other of Bridich's aformentioned relief pickups, Sheffield issues a lot of walks; 5.5 per nine innings, in fact. He's got good stuff if the Rockies can help him harness it.
Robert Stephenson
Pros: Over the last two seasons, Stephenson has really impressed in the peripherals department, striking out 11.3 and walking just 3.3 batters per nine innings. He's done it with a fastball that averages right around 95 mph and heavy usage of a plus slider.
Cons: Much like Givens and Estévez, Stephenson has a homer problem. He gave up eight of them in just 10 innings in 2020. The Rockies will have to hope that a larger sample size will make Stephenson's longball tendencies go away.
Non-roster invitees
Julian Fernández
Pros: Fernández owns a respectable 3.65 ERA in five minor league seasons. In his most recent campaign, he posted a 3.26 ERA with almost a strikeout per inning.
Cons: That most recent season? It happened in 2017. Fernández has been out of action for more than three years due to the pandemic, as well as Tommy John surgery and ensuing complications before that.
Brian Gonzalez
Pros: He's spent only one season as a reliever, and it went pretty well. Gonzalez posted a 3.38 ERA with 53 strikeouts and 15 walks in 53 1/3 innings in 2019.
Cons: The 25-year-old left-hander doesn't have stuff that jumps off the page, and as a starter he didn't strikeout a ton of batters and was somewhat prone to walks.
Chi Chi González
Pros: González, who maintains the appearance of a union drywaller, has given the Rockies some competitive spot starts over the past two seasons.
Cons: He's never going to be good for much more than that. Gonzalez, in 160 career innings spanning four seasons, has walked nearly as many batters as he's struck out and owns a 5.12 ERA.
Joe Harvey
Pros: Harvey didn't allow a run in four appearances for the 2020 Rockies. He owns a 2.37 ERA with 10.3 K/9 in six minor league seasons.
Cons: Harvey is almost 30 and has yet to stick in a big league bullpen. He only has 21 1/3 innings under his belt at that level, though, so it will be interesting to see if he can come close to his minor league performance if ever given an actual opportunity.
Heath Holder
Pros: The 6'6 righty has been good at every minor league stop, compiling a 3.32 ERA with 10.4 K/9 in four seasons with the Rockies organization.
Cons: Holder has been, on average, a couple of years older than the competition at just about every level. He's been good so far this spring, though, so keep an eye on him.
Dereck Rodríguez
Pros: Did you know he's Pudge Rodríguez's son?
Cons: Did you know he's Pudge Rodríguez's son?
Ryan Rolison
Pros: He's polished, often flashes dominance, and encountered the "right kind" of adversity in 2019. Overall Rolison, who isn't far from being a top 100 overall type of prospect, owns a 3.94 ERA with 9.3 K/9 in two minor league seasons. He almost reached the majors last year.
Cons: Rolison gave up a lot of homers while pitching at High-A Lancaster in 2019, but that park was a notorious launching pad. He also struggles with breaking ball command at times, but considering how well he's coming along otherwise, that might be a reach to complain about at this point.
Chad Smith
Pros: Smith, a 25-year-old righty, is another reliever with high-strikeout potential (10 K/9 in four minor league seasons).
Cons: Stop me if you've heard this before: he hasn't quite been able to put it all together due to a tendency to liberally issue free passes.
Jesus Tinoco
Pros: The last remaining piece from the 2015 trade that sent Troy Tulowitzki to the Blue Jays, Tinoco owns a rather decent 4.03 ERA in 44 2/3 innings at the major league level.
Cons: He walks a lot of batters and doesn't strike out many, either. It's been the case for basically his entire pro career. That will probably come back to bite him if he spends any more time in the majors than he has to this point.