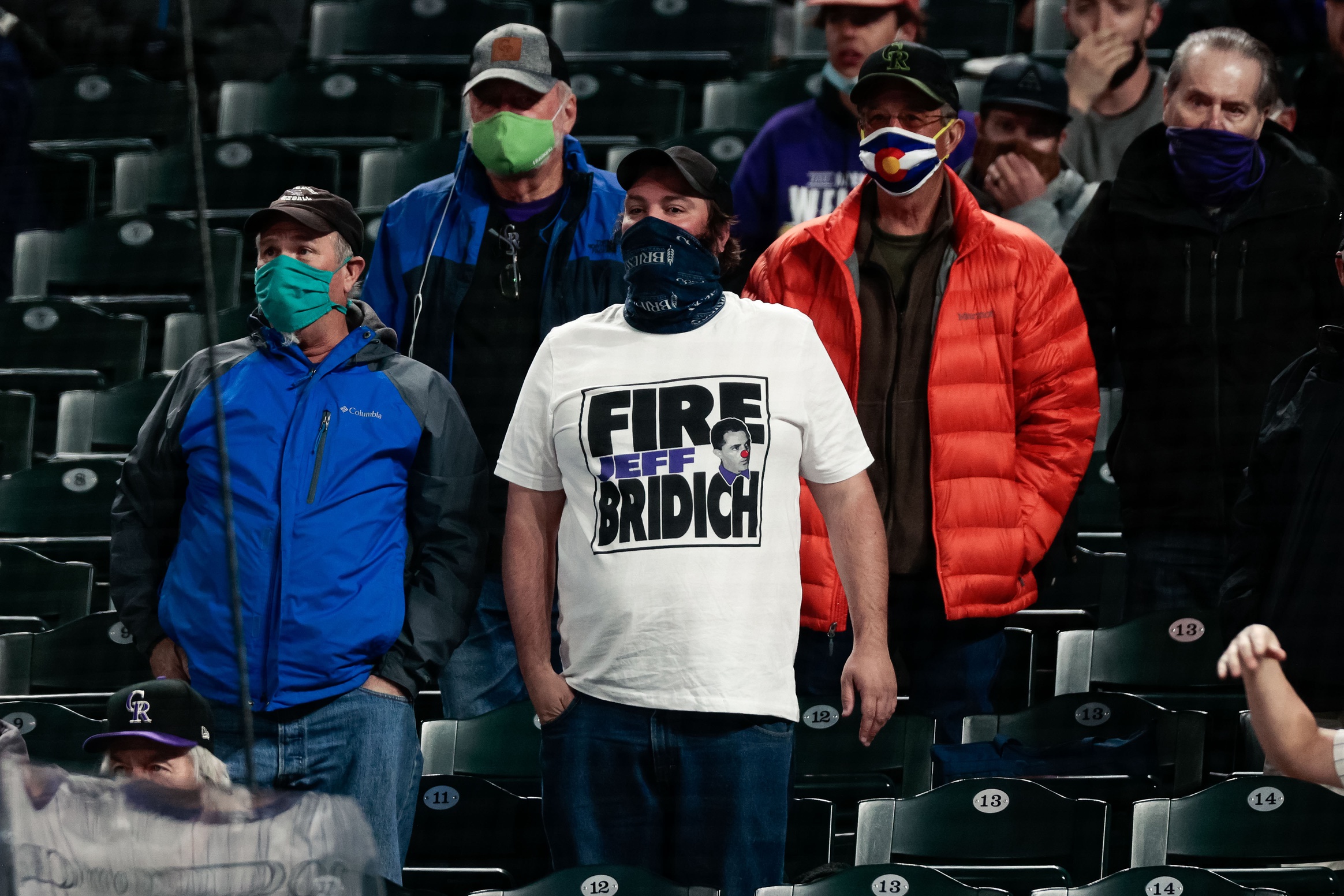 The Colorado Rockies made a rare major shakeup in their front office on Monday, announcing the resignation of general manager Jeff Bridich and the promotion of Greg Feasel to president of basically every facet of the club.
The general consensus seems to be that Bridich "got quit," putting an end to an up-and-down tenure that ultimately crashed and burned after the Rockies traded generational talent Nolan Arenado and $51 million to the St. Louis Cardinals for a package of players highlighted by Austin Gomber. The backlash of the deal among fans and media was more intense than Bridich and Rockies owner Dick Monfort expected, according to sources, and the two parties were not aligned when it came to figuring out how to best move forward.
Bridich, for all of his achievements as the director of player development during a time when the Rockies were loaded with minor league talent, didn't ever seem fully cut out to serve as a big league GM. In his first season at the helm, he alienated star shortstop Troy Tulowitzki by not keeping his word and got into an intense verbal altercation with a beat reporter along the way. Three years later, with the team in the midst of its best chance to date to win a division title, Bridich—beyond a couple of minor moves, anyway—failed to upgrade the roster during the stretch run. A year later, his relationship with Arenado soured as a result of a major disagreement during an exit interview at the conclusion of a disappointing 2019 campaign. Sprinkled in there somewhere were comments about how the media's criticism of him was unwarranted, adding that "most of them … never even led anything in their lives."
You get the picture.
And, through all of that, fans and folks who cover the team lost patience. In fact, if you believe what some of the team's broadcasters had to say prior to the Rockies' 12-0 loss to the San Francisco Giants on Monday night, social media outrage—presumably from those same fans and media types—played a big part in Bridich's resignation, as if to say that it may not have needed to happen otherwise. Regardless, the Rockies are left to move forward with the task of finding a new GM.
The club's statement on the matter was interesting, clearly defining two separate plans going forward when it comes to the GM position. The interim job is likely going to be offered to an internal candidate; scouting director Bill Schmidt and assistant general manager Zack Rosenthal are among those who will be considered, per sources. But the Rockies plan to play the long game, as well, and this is where an outside candidate could come into consideration.
It's not that the Rockies have to hire an outsider to serve as GM long term; it's just that everything the organization has become points to issues within the ranks. The Rockies have not been able to solve years-long problems with transitioning from home games to road swings. Attempts to take advantage of Coors Field's propensity for rewarding contact has resulted in an offense that, entering the final day of the recently completed homestand, owned the worst on-base percentage in the National League. There seems to be growing evidence that players cannot hold up long term if they have to play half of their games in Denver for years on end, yet that hasn't manifested itself in any sort of decision making or roster building. There's a lot of hard work to be done, and the next GM will have to be someone with the skills, patience, and, ideally, experience to do things right.
And then, there's the matter of Monfort, who—by all accounts—is going to be a tough nut to crack for any potential outsider (or insider, for that matter). Monfort is notoriously meddlesome, and his hiring of Feasel—a very good and experienced executive on the business side of things—to serve as team president begs the question: is the owner going to shift even more of his focus to the baseball side of the operation? This is a guy who reportedly has shut down trades for Roy Halladay, Eduardo Rodriguez, and J.T. Realmuto, among others, and was essentially the architect in the deal that sent Arenado packing in an effort to save money in the face of alleged financial losses as a result of the pandemic and the development of McGregor Square.
It's his business and it's his money, but the hope is that the next GM can convince him to better allocate his resources. The Rockies' payroll hasn't exactly been low, and you won't find the author of this article advocating for salary suppression any time soon. However, given what we know about Colorado's history of star players—let alone already past-their-prime free agent signings—wearing down because of the environment, more of a balance could be achieved in terms of spending on players and spending on, say, a real analytics staff. The solution isn't to kill the budget; it's to spend the money in a way that's more aligned with what the organization actually needs.
All of this is to say that Dick Monfort is still the key player in the Rockies' present and future. He's the one who will have to embrace and enact change. That doesn't sound promising given, you know, *gestures wildly toward everything we've ever seen from the organization.* But, it's reality. And so, we hope; we hope that Feasel's similar background to the late Keli McGregor, who was well spoken of by people not only inside of the organization and out, can help the new president provide some much-needed perspective and leadership. We hope that the club's interim GM, whose list of unenviable tasks will include deciding when or whether to trade the likes of impending free agents Trevor Story and Jon Gray, makes the right choices. And we hope that the best possible long-term GM candidate falls into the lap of Monfort, who will have had ample opportunity to do his homework and tap into whatever connections he has to find someone—anyone—who is truly up for the challenge of a lifetime.