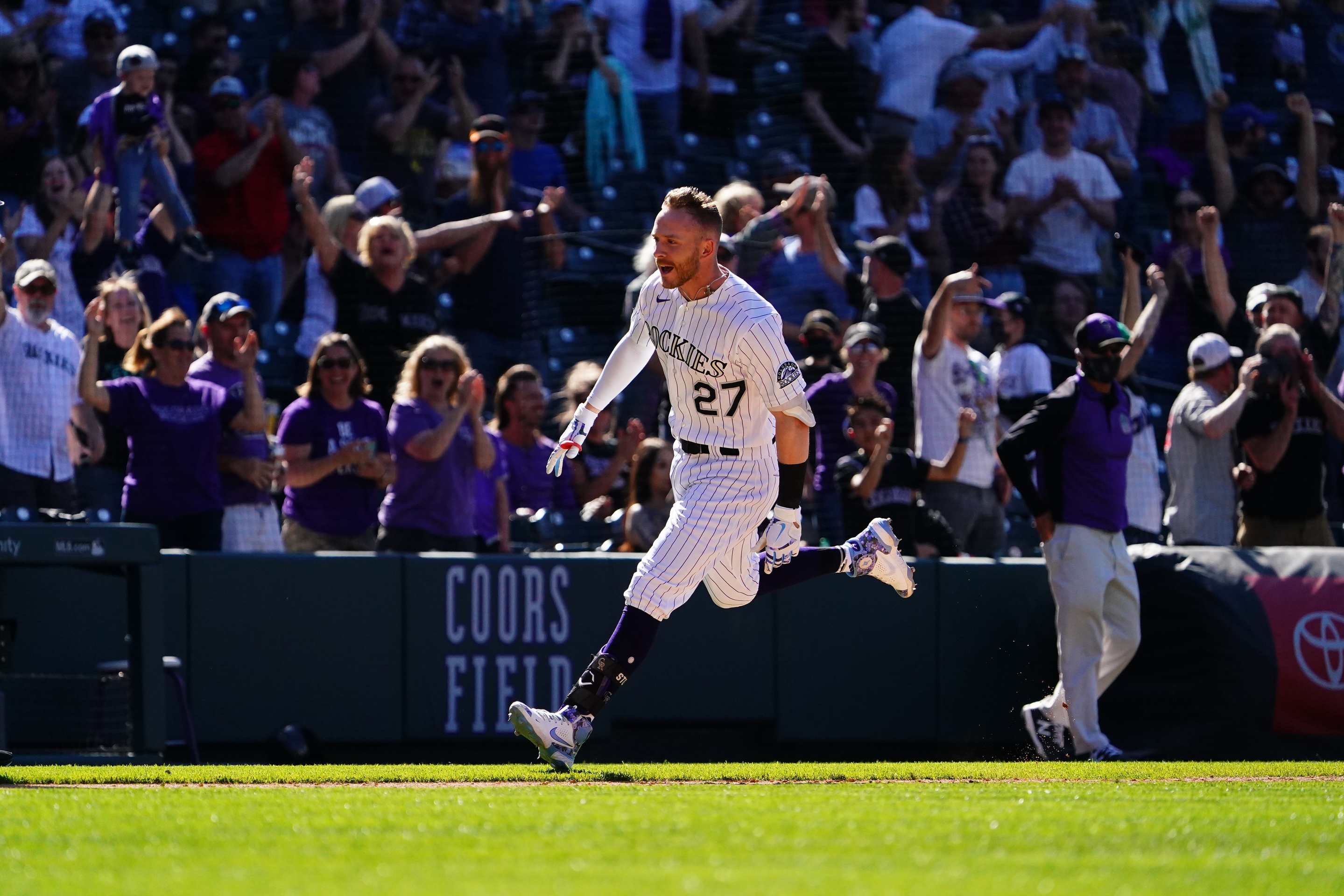 Trevor Story provided one of those moments to be remembered for to cap a sweep for the Colorado Rockies on Sunday.
Story hit a walk-off home run to dead center field to break a 3-3 tie, giving the Rockies their third consecutive win over the Arizona Diamondbacks. With the sweep, the Rockies officially swapped places with the now last-place D-backs in the National League West.
Colorado's star shortstop was relatively quiet in the first two games of the series and entered Sunday mired in a 4-for-31 slump. He also hadn't homered in three weeks. But a few hours after hitting a second-inning RBI single that gave his team an early lead, Story sent the fans home happy in the bottom of the ninth with a solo shot off of D-backs reliever Stefan Crichton.
On Saturday night, the Rockies jumped out to a 7-3 lead highlighted by a home run off the bat of Charlie Blackmon, and Daniel Bard worked a scoreless ninth to preserve a one-run win following some shoddy bullpen work from Yency Almonte. That came after Colorado plated seven runs in the series opener, which was won by Germán Márquez in his best start of the season. Ryan McMahon homered twice in the 7-1 victory.
What (else) went right
Josh Fuentes went 2-for-2 in terms of multi-hit games in the series (he did not play in the series opener on Friday). Fuentes, whose batting line sat at .191/.206/.266 on May 9, is hitting .450/.463/.925 over his last 10 games.
Fuentes walked only once during that stretch and has drawn a total of three free passes all year. He swings at pitches outside of the zone at a far higher rate (46 percent) than the league average (30.8 percent), but his overall rate of contact is barely above the norm. Despite all of that, Fuentes actually sees a higher-than-average percentage of pitches in the zone. Once pitchers inevitably decide to give Fuentes less to hit, his overall numbers—now at .269/.283/.440—could be in line for another dip.
That said, it has been a joy to watch the fiery and fun Fuentes get his mojo back after an extended slump. He's at his best when he's loose and worry free, and from a team perspective, there aren't a lot of reasons why he shouldn't be able to continue playing with that approach.
What's next
The Rockies hit the road for their first east coast trip of the season. The first stop is a four-game set against the New York Mets at Citi Field, where results have been mixed for the Rockies in recent years. This time around, they'll see a returning Jacob deGrom—who struck out 14 batters in six innings against the Rockies on April 17—among others. After that, Colorado will travel a few hours west to face the last-place Pittsburgh Pirates.