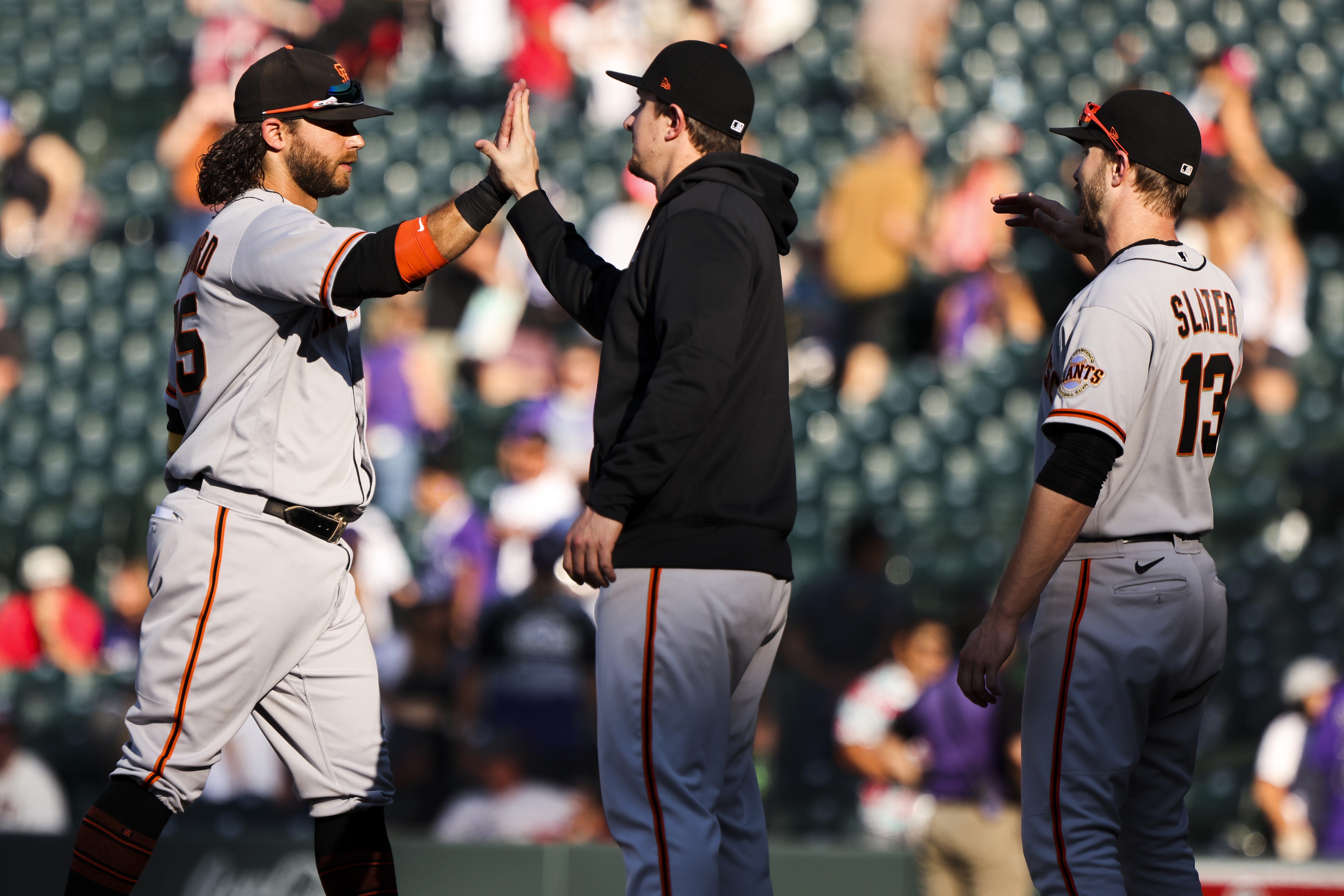 There was certainly no denying over the weekend at Coors Field which team is a 100-win club bound for the postseason and which one is mired in a third consecutive losing season.
The San Francisco Giants, now at 102-54 and in sole possession of first place in the National League West, swept the Colorado Rockies in dominant fashion. The Giants outscored the home team, which was celebrating the jersey retirement of its first Hall of Fame inductee, 20-6 in a three-game set.
The Giants kicked things off on Friday with a 7-2 victory over the Rockies and Peter Lambert, who made his first big league start in more than two years. Lambert, who underwent Tommy John surgery in the spring of 2020, allowed a pair of homers in 3 2/3 innings. Reliever Ashton Goudeau followed by giving up four runs, including two more dingers, to put the game out of reach. The Rockies managed 11 hits in the contest but left 10 runners on base.
Game 2 was nearly a mirror image of the opener. The Giants again won, 7-2, despite finishing with the same amount of hits (11) as the Rockies. Colorado again left 11 runners on base in their failure to pick up a starter–this time, Jon Gray, who allowed four runs–including a couple of homers–in what might have been his final start at Coors Field, in 4 2/3 frames.
The Rockies' offense had a much more difficult time getting on base in the finale, but the game was tied, 2-2, heading into the top of the ninth inning. That's when the Giants plated four runs, three of which came on a home run by Brandon Crawford off of Tyler Kinley, who had been solid for about a month prior, to put the game away. C.J. Cron homered in the losing effort, and starter Antonio Senzatela allowed just two runs in six innings.
San Francisco's dominant performance put a damper on Larry Walker Weekend, if only a little bit. The Rockies retired Walker's No. 33 with a pre-game ceremony on Saturday that included owner Dick Monfort introducing the Hall of Famer to a smattering of boos that the team likely tried to prevent by providing no introduction for Monfort himself. Regardless, in the highlight of the weekend, the Rockies unveiled the gold-trimmed 33 plaque complete with a "HOF" marking to formally and permanently enshrine Walker in Colorado lore.
Trending down
Trevor Story could be playing his last games as a member of the home team at Coors Field. If so, he's not really going out with a bang. Story went 0-for-9 with five strikeouts in two games against the Giants and is just 3-for-21 overall on the homestand.
It's worth noting that the Rockies' offense as a whole stunk it up against the Giants. In three games, Colorado hitters struck out 34 times and walked just once.
Trending up
Robert Stephenson, the Rockies' big acquisition from last offseason, has quietly had a very good year out of the bullpen. He's been particularly strong since returning from a lengthy IL stint in early August; in 20 1/3 innings spanning 20 appearances since that point, Stephenson owns a 1.77 ERA with 24 strikeouts and five walks.
Stephenson worked twice against the Giants, allowing an unearned run while striking out three and giving up two singles in 1 2/3 innings.
Up next
The Rockies (71-84) wrap up their 2021 home slate with a three-game series against the Washington Nationals beginning on Monday. Colorado took two of three from the Nats on its last road trip and should have a good chance at another series win this time around. Washington starts a pair of pitchers–Josiah Gray and Patrick Corbin–with ERAs close to 6.00 before closing the series with Paolo Espino, who shutout the Rockies for 5 2/3 innings eight days ago.
Colorado will have Germán Márquez, Kyle Freeland, and Peter Lambert on the hill as the team attempts to break a strange streak that has saw it lose nine out of its last 10 games at Coors Field, where the Rockies are 46-32 this season.