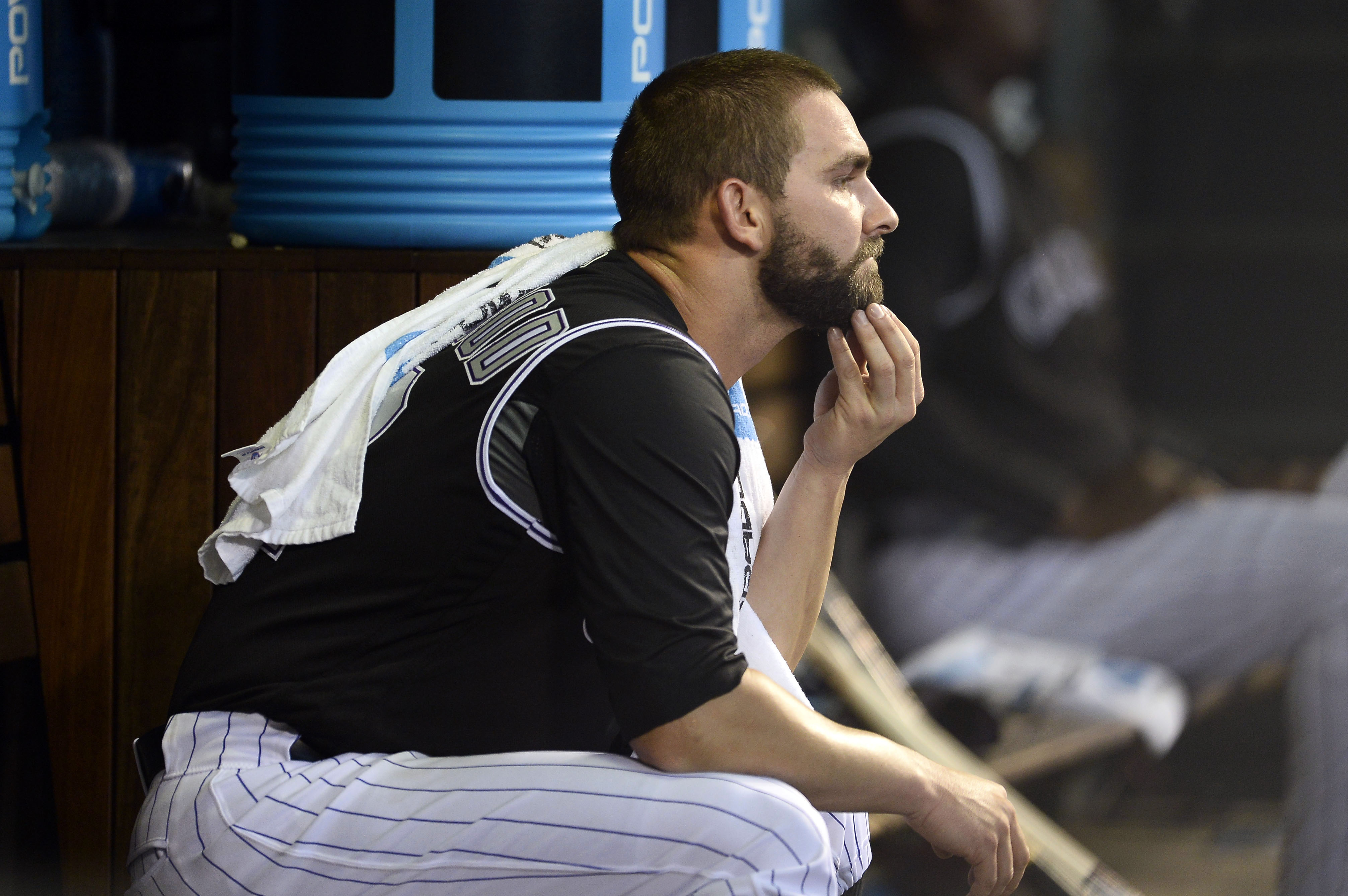 The last time Walt Weiss witnessed the Rockies hit seven home runs in one game was in 1997, sitting on a training table at Olympic Stadium in Montreal. Weiss was hit in the kneecap by a pitch the previous night and all he could do was watch his fellow Blake Street Bombers in awe.
Flash forward almost 20 years and Weiss had a front row seat to this current iteration of the Bombers after they finished off the month of May matching the franchise record of seven homers in a game.
But June started in almost the opposite fashion as the team only mustered two runs and turned in an uncharacteristically spotty start from Tyler Chatwood. This is not the start the Rockies wanted after they have historically struggled in the month of June under Weiss.
The past three seasons the Rockies have gone 13-15 (2013), 8-20 (2014) and 12-17 (2015) in the month of June.
"I can't argue with what the history shows but I do think this team is a little different," he said before the game. "I feel like this stretch is the toughest test schedule-wise. We didn't kill it by any means, but I felt like we held our ground. History says if we were confronted with a schedule like that before we would maybe be 14 or 15 games out."
Weiss said after the game his team came out a little flat facing Cincinnati starter John Lamb, who had a 6.85 ERA entering the game but was able to quiet the bats with an effective changeup to earn his first win of the season.
Charlie Blackmon was one of the few batters to really figure out Lamb as he reached base three times with two singles, scoring the only earned run of the game. He also made all three putouts in the third inning and saved a run in the first with an immaculate catch.
Blackmon isn't always the easiest to track down, perhaps because he is almost always in the gym after the game.
"I think I'm consistently ready to play baseball and I'm not getting too excited or too down when things go good or bad," Blackmon said about the rhythm he is currently in.
"Right now I'm seeing the ball pretty good and I just think I'm getting better at figuring out exactly how to be ready come game time and how to maintain my body so I feel consistent every day."
Weiss credited Blackmon's hand-eye coordination for how well he is playing right now after his centerfielder reached base safely in 27 straight games Tuesday. Weiss said Blackmon comes out of a funk maybe differently than Carlos Gonzalez.
"It's tough with Charlie because he isn't as rhythmic as CarGo is as a hitter," Weiss said. "CarGo, it's like a dance with the pitcher and you can tell when he starts finding his rhythm and flows. Where Charlie is not as rhythmic as a hitter. His rhythm is more internal that helps him time up a pitcher."
As for Chatwood, he never seemed to find rhythm from the first pitch of the game. Zack Cozart immediately lined a single to start the disruption of the success Chatwood has experienced most of the season.
"He wasn't real crisp, location was a little off especially with the fastball. Got in a lot of tough counts. Just wasn't as sharp as we've seen him lately," Weiss said. "He always battles though and when I went and got him I thought he had really grinded through 100-plus pitches."
The Reds forced a lot of deep counts as Chatwood struggled with fastball command, although he said he never felt that he fully lost the strike zone.
"I don't think we were flat [today,] I just think you give credit to their guy who was changing speeds and kept us off balance," Chatwood said. "They hit a lot of good pitching and I just missed some barely off the plate. But I think I kept trying to find the strike zone and tried to stay out there as long as I could."
After ending May with a record-setting offensive night, the Rockies have already begun to dig a hole for themselves in June with Wednesday's loss. They face Cincinnati on Thursday hoping to level the series in the finale.
The Rockies then has two series against the last-place Padres upcoming, with the Dodgers and a makeup game with Pittsburgh sandwiched in between. Colorado is 2-4 against San Diego so far this year.