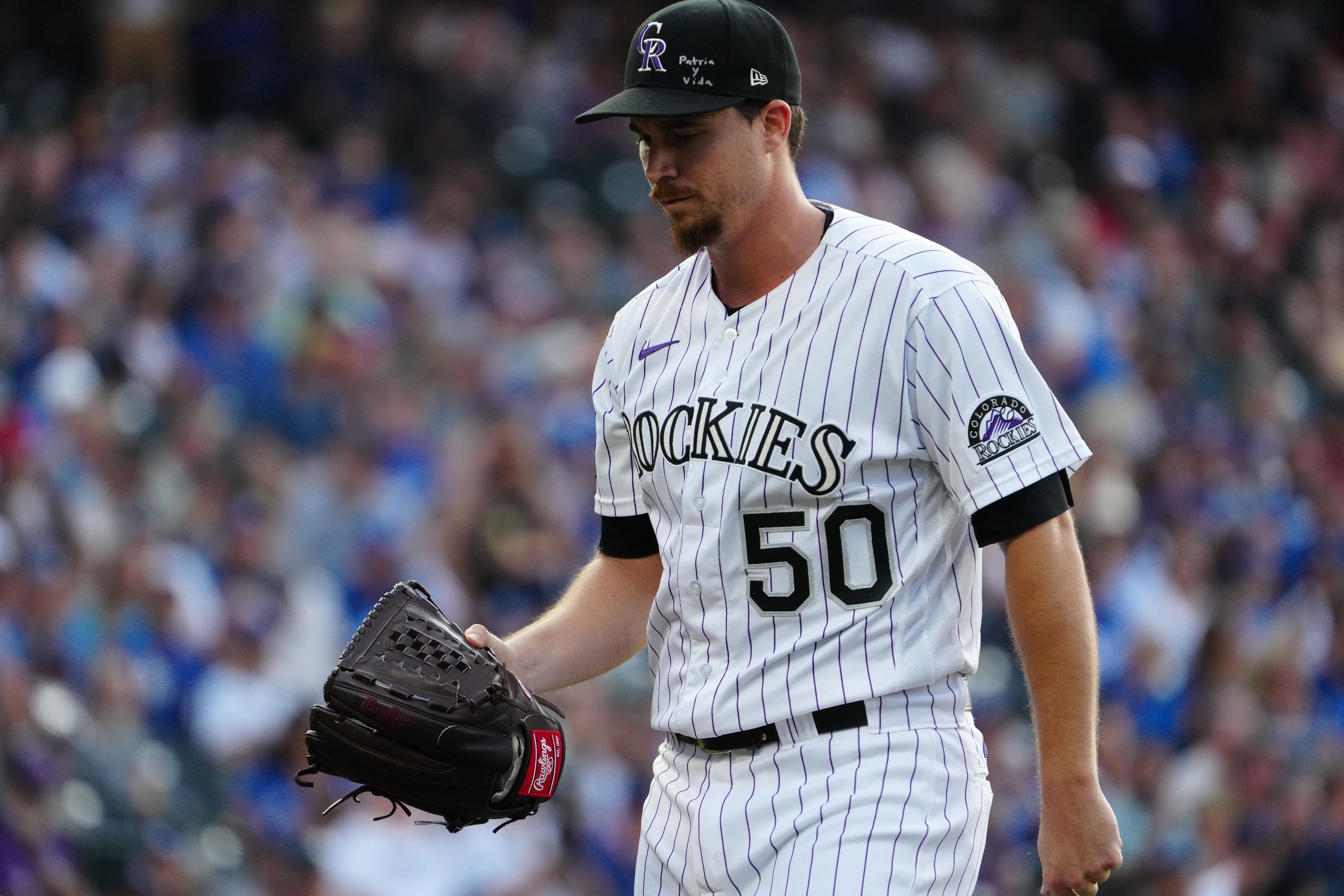 The Colorado Rockies started the second half on a high that only a team's first road series win in a given season can provide. Unfortunately, the team came crashing back down to reality in dropping a three-game home set against the Los Angeles Dodgers.
The Rockies, after shutting down the likely postseason-bound San Diego Padres at Petco Park last weekend, were largely unable to contain a powerful Dodgers offense that ranks first in the National League in wRC+. Colorado, which got terrific starting pitching—to the tune of a league-leading 3.5 fWAR, in fact—during the full month leading up to the All-Star break, saw Chi Chi Gonzalez allow five runs in the first inning on Friday. The Rockies lost that game, 10-4, despite a grand slam off the bat of C.J. Cron. Gonzalez gave up seven runs on nine hits in just four innings of work.
Kyle Freeland performed a little better on Saturday, posting a quality start in an eventual loss. Freeland has allowed three runs or fewer in each of his last five starts, during which time he owns a 2.25 ERA with 24 strikeouts in 28 innings. He didn't get a lot of help, though; Colorado's offense finished with just four hits and the bullpen allowed six runs in three innings in the 9-2 loss.
After being largely non-competitive in the first two games of the series, the Rockies bounced back with a thrilling win to avoid the sweep. Charlie Blackmon broke a tie in the bottom of the 10th inning with a home run that gave the Rockies their 10th walk-off victory of the season. The team has just nine road wins overall. Blackmon has had somewhat of a poor season up to this point, slugging just .366 while posting a below-average OPS+ for the first time since 2012. But he's been great in high-leverage situations, entering Sunday with a .328/.394/.516 line in 71 such plate appearances.
The heroics of the Rockies' veteran leader backed up a strong outing from Jon Gray. Gray, a free agent after the season, is going to hear his name come up in plenty of trade rumors over the next couple of weeks, and that's because of performances like his seven-inning, two-run effor with seven strikeouts on Sunday. Since returning from the injured list on June 25, the 29-year-old right-hander has posted a 2.40 ERA with 37 strikeouts in 30 innings spanning five starts.
Trending down
Carlos Estévez was charged with a blown save on Sunday after giving up a two-run homer to Will Smith that turned a 3-2 Rockies lead into a 4-3 deficit. Estévez, who came on in relief of Gray in the eighth inning, badly missed in with a pitch that was intended to be on the outer portion of the zone against Justin Turner, who smacked a one-out double. The veteran reliever made the exact same mistake to Smith, a great inside-pitch hitter who pulled the barrel in and deposited the ball over the left field wall.
Estévez pitched well on the last road swing, but his unsightly 5.46 ERA is indicative of many of the same problems he faced a year ago, when he dealt with diminished ground ball numbers and an elevated home run rate. Though both of those weaknesses aren't quite as pronounced this season, Estévez's strikeout rate is way down, which is not good for a pitcher of his caliber.
Trending up
Blackmon's walk-off homer capped a good series during which he went 5-for-12 with no strikeouts. His power is obviously down, but Blackmon otherwise has looked a lot like himself over his last couple of weeks worth of games. The 35-year-old outfielder has hit .321 with a .368 on-base percentage since June 29.
What's next
The Rockies welcome the Seattle Mariners for a quick two-game set at Coors Field beginning on Tuesday before being tasked with a road series against these same Dodgers. All-Star Germán Márquez will get the start in the opener against the M's, but the Rockies' pitching situation for Wednesday is up in the air due to Antonio Senzatela's COVID-related absence.