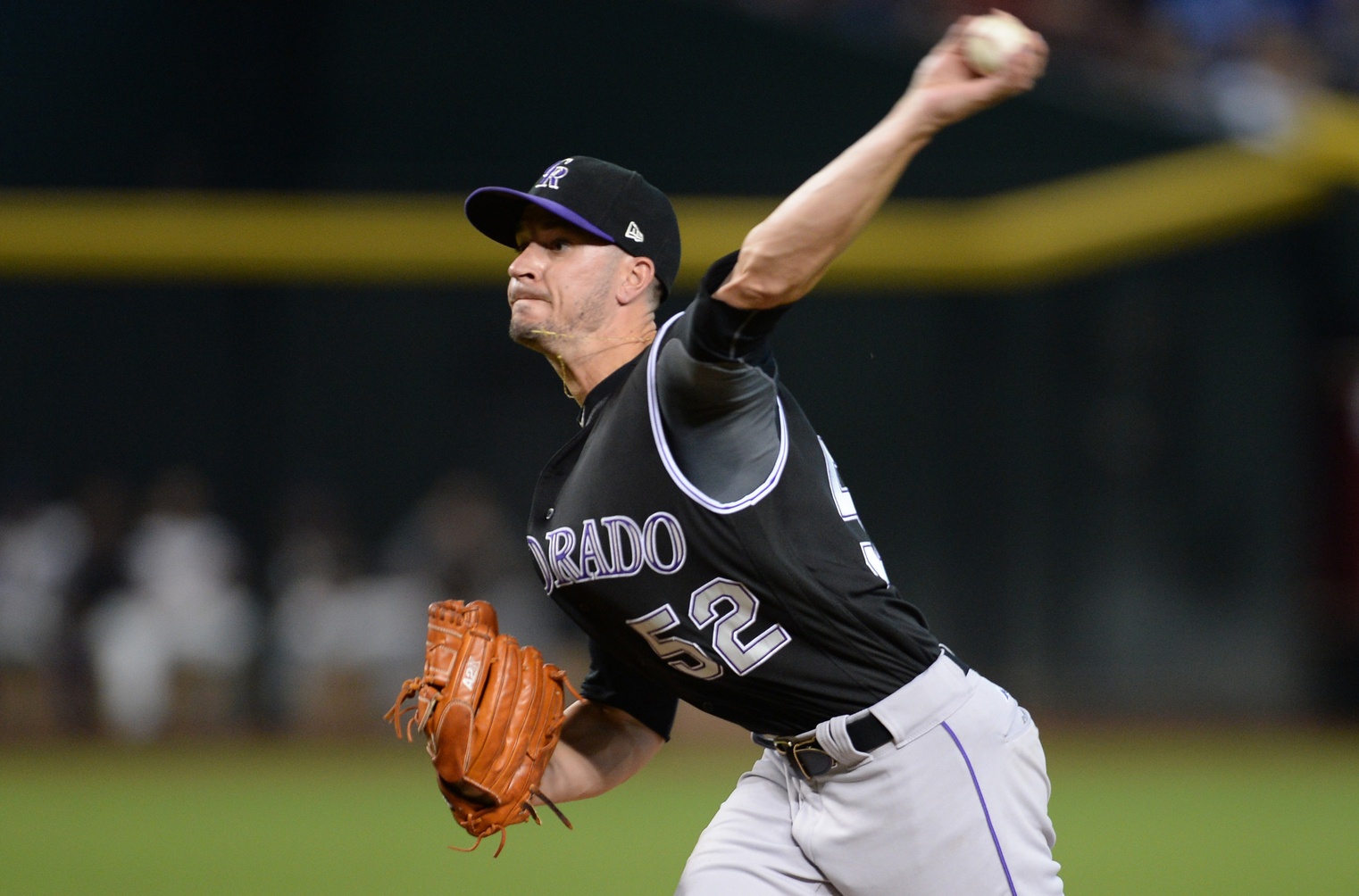 When you think of Colorado Rockies relievers, you probably think of free-agent additions Wade Davis and Bryan Shaw, holdovers Jake McGee and Adam Ottavino, veterans like Mike Dunn or flamethrowing youngsters like Carlos Estevez.
Chris Rusin flies under the radar — but he might have been the most valuable reliever the Rockies had last season. Rusin, 31, led all relievers with 85.0 innings pitched; nearly 30 more than Scott Oberg, who pitched in 58.1. Name any situation, and Rusin pitched in it: long relief, middle relief, set-up, closing… Rusin did it all, and did it well, finishing with a 5-1 record, two saves, a dozen holds and a sparkling 2.65 ERA.
In an interview with Eric Goodman and Les Shapiro of Mile High Sports AM 1340 | FM 104.7, Rusin talked about the composition of the Rockies' new back-end.
"It's a pretty nasty bullpen, to add to what we had last year, too," Rusin said. "When every alert (about the Rockies' free agent signings) popped up on my phone, I said, 'whoa, I'm pumped about that; he's nasty.' Then another one, then Jake signed; it kept going. With the guys we have behind them, it's going to be a competitive bullpen. It's going to be tough to win a job — and that's what you want as a team."
"I'm looking forward to it."
The versatile Rusin talked about the challenges of being ready for anything; conditioning his body to do what baseball players prefer not to do: Play without a routine.
"It's a crazy process. I mean, if you asked Jake to go out and pitch two innings or three innings, he's not going to be able to pitch for five days, because he's used to only throwing 15 to 20 pitches a night," Rusin explained. "If he stays there — 15 to 20 pitches per night — he's going to able to go back-to-back; maybe even [get] one out the third day [in a row] … it's like working out for the first time in a year; you're not going to be able to move the next day."
"As a starter, you throw every day; you don't have to be prepared to throw in the game. You just play long-toss, have a bullpen [session]; a rep in between your starts," Rusin continued. "There are the guys that can throw two, three; multiple innings and rebound a lot quicker than the one-inning guys."
Click here to listen to the full interview with Chris Rusin, including what he had to say about the Rockies' young starters and the organization's investment in their bullpen, or listen to the podcast below.
Catch Afternoon Drive with Goodman and Shapiro every weekday from 4p-6p on Mile High Sports AM 1340 | FM 104.7 or stream live any time for the best local coverage of Colorado sports from Denver's biggest sports talk lineup. Download the all-new free Mile High Sports Radio mobile app for Apple or Android.