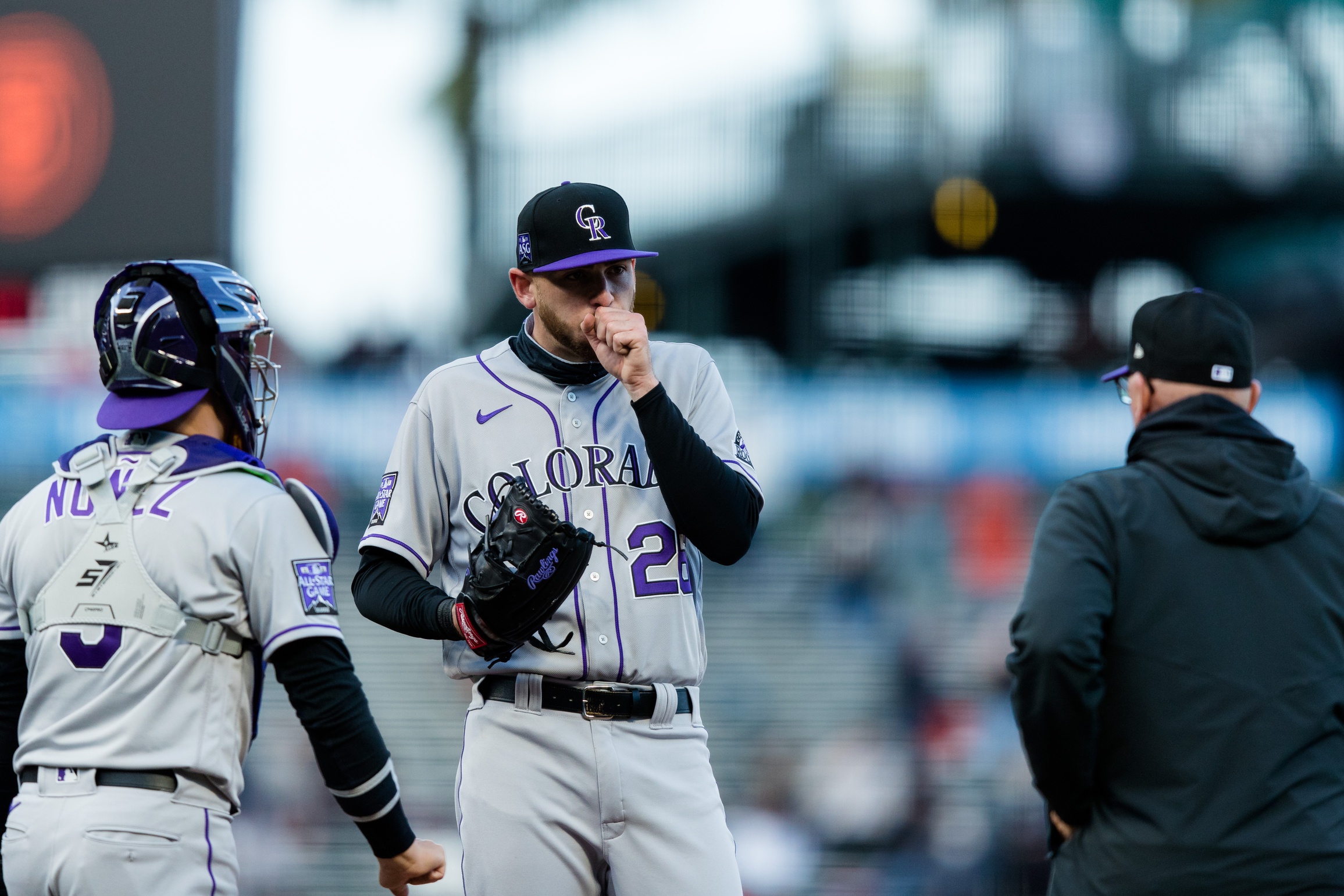 The Colorado Rockies entered their series against the San Francisco Giants with some momentum after winning four of their final five games on their last homestand, but they were stopped dead in their tracks upon arriving in the Bay Area.
The Rockies bookended a three-game series with a pair of losses that featured bad starting pitching, non-existent offense, and a generally disjointed appearance. The Giants, who are now tied for first place in the National League West after their fifth win in six games against the Rockies this season, deserve some credit for the way the series went down. But the same issues that have plagued Colorado all season came back to bite them once again.
What went wrong
Germán Márquez certainly wasn't pitching poorly prior to his start against the Giants on Wednesday, but he hasn't exactly been himself either. Despite a respectable 3.45 ERA entering the series finale, Márquez in his initial five starts of 2021 walked five batters per nine innings, easily a career high. That number won't look much better after the Rockies' 7-3 loss, during which the club's ace walked three more batters—two of which occurred with the bases loaded—en route to allowing four runs in four innings of work.
Austin Gomber experienced similar struggles in Colorado's 12-0 loss in the series opener. The main piece of the return in the trade that sent Nolan Arenado out of town walked four batters in just 1 2/3 innings, adding insult to injury by scattering seven hits and being charged with a total of nine earned runs.
Yency Almonte continues to be a problem out of the bullpen. He was so good last season, but Almonte's ERA is up to 12.46 after he allowed three runs on three walks and a pair of hits on Wednesday. When trying to diagnose him, the two things that stick out are his fastball velocity, which is down about a tick and a half from last season, and his increased change-up usage. That has been an issue because the offering is well below average according to Fangraphs' pitch values, but that hasn't stopped Almonte from throwing it close to 19 percent of the time, up from 12 percent in 2020.
On top of all of that, Josh Fuentes' consistent presence in the lineup is becoming quite the liability. He's a very good defense player—about three runs above average across two positions so far this season—but he's been an absolute black hole on offense. Fuentes went 1-for-10 in the series and is now hitting .181/.178/.278 in 73 plate appearances, none of which have ended in a walk. The good news is that he tossed a scoreless inning in relief on Monday, when no other Rockies pitcher was able to keep the Giants off the board.
What went right
The Rockies won in extra innings on Tuesday thanks in large part to big home runs from Garrett Hampson, C.J. Cron, and Ryan McMahon. It was the Rockies' first road victory of 2021. McMahon entered play Wednesday tied for the league lead in home runs, and he's been one of baseball's best defensive players—a total of six runs above average at second base and third base—in the early going.
What's next
The Rockies and their NL-worst 9-15 record head to the desert for a four-game series against the Arizona Diamondbacks, who have won seven of their last 10. Colorado may have to get some relief reinforcement ready for the series; Rockies starters combined to pitch just 10 2/3 frames in San Francisco, so the bullpen will need some help if they're forced to eat a bunch of innings again.