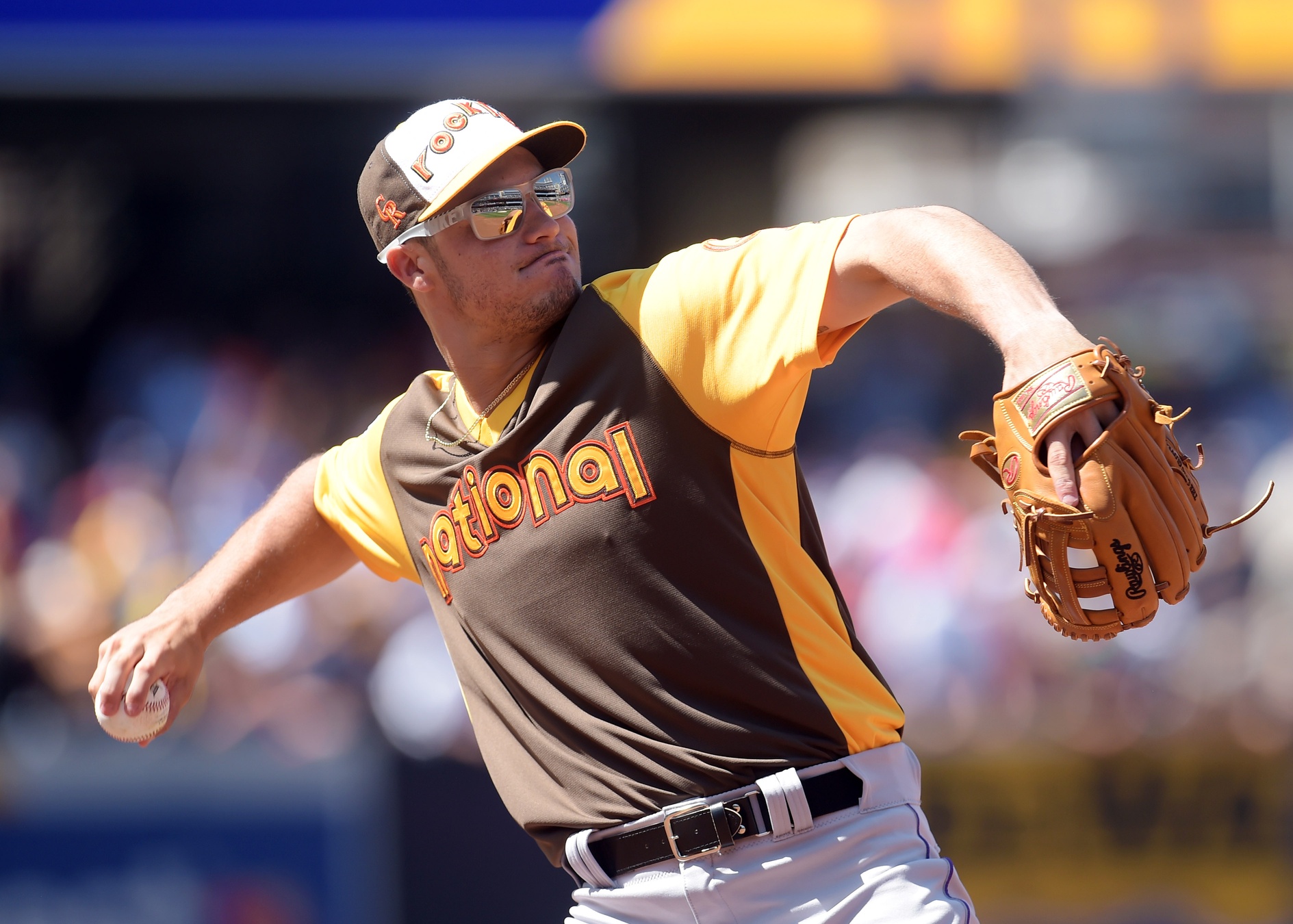 With the All-Star voting wrapped up earlier in the week, the Colorado Rockies learned that they'll be sending Nolan Arenado, Charlie Blackmon, Greg Holland and D.J. LeMahieu to Miami this year, with the possibility of adding Mark Reynolds to the roster down the line.
"These guys deserve it," manager Bud Black said. "They've played very well this first half. We'll see how this week goes for Mark."
After trailing the reigning National League Most Valuable Player Kris Bryant by just a few thousand votes last week, Arenado's fans snuck in late and sent him over the edge and into his first starter selection at third base, although he's been an All-Star two previous times. Raking in nearly 90,000 more votes than Bryant, Arenado became the first third-baseman in Rockies history to nab the starting spot in an All-Star game and just the third infielder, alongside first baseman Todd Helton and shortstop Troy Tulowitzki.
On the year so far, Arenado is batting .299 with 15 home runs, 63 RBIs, 99 hits and 52 runs, while adding a National League leading, 27 doubles.
"Obviously, I appreciate the fans and obviously, I appreciate Denver. There are people across the country that appreciate my game," Arenado said. "It hasn't really sunk in yet, I think probably because we've been losing a little bit, so that doesn't feel good.
"It's an amazing thing, I can't wait to go. My parents and my family are going to fly with me there, so it should be really fun, so I think that's when it's going to start hitting me. I can't thank the fans enough for what they've done for me and how they really appreciate what I've been able to do this year."
The 26-year-old, who comes from a baseball-crazed family, said that he expects the Arenado clan to come out in full force next week in Miami, with his parents flying to the game with him.
"A lot of family can get a little hectic, so it'll be fun, but it might get a little hectic," he said. "That's what it's all about, it's about the experience and I want my family to experience that too."
Paired with Charlie Blackmon, who also earned a starting bid in center field, the duo will mark the second time in franchise history the Rockies have started two players in the All-Star game, the first being Carlos Gonzalez and Troy Tulowitzki in 2013.
Although it's his first starting bid, Blackmon was also selected to the All-Star team in 2014 as a reserve. He joins the likes of Dante Bichette and Larry Walker to add his names to the prestigious list of Rockies outfielders to earn a starting outfield spot.
"I'm very honored to make the team," Blackmon said. "I think a lot of it has to do with the team's success that the Rockies have had in the first half."
Blackmon leads the NL with 107 hits on the season while adding a .313 batting average, 18 home runs, 59 RBIs and 67 runs. He tallied an impressive 4,163,666 votes en route to the starting bid.
Behind them, closer phenom Greg Holland and second baseman D.J. LeMahieu will join the ranks of the NL team.
Holland, who came to the Rockies after signing with them following Tommy John surgery, seems to have come back from injury better than before. In 31.1 innings pitched this season, he's accrued 27 saves with a stellar 1.44 ERA and 42 strikeouts.
LeMahieu, who will serve as a reserve this year, said he was, "Surprised, excited. Obviously it's a great honor."
While some baseball fans around the country may be surprised to see four Rockies on the roster with the possible addition of Reynolds via the final vote, LeMahieu believes it's nothing more than a testament to this squad success to this point so far.
"Four guys, hopefully five, and I think it's just a reflection of how well we've played the first half, and what we're doing, it's really exciting," he said.
LeMahieu's produced a .309 batting average with 101 hits, 38 RBIs, three home runs and 44 runs.
Although he wasn't initially on the ballot heading into this week, Reynolds earned a nod from the 2017 Esurance MLB All-Star Game Final Vote, which also include the likes of Justin Bour from Miami, Kris Bryant of the Cubs, Anthony Rendon from Washington and Justin Turner of the Dodgers on the NL side.
"It's an honor to be considered, but the most important thing is our team's in a good spot," Reynolds said. "We're winning games, and I just want to put my focus on getting to October rather than getting to Miami."
While it will be unlikely that Reynolds earns the bid behind a competitor like Kris Bryant, fans can vote for him via Twitter using the #BeLikeMark hashtag or by texting N4 to 89269.
Of course, at the beginning of the year, the Rockies signed Reynolds to a minor league deal as Ian Desmond's backup, but as luck would happen, he got the staring nod when Desmond missed the first month or so of play with a fractured hand. He rode his phenomenal play at first base and at the plate to secure the starting position.
Reynolds has 81 hits with a .282 batting average, 45 runs, 19 home runs and 61 RBIs.
You can catch the Rockies and the rest of the All-Stars next Tuesday at 6 p.m. mountain time.