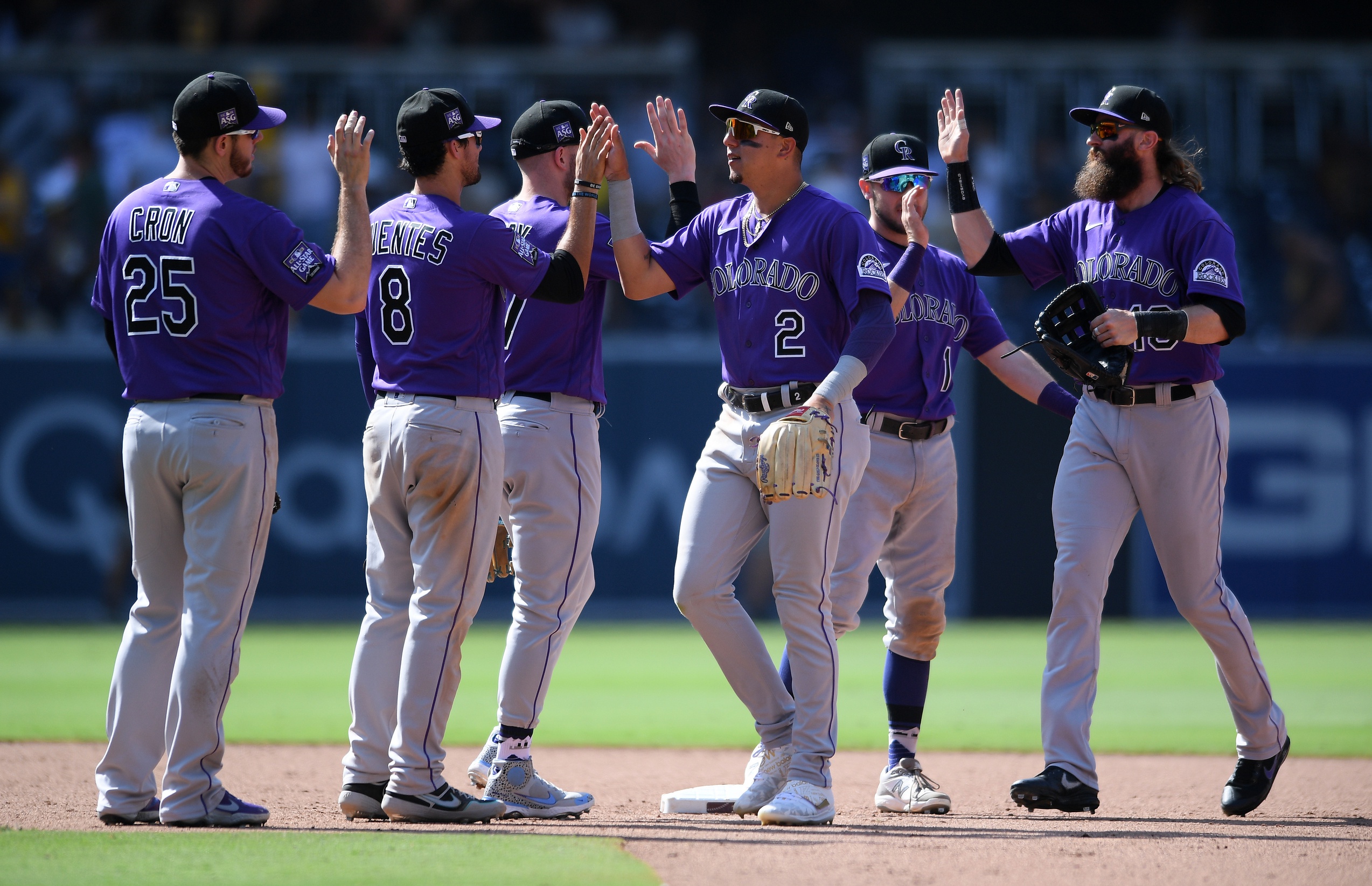 The Colorado Rockies, behind the efforts of their top two starting pitchers, took two of three from the contending San Diego Padres over the weekend. The road series win was Colorado's first of 2021.
The Rockies clinched the rare (for them) feat with a 3-1 victory on Sunday. Jon Gray allowed just one run in six innings, striking out seven and yielding just three hits. Gray was helped by C.J. Cron, who went 3-for-4 with a double and a home run. Chris Owings, who entered the weekend 0-for-16 with 10 strikeouts since returning from the injured list last month, hit a tiebreaking, pinch-hit homer in the seventh.
Colorado on Saturday put itself in position for the series win by shutting out the Padres, 3-0, behind another stellar performance by All-Star Germán Márquez. The Rockies' ace tossed seven scoreless innings, allowing just three hits and a walk while striking out nine. Márquez over his last five starts owns an 0.75 ERA and has given up a paltry 12 hits in 36 innings. He has 34 strikeouts and only six walks during that stretch. Charlie Blackmon gave Márquez some much-needed support with a two-run single in the fifth inning to break a scoreless tie.
The Padres took the opener, 4-2, despite falling in an early 2-0 hole against Kyle Freeland and the Rockies. Freeland helped himself with an RBI double in the fourth, but he exited the game after the following inning due to a recurring blister issue. The Rockies' margin for error was razor thin that night anyway; the offense mustered just four hits and failed to get even one with runners in scoring position.
Trending up
Jhoulys Chacin has been one of the least talked-about players on the roster this season. Such is the life of a long reliever who often has to take on mop-up duty. But while injuries and ineffectiveness have piled up in the Rockies' bullpen, Chacin has become a steady hand—one on which manager Bud Black has been able to heavily lean. The veteran right-hander has been nails over the last month, posting a 1.13 ERA in 16 innings pitched. Chacin has just 12 strikeouts and has issued seven walks during that stretch, but he's induced a ton of grounders, which is always a good thing when the Rockies' infield is behind you.
Chacin has benefitted from some good luck (his BABIP-against is .179 since June 10), and it's probable that will change sometime soon. But for now, let's appreciate what an extremely underrated part of Rockies lore has given the team in his return.
Trending down
Trevor Story struck out five times in nine plate appearances, finishing the series with just one hit. Story has swung the bat generally well over the past month, but he's struggled badly on the road. The star shortstop entered a hitless Sunday hitting just .180/.278/.353 away from Coors Field. That certainly didn't get better on the final road trip before the All-Star break; Story went 3-for-23 with 10 strikeouts in what was easily his team's best road trip to date.
What's next
It's All-Star week in Denver. Rockies prospect Michael Toglia gave the home fans a show by hitting a two-run homer in the Futures Game on Sunday; Story will have the chance to follow it up in the Home Run Derby on Monday before Márquez presumably takes the mound—for a few batters, at least—during the midsummer classic on Tuesday.