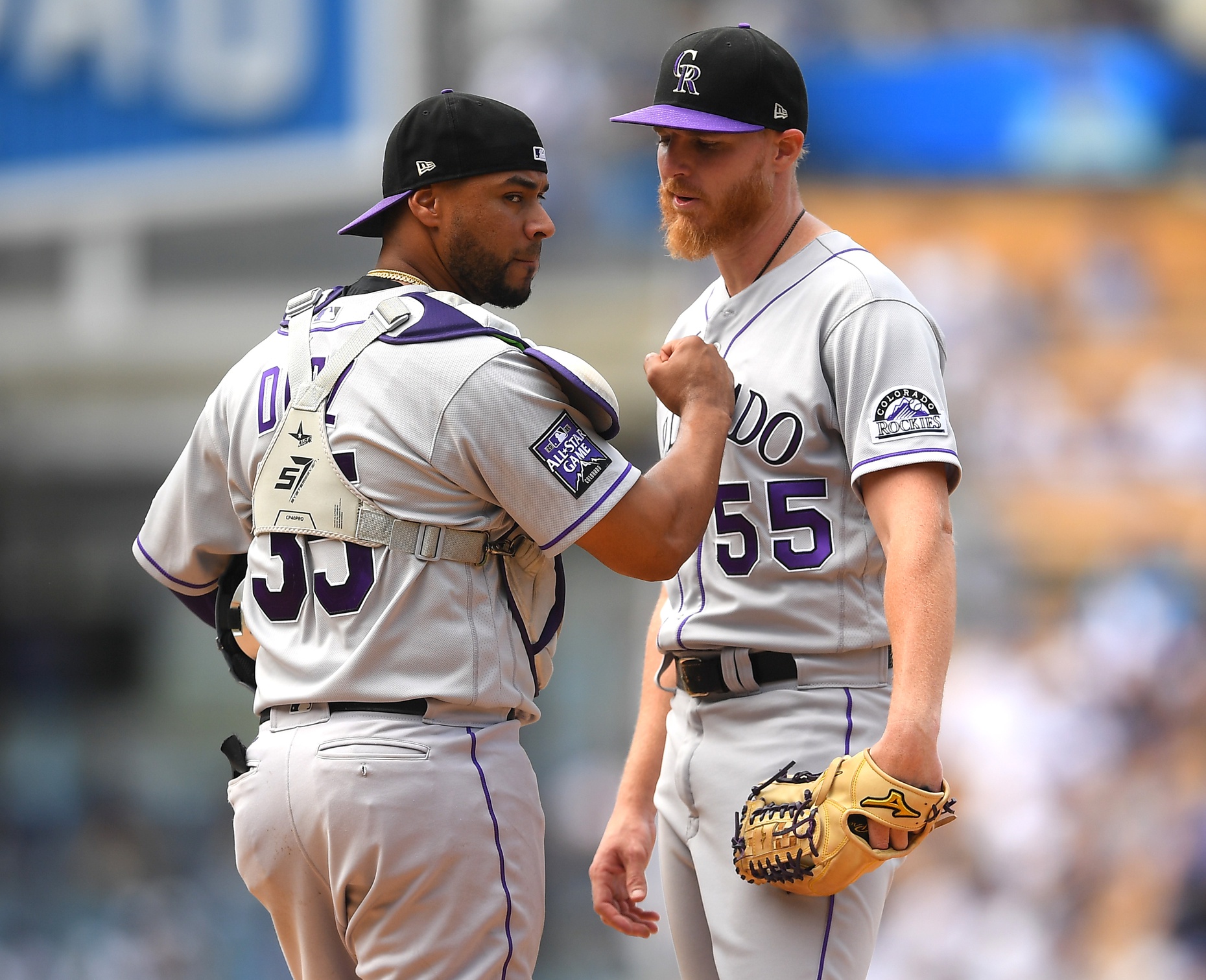 No one likes moral victories, but if moral victories were acceptable, the Colorado Rockies might be entitled to one following a road series loss to the Los Angeles Dodgers.
The Rockies outscored the Dodgers by a run over the course of the series and held a high-powered L.A. offense to just four runs combined on Saturday and Sunday. That's pretty great compared to how the Rockies usually fare at Dodger Stadium. But, sadly, moral victories don't exist, so the Rockies are simply now 10-36 on the road as opposed to, well, whatever they'd be otherwise.
It was a great start to the series on Friday, though. There's no mistaking that. Colorado found itself in a 4-1 hole after three innings of poor performance from starting pitcher Chi Chi Gonzalez, but he settled down a bit and the Rockies started to rally. Trevor Story homered and Ryan McMahon hit an RBI single to cut the deficit to on. After the Dodgers tacked on an insurance run in the sixth, Charlie Blackmon doubled in a run before McMahon came through again, this time tying the game with an eighth-inning single.
Sam Hilliard, who struggled mightily during the early part of the season and has been working through issues at Triple-A for the last several months, launched a go-ahead homer in the ninth inning before Daniel Bard issued a bases-loaded walk that sent the game into extras. That's where Blackmon sealed the game with a two-run homer, giving the Rockies a 9-6 win.
Unfortunately, Colorado scored just two total runs during the remainder of the series. The Rockies had only two hits on Saturday, spoiling a great start from Kyle Freeland. The lefty allowed a run on five hits while striking out six and issuing no walks in seven innings. Freeland threw 63 strikes as opposed to only 27 balls, and the lone blemish against him—and the game's only run—came on a second-inning home run from Austin Barnes that was a couple of feet from being a foul ball. Freeland got off to a poor start this season, but over his last six outings he owns a 2.05 ERA with 30 strikeouts and seven walks in 35 innings.
The Rockies held the lead a couple of times on Sunday, first after an early RBI single from Trevor Story, and then after a solo shot from Elias Díaz in the second inning. But Chris Taylor hit a pair of game-tying home runs off of Colorado starter Jon Gray before Will Smith hit the decisive solo shot off of Carlos Estévez in the bottom of the eighth to givef the Ddogers an eventual 3-2 win. Gray allowed two runs on four hits and three walks in five innings. He struck out four in what may end up being his final start in a Rockies uniform. The right-hander is a free agent at the end of the season and, thus, is a candidate to be traded this week as the deadline approaches.
Trending up
It's too bad Díaz had such a bad first two months of the season, because otherwise he'd be threatening to have one of the Rockies' greatest offensive seasons from a catcher to date. Díaz, in 110 plate appearances since going 0-for-1 on June 1 to drop his batting line to .123/.191/.185, has 28 hits and 11 walks (as opposed to only 11 strikeokuts) while slugging eight homers in the process. His line during that time is .283/.355/.566, and he's raised his season OPS by exactly 300 points.
Trending down
Joshua Fuentes simply does not hit away from Coors Field. Sure, most Rockies players struggle with this, but Fuentes is on another level; the 28-year-old infielder owns a .147/.182/.198 line in 121 plate appearances on the road. Fuentes' great defense plays anywhere, but no one in the history of baseball is good enough in the field to offset that type of production. Plus, his struggles in July have come regardless of where the games are being played. Fuentes is hitting just .185 with a .241 on-base percentage and doesn't have an extra-base hit this month.
Despite all of that, Fuentes was allowed to hit in the top of the ninth inning with a runner in scoring position and two outs with his team trailing by a run. What makes that decision even more questionable was the presence on the bench of Ryan McMahon, who owns the highest slugging percentage on the team, is in the midst of a six-game hitting streak, and is hitting .340 with a .431 OBP this month.
What's next
The Rockies (43-56 overall) take a quick drive south to face Shohei Ohtani and the Los Angeles Angels in a three-game set. Ohtani leads the league with 35 homers and is one of the American League's better starting pitchers, but the absence of Mike Trout combined with poor pitching depth has the Angels sitting at 49-49 and 11 games back in the AL West.
Ohtani will take the mound in the series opener against fellow All-Star Germán Márquez in an extremely intriguing matchup. Austin Gomber and the aforementioned Gonzalez round out the Rockies' scheduled starters for the series.