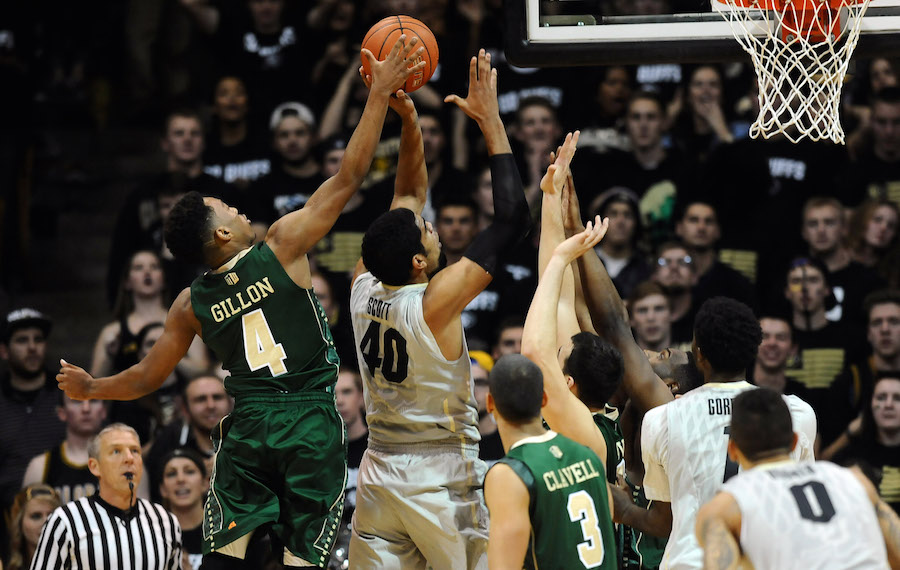 We interrupt your regularly scheduled edition of "How the Manning Turns" for a special announcement: There are actually other sports and other teams in action this weekend. It's true! In fact, there are a couple of pretty decent college basketball teams getting ready to meet up this Sunday. If you were so inclined, you could catch the basketball game and still be able to watch the Manning-less Broncos play the Chargers. (Some things are sacred.)
The University of Colorado and Colorado State University will meet in men's basketball at noon on Sunday in Fort Collins. Moby Arena is supposedly close to being sold out. If this game is like the last few meetings between the two, the atmosphere will be electric and the game will be a nail bitter. Everything a sports fan could ask for.
While we gather in decent sized numbers at Sports Authority Field to watch our two major universities meet in football each year in the late summer, the two schools' basketball teams normally put on an even better show. In terms of national relevance, both the Rams and the Buffs basketball programs are ahead of their football counterparts. Both have NCAA tournament aspirations again this season. Both come into Sunday's game knowing that winning it will not only earn state bragging rights for another year, but will also be a résumé builder for their postseason hopes. In terms of non-conference matchups, this is among the best each team has on the schedule.
The young Buffs are led by Josh Scott, the future NBAer who has now become the senior leader head coach Tad Boyle needed him to be. Scott had a season high 24 points and 15 rebounds against Fort Lewis on Wednesday night and is playing the best basketball of his college career. He had an off night in the opener against Iowa State, but he's shooting near 70% from the floor ever since.
A young local product, sophomore point guard Dominique Collier, is "coming into his own" according to Boyle, and a game like this would be the perfect coming out party for the Denver East product.
Meanwhile, this year's CSU squad is a little more of an unknown, with another Larry Eustachy-esque collection of red shirts and transfers joining just four returners from last year's team that won a school record 27 games. These Rams began this season 5-0, but cold shooting has doomed them in their last two outings, including a Thursday night home loss to Long Beach State, their first non-conference home loss in two seasons. At least early, these Rams have lived and died by the three-pointer, so fans will have to wait and see what they get from CSU on Sunday.
One week before the game, the two schools shared the 13th spot in the national RPI rankings. As of Friday, the Rams (5-2) have dropped to No. 64 with two straight losses, while CU sits at No. 29, still ahead of Gonzaga, Kansas, Maryland and more than 300 other schools. There was a time very early in the young season when Colorado State held the number one spot in the RPI, having won at Northern Iowa in the season opener before the Panthers knocked off North Carolina.
Meanwhile, the Buffs (6-1) took fourth-ranked Iowa State to the wire in the season opener and have not lost since. They went to Auburn and beat the Tigers before coming home and winning five straight. Their drop in the RPI is not because of anything they've done. If CU keeps up its level of play into the Pac-12 season, their RPI will be just fine.
The road team has won the last two meetings in the series. Last season, the Rams went to Boulder and stole one from the Buffs 62-60, so Boyle's group is looking to return the favor. The Buffs won their last trip to Fort Collins, beating CSU 67-62 at Moby in 2013.
"We have an unbelievable challenge," Boyle said after the Fort Lewis win. "Colorado State is a very, very good team … physical, tough. It's gonna be a helluva environment. It's going to be fun."
On Wednesday night, the women's teams played a classic at Moby, trading last-second shots before CSU pulled out a 64-63 nail biter over the Buffs. If the men's game can live up to that finish, there might be a few of us who won't feel the need to make a mad dash to get to our TVs for the Broncos game.
Other sports can be fun, too.
Listen to Mark Knudson and Michael Klahr, Saturday mornings 8a-10a, on Sports Stampede Radio on Mile High Sports AM 1340