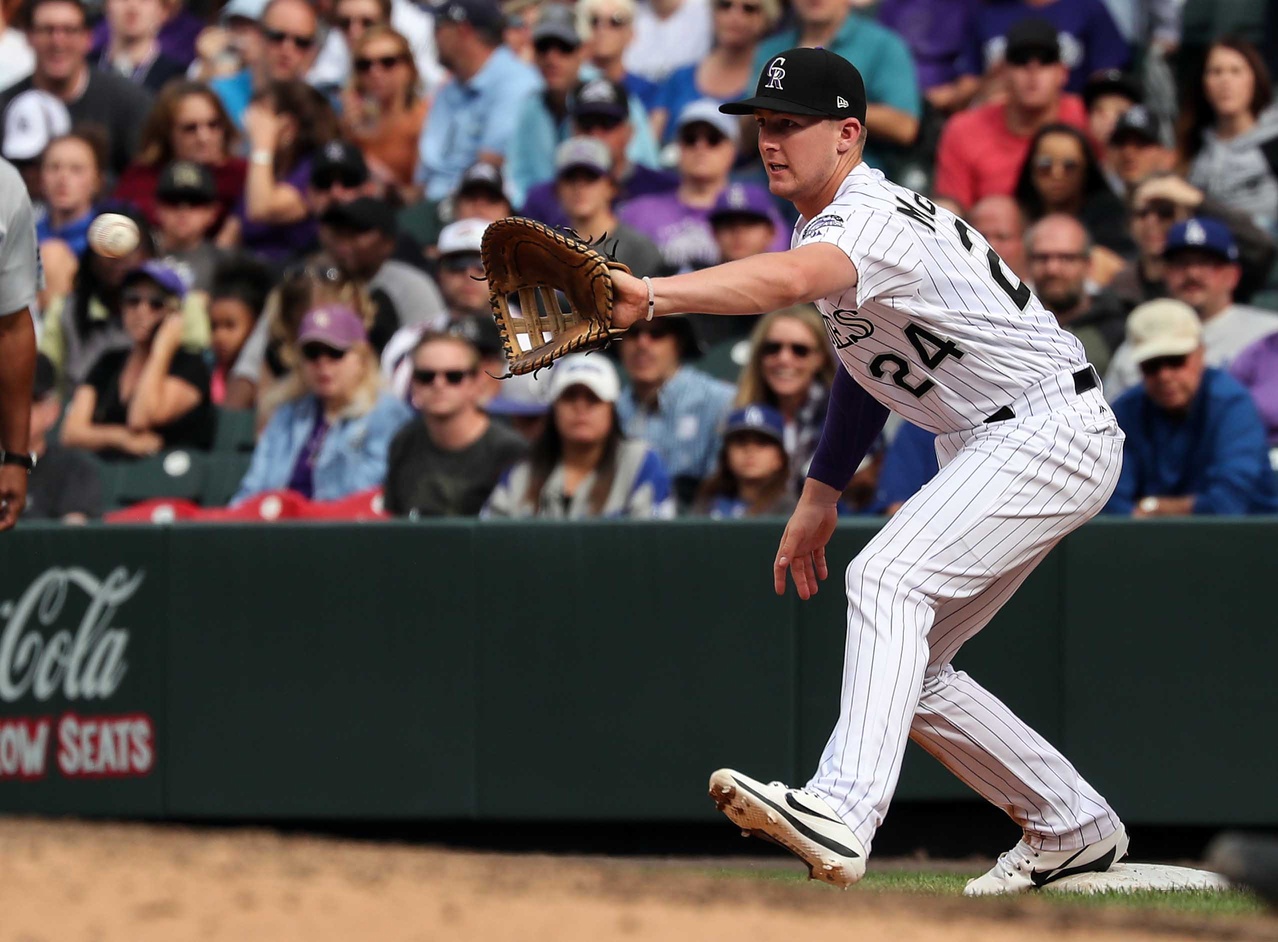 The Colorado Rockies dilemma at first base has bled into the new year and remains an issue that can be traced back to the start of the last offseason.
Colorado originally planned to convert Ian Desmond, who signed a five-year, $70-million contract before the season, to the position but a broken hand in Spring Training derailed those plans. Journeyman Mark Reynolds, who was with the team in 2016, re-signed on a one-year minor league deal and went on to start 132 games at the position in 2017 as Desmond rehabbed.
Spring Training is right around the corner, and the Rockies still have not addressed the position for 2018, which presents problems entering a season with high expectations.
The Rockies and general manager Jeff Bridich have a few intriguing options to fill the void at first base, but they would be wise to stay in-house and transfer the reins to youngster Ryan McMahon.
McMahon, 23, hit .355 in split time between Double-A Hartford and Triple-A Albuquerque last season before making the jump to the big leagues towards the tail end of the season. He batted .158 in 24 plate appearances (19 at-bats) with the Rockies. While in the bigs, McMahon spent most his time observing the functions of the team and learning how to be a major leaguer.
McMahon, a 2013 second-round draft pick, is in a position to assert himself as the everyday first baseman for the playoff-caliber Rockies. Between his performance in the minor leagues and defensive flexibility, McMahon makes the most sense for the Rockies at first base at this point.
First things first, he's inexpensive. The Rockies have already spent $100-plus million-dollars this offseason and cannot afford to spend big with the impending free agency of Nolan Arenado (2020), Charlie Blackmon (2019), and DJ LeMahieu (2019).
Should the Rockies lose any one of those three, there will be another leadership void to fill. It's likely Colorado will already be without longtime right fielder and clubhouse leader Carlos Gonzalez, who is expected to move on in free agency. Losing Arenado, Blackmon and/or LeMahieu would continue to erode the leadership corps that has been in place in recent years. McMahon could be a central figure in the next group of players to fill that looming void. McMahon, along with Brendan Rodgers, Riley Pint, and Raimel Tapia, could offer the sustainability Bridich and Co. will need in the years to come. Injecting McMahon now would be in Colorado's best interest in the big picture.
McMahon, a natural third baseman, is capable of playing multiple infield potions. His versatility, paired with his offensive production, should warrant consideration for a possible utility role. Alexi Amarista — a personal favorite of manager Bud Black who signed a free-agent minor-league contract with Detroit — was not so productive in his first season in Colorado. McMahon's skill set and affordability make perfect sense for the team to slide him into that role.
With his impressive batting average in the minor leagues last season, McMahon demonstrated his potential to evolve into an impact bat for the Rockies in the near future. On top of a robust .355 average, he also managed to drive in 88 RBI and blast 20 home runs. With as much offense as the Rockies already have, they would be foolish not to install McMahon into the team, especially with what other offerings are available.
Reynolds had a superb 2017 campaign in which he hit .267 with 97 RBI and 30 home runs. He was arguably the biggest bargain in the sport last season at $1.5 million. The odds that he can mimic his production of last year seem unlikely, and he will certainly come at a higher cost. Reynolds hit .284 with 61 RBI and 19 home runs ahead of the All-Star Game last season. Following the midsummer classic his numbers dipped significantly, as he only hit .243 with 36 RBI and 11 home runs in the second half. He was signed to a minor league contract last season and will surely command more than last year. After the offseason spending spree, the Rockies may not be able to afford Reynolds' new asking price.
The Desmond first base experiment never really got off the ground last season, so it would make sense for Desmond and McMahon to split time at first base to open the season. That would allow Colorado to attempt to revive their so-far failed experiment and start to cement McMahon for the future. Utility infielder Pat Valiaka is another option, but he proved most valuable as a clutch pinch-hitter with power and a valuable asset coming off the bench capable of playing any infield position.
All in all, McMahon makes the most sense for the Rockies at first base for 2018. At 23 years old, he fits the blueprint that Bridich has for winning now and in the future. He's cost-effective and has the potential to generate just as much offense as some of the other options.
Spring Training is likely where the Rockies will identify their first baseman for the 2018  season and McMahon has an opportunity to rise to the occasion and help drive Colorado into the future.