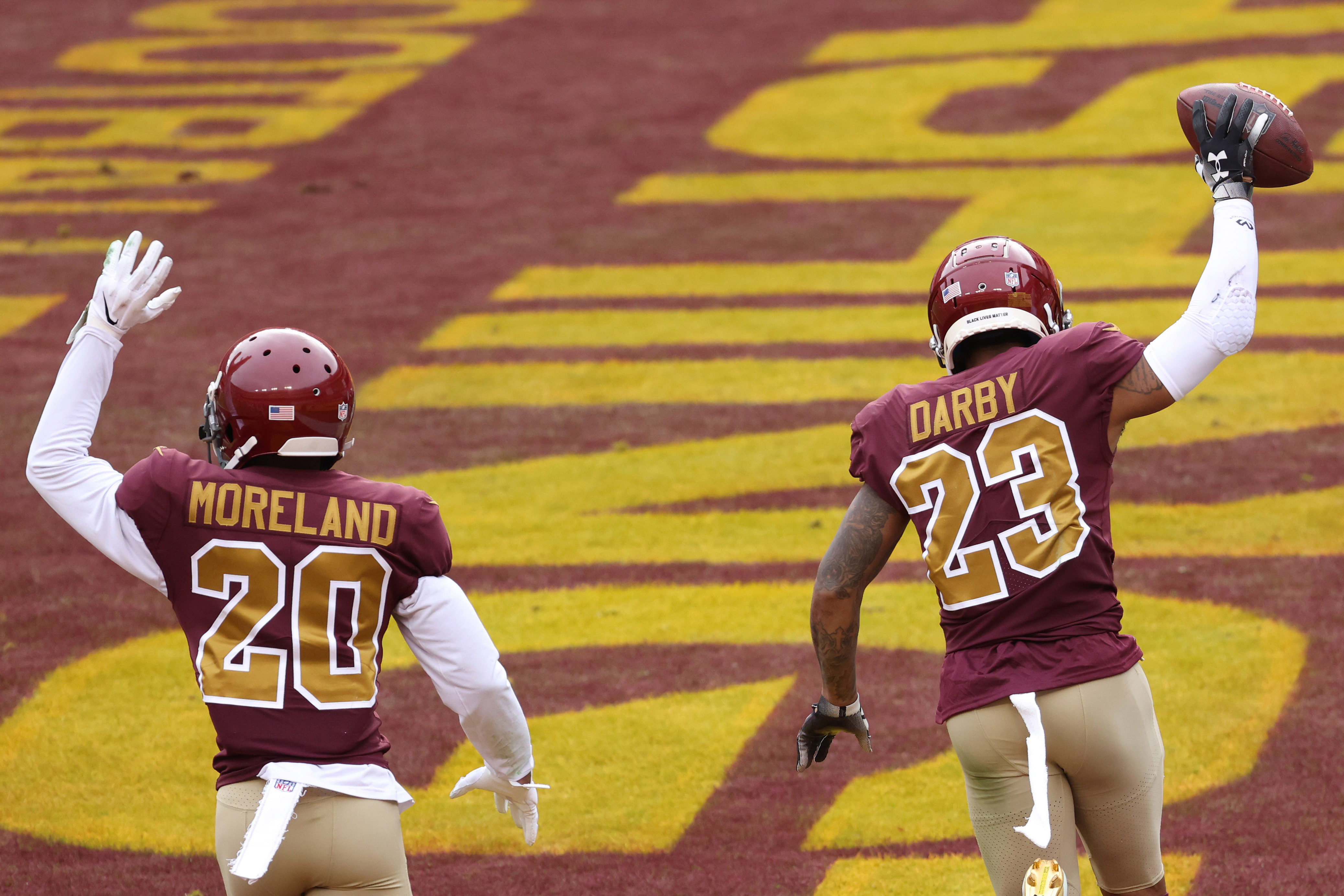 Entering this offseason, cornerback was the most glaring need on the Denver Broncos' roster — depending on how you feel about Drew Lock's prospects in year three. Just a few months later and a little sprinkling of George Paton's fairy dust, and now it suddenly looks like the league's most loaded secondary by far.
One of the additions made to that secondary, Ronald Darby, has taken note of the overwhelming amount of talent Denver has on the backend.
"[This defense] can do great things," Darby said Sunday. "We just have to keep getting to know each other and going out there. Communication is key along with knowing our job and knowing where to line up and knowing each other's tendencies. Once we get all that down, they sky is the limit for this group. We have a lot of vet players and a lot of young, talented players. We can all run and fly around."
Some of those young, talented players are already turning heads with their performances at practice. Patrick Surtain II, for example, has already received praise from Von Miller, Justin Simmons, and now, Darby.
"He's got great size," Darby said, echoing the sentiment of Simmons and Miller. "He's about [6'2], long arms and he has good feet. He knows how to press and put his hands on people. He's really good out of his break and he has really good ball skills."
Second-year cornerback Michael Ojemudia also earned praise from the veteran free-agent addition.
"[Ojemudia is] a really good and talented corner, too," Darby said. "He's got good size. He can run quick. He's a really good corner, and he knows the defense really well"
While the young guns are impressing, the trusty veterans are helping Darby familiarize himself with Fangio's world-class defense.
"We've got 'K-Jack' (Kareem Jackson) back there. [Justin] Simmons—all of them know what they're doing, so they alert me on a lot of things," Darby said. "[They] line me up where I need to be, and they help me. Anything I need help with, they know it right away. And Coach 'CP' (Defensive Backs Coach Christian Parker)—he's always in my ear, so I get a lot of help. That's why I'm able to pick up on it fast."
That mention of Christian Parker highlights a secondary theme of Darby's press conference — how much the coaching staff has impressed him so far.
"[Fangio's] got a really good defensive scheme," Darby said. "It's corner friendly. We run a lot of man and we mix it in with zone. We have a lot of calls that help us get out of certain situations. It's a really detailed scheme, but once you figure everything out, it'll help you 100 percent."
Finally Darby addressed the one question presently on the minds of everyone in Broncos Country.
'With all this standout cornerback talent, how do you get everyone on the field?'
"We run a lot of DB-heavy packages," Darby said. "We play in a very high passing league—Chargers, Raiders. You can never have enough good DBs that's ready to play."
The Broncos learned that lesson this past season, and were quick to take action. Now we just have to wait and see how it pays off.