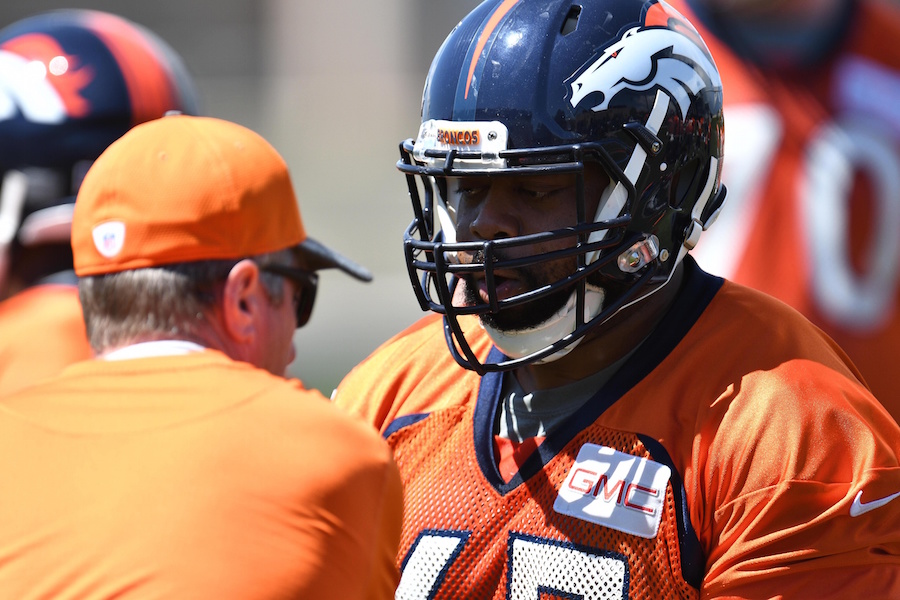 A common theme for the Broncos this preseason has been new faces in the spotlight. Ronald Leary is one of these new faces primed to make an impact.
Eric Goodman and Les Shapiro of Mile High Sports AM 1340 | FM 104.7 caught up with Leary after the final day of minicamp to talk about Leary's first impressions of his new squad.
Much of the talk surrounding the Broncos has been about the offensive line being more aggressive and tougher than last season. Leary was somewhat dismissive when asked about that idea.
"As a group we don't really talk about that. We just work on being better, working on our technique ourselves. Like you said there's a lot of new faces on the o-line, a lot of guys playing in new spots, first time playing next to people," Leary said. "So right now we're just trying to get really familiar with each other, and I think that's what we did this spring and we have to continue to do it in camp."
Coming from practicing against an average defense in Dallas to an elite unit like Denver's can be a tough transition. However Leary believes that it has done good things for his game.
"It's definitely helped me. Especially switching sides, that's something that's very new to me," Leary explained. "So I get to go against Derek Wolfe every day, the past few days at right guard. He's definitely one of the better defensive tackles in the game so going against him is helping my game a lot."
On a similar note, facing talents like Von Miller every day in practice can be incredibly difficult, especially for young players. Leary does not believe it is discouraging for the new players to have to deal with that, though.
"I don't think so. Other than facing Von [Miller] you're never going to face another Von in this league. If you're even able to hang with Von in practice, In a game it should be a lot easier," Leary noted. "Von is one of a kind so going against him is not going to do anything but help you get better."
Listen to the full interview with Leary, including his thoughts on the young players on the Broncos' roster, in the podcast below.
Catch Afternoon Drive with Goodman and Shapiro every weekday from 4p-6p on Mile High Sports AM 1340 | FM 104.7 or stream live any time for the best local coverage of Colorado sports from Denver's biggest sports talk lineup.