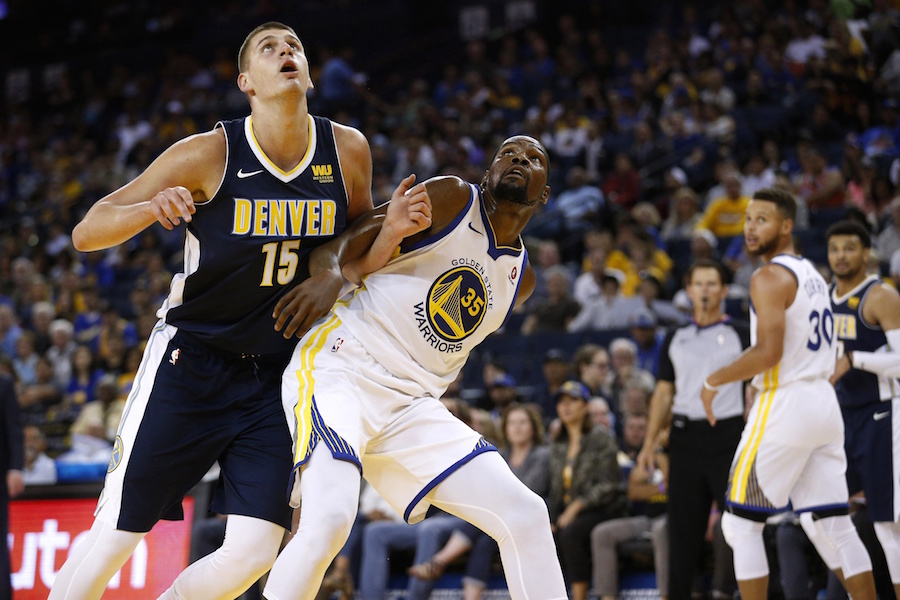 It's almost time, folks. The Denver Nuggets open up the 2017-18 season Wednesday night in Utah against the Jazz. As the season gets rolling, the Nuggets scribes here at Mile High Sports take a moment to preview what this season has in store for Denver.
Record and seed prediction
Jeff Morton: 48-34, No. 6 seed
Aniello Piro: 45-37, No. 8 seed
Dev Johnson: 43-39, No. 6 seed
Ronnie Kohrt: 46-36, No. 7 seed
How many All-Stars will the Nuggets have this season?
JM: The Nuggets will have one All-Star, at most. Either Paul Millsap or Nikola Jokic.
AP: When it's all said and done, I think the Nuggets will have two all-star level players in Nikola Jokic and Paul Millsap; however, only one will make the cut due to the overwhelming amount of talent in the league. I think that one will be Nikola Jokic.
DJ: One, Nikola Jokic.
RK: Jokic will be the lone all-star for the Nuggets. There's purely too much talent to have space for any other Nuggets, and Jokic's flashy passes and exciting style of play will generate enough votes to get him in.
Where will the Nuggets finish in the standings and why?
JM: About sixth. If Jamal Murray takes a leap, then it could be even better.
AP: The Nuggets are an interesting team with regard to the rest of the Western Conference. There are four teams definitively better than them: The Golden State Warriors, Houston Rockets, San Antonio Spurs, and Oklahoma City Thunder. From there, I think Denver can be anywhere from as high as the fifth seed and as low as the eighth seed, or even out of the playoff picture for that matter. They have talent, but they are a very young team still trying to establish themselves and learn how to win consistently in the NBA.
DJ: I think they will be a sixth or seventh seed that will be in a very close fight at the end but sustain their spot. I think they'll be strong defensively and keep the fast-paced, team-scoring identity since they won't have a player to go get them 22 points per game.
RK: The Nuggets are a quality team with very good blossoming talent. Unfortunately, so is the rest of the Western Conference. If the surrounding talent in the division and conference wasn't so strong, I would consider more wins for the team. They will be knocked down a peg because of the lack of elite superstars on the roster and scrap with the seventh, eighth and ninth seeded teams for much of the year in a very competitive Western Conference.
Who is a wild card on the Nuggets roster?
JM: Nuggets could see both Gary Harris and Jamal Murray take a leap this season. Harris is now secure with a new deal, and Murray now doesn't have to look over his shoulder at a looming Jameer Nelson.
AP: I think Trey Lyles could be a wild card for Denver this season. Acquired in a draft-night trade with the Utah Jazz, the Nuggets had their eye on Lyles for a while before acquiring him. Lyles had a rough sophomore season following a promising rookie campaign. Like Gary Harris, I think Lyles has the opportunity to grow and evolve his craft. Also, his style of play compliments Denver's in just about all aspects. That, coupled with the fact that he should have a defined role, makes me believe he could be a breakout player for Denver this season.
DJ: Jamal Murray. He is going to have a solid sophomore campaign as the starter and win a Western Conference Player of the Week honor once or twice.
RK: Juancho Hernangomez. The little-known sharpshooting forward from Spain was an exciting player to watch last year and is only growing into his body, role and skills. At 22, he is still developing, but even at his age he is growing into a solid player for Denver not only on the court but also in the locker room. As his role increased throughout the year last year, so did his production.
How do you envision the Millsap-Jokic marriage working in the early going?
JM: Millsap and Jokic will take several regular season games to work out the kinks. They will probably win games while this happens, but I can see needing a couple of weeks to "figure it out."
AP: This is probably the biggest question entering the season for the Nuggets. After the "twin towers" strategy of starting Nikola Jokic alongside Jusuf Nurkic failed last season, the last thing Denver can afford is to mimic that conundrum with their new pairing. Starting off strong is key for the team entering the season, and it starts with Jokic and Millsap. I think they will struggle at first but make adjustments swiftly as the season goes along.
DJ: I think it will go through some early growing pains in which it's compared to the Jusuf Nurkic debacle. Some observers may even question if they should be in the starting lineup together. But I expect them to get it together heading into the All-Star break.
RK: Sugar and spice. Millsap brings badly needed defensive help inside that Jokic can lean on. Jokic brings flash and style on offense, accommodating Millsap and setting him up for success. The duo could not be a better fit together.