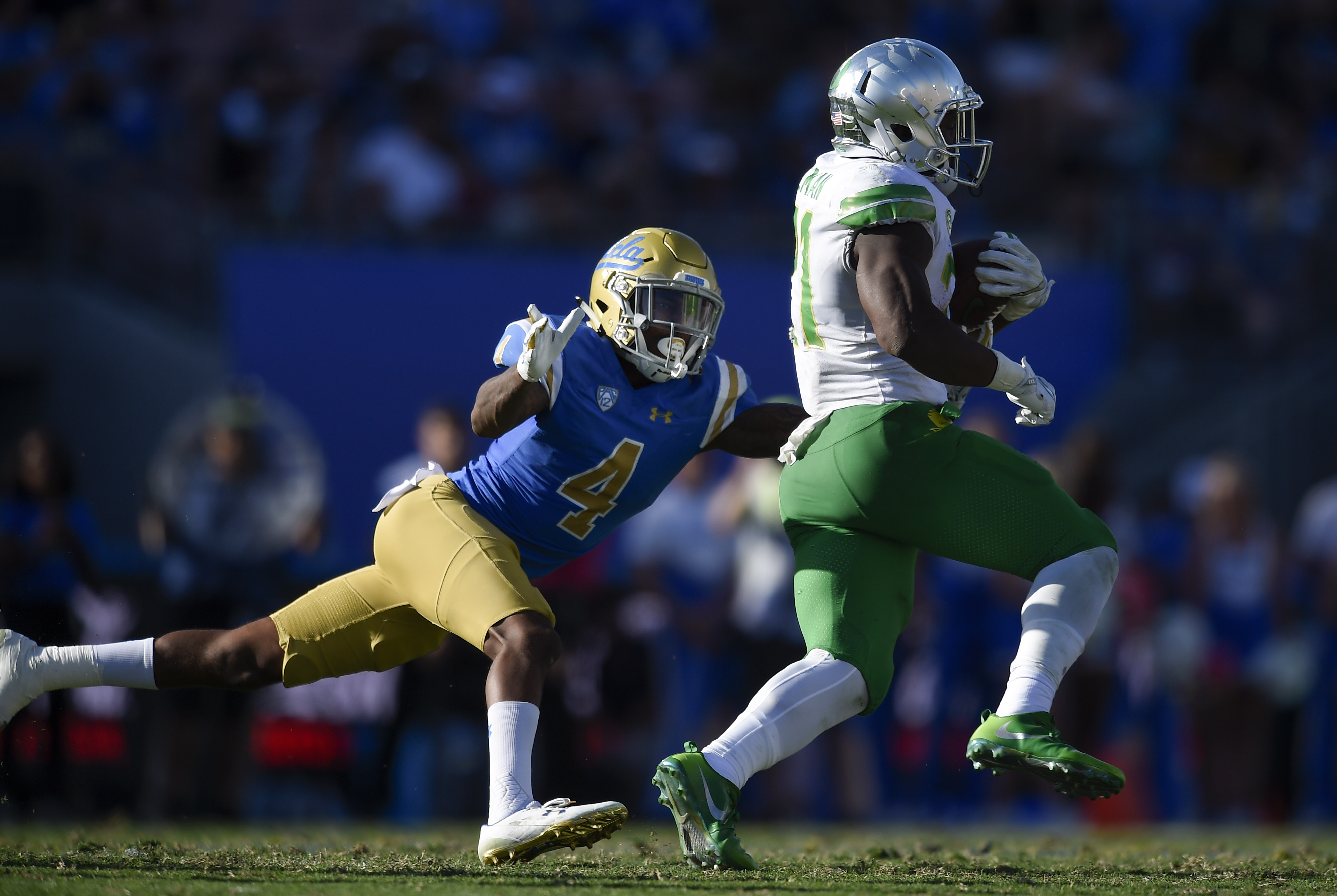 The Broncos continued to address offensive needs with their third-round pick in the 2018 NFL Draft by selecting running back Royce Freeman with the 71st overall pick.
Freeman, hailing from Oregon, earned several accolades as a college back that included the Pac-12 Offensive Rookie of the Year, Freshman All-American and first-team All-Pac-12. He eventually went on to become the leading rusher in Oregon's history. Freeman is a strong running back with great vision, capable of breaking multiple tackles and earning tough yards through the middle of the line. He can be utilized on any down, but could excel in short-yardage situations. 
Essentially, Freeman will fit in well as a replacement for C.J. Anderson, who the Broncos cut on April 16. He will work well as a third-down back and could possibly convert scores during goal-line plays. If he can break a few tackles and get into open field, he could convert the play into a score. However, after running just the ninth-fastest 40-yard dash during the NFL combine, his speed could allow him to be caught by defensive backs and linebackers.
Where Freeman currently is questionable is his durability. He is still recovering from a knee injury suffered during the 2016 season. Along with that, he has carried the ball over 1,000 times for Oregon. As a result of his extensive use at Oregon, he could wind up running out of gas sooner in his career than other available running backs. 
Freeman will fit in well in tandem with Devontae Booker as a potential one-two punch for the Broncos early in the season, while the team will likely utilize De'Angelo Henderson as a change-of-pace back between the two. He can fill Anderson's role very well as a between-the-tackles runner as well as a screen target, basically allowing the Broncos to keep an extremely similar playbook with simply a few tweaks to play into Freeman's strengths. 
Combining with Booker, the two could quickly wear down opponents' defensive lines.  The duo could help tone down the offensive line weakness the Broncos suffered during the 2017 season as a result, helping out new quarterback Case Keenum. Freeman's screen pass-catching ability will allow him to get extra time on the field over his fellow running backs, and may help him get comfortable with Keenum sooner than the other backs.
As for the future, it's hard to say where Freeman's status on the team will change. The Broncos cut Anderson to hand the main reins to Booker, and Henderson is still a relative unknown after only carrying the ball seven times in the 2017 season. However, in Freeman's favor is the fact that after two seasons, Booker still hasn't reached 1,000 total yards in his career despite playing in 29 games.
Freeman's similarity to Anderson also allows him to be comfortably inserted into the open role, and if he can produce in a similar way while also avoiding getting injured, he may quickly find himself taking snaps away from Booker. Freeman's potential and his dynamic ability as a rusher and pass catcher may wind up turning him into not just the starter, but an every down back, and his strength will allow the Broncos to utilize him both in short-yardage situations and on the goal line to punch the ball in. If Booker continues to struggle,  the door will open for Freeman to steal carries, especially if he continues his explosive ways from Oregon.
The Broncos are quickly addressing their needs, and the selection of Freeman has solidified a running back core that was shaky after the removal of Anderson. While there are still questions remaining about Denver's ground attack, the current moves are a good sign that it is moving in the right direction.